Late Night Roundup: Bernie Sanders Spreads The Message Around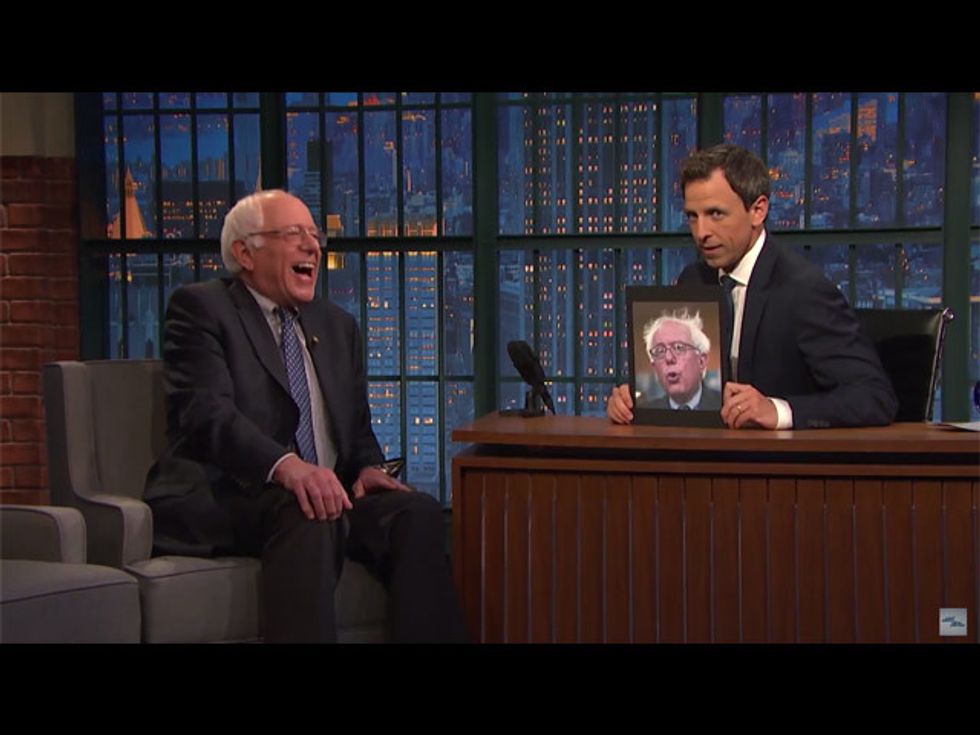 Senator Bernie Sanders (I-VT) appeared with Seth Meyers to promote his Democratic presidential campaign. And he explained why "democratic socialist" should not be a dirty word: "I think smart people look around the world, and they say, 'Look, this is what we are doing well — but this is what other countries are doing well.' And I think we should learn, and not be afraid, to emulate the good things that are going on in other countries."
Jon Stewart spotlighted the many follies in the expiration of the Patriot Act: The Senate putting off a renewal that everyone knew about for years; the serious doubts over whether the NSA's bulk phone metadata collection even worked to prevent any terrorist attacks; the political hyperbole at work; and finally, John McCain inviting a joke about the depths to which he's sunk in the past.
Conan O'Brien examined the scandal of former Speaker of the House Dennis Hastert (R-IL), and the fact that the town of Yorkville, Illinois, has lost its most prominent local hero. But it turns out they do have another great hometown hero: Conan's sidekick, Andy Richter! But does Andy have any skeletons in his closet, too?
Larry Wilmore took a look at the special occasion Monday in Alabama: "Jefferson Davis Day." And his message: "Stop it, stop it, stop it!"
Larry also highlighted the Hastert scandal — and the fact that a man who voted to impeach Bill Clinton, worked to ban gay marriage — and of course, covered up the Mark Foley scandal with young male House pages — "may be a pedophile." But Larry did discover that there are people in the media will defend Hastert — and of course, they're on Fox News.
James Corden requested viewer submissions for a new contest: For him to host a bar/bat mitzvah on The Late Late Show.