Late Night Roundup: Jon Stewart Blows Up Fox News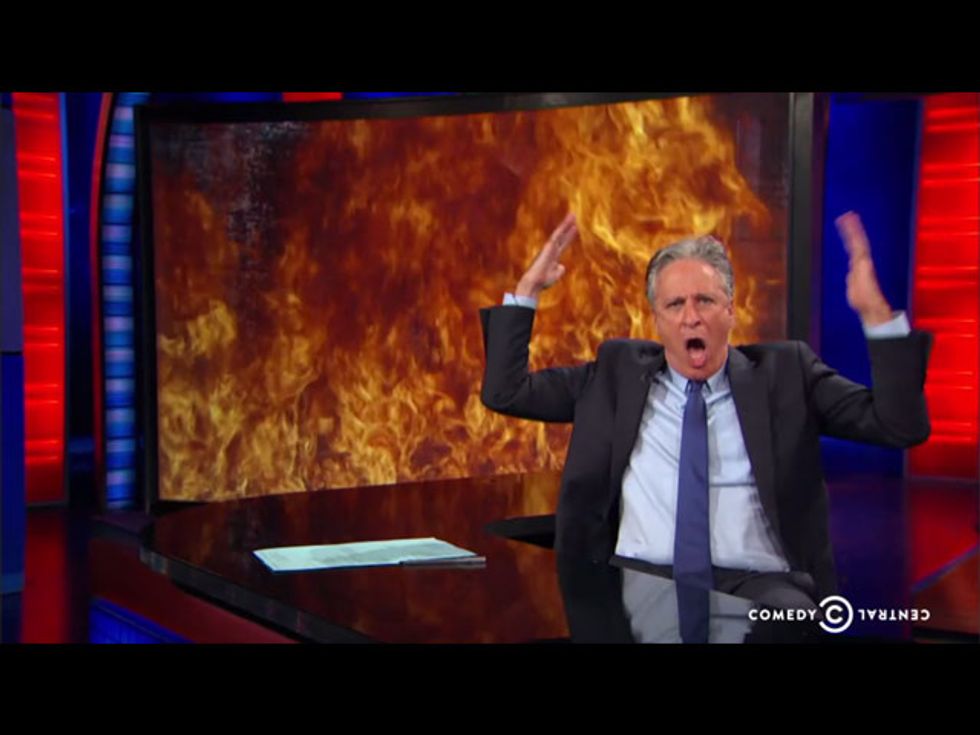 Jon Stewart kicked off his final week at The Daily Show by examining the sheer nerve of Fox News to call him a political shill for the Obama administration, despite all the times he's made fun of the administration — and the fact that Fox has openly acted as a partisan Republican spin operation. And then things got a little explosive.
"Your hypocrisy isn't a bug in the Fox model — it's the feature," Jon said. "Your job is to discredit any source of criticism that might hurt the conservative brand, by angrily holding them to standards you yourselves jettisoned in your news network's mission statement."
Larry Wilmore covered the possible reaction from the Hillary Clinton campaign to a potential presidential run by Joe Biden.
Jimmy Fallon imagined what it might be like for President Obama to call up Donald Trump and offer some debate advice.
Conan O'Brien also looked at the latest antics from a certain presidential candidate: "Donald Trump said there will not be another black president for a while, because President Obama is not doing a good job. Yeah, of course, by that standard there won't be another white president for at least a hundred years."
Seth Meyers eagerly anticipated this week's big Fox News Republican debate — but highlighted the terrible possibility that Rick Perry could get left out. "You don't want him at your debate?! He's the comic relief. Would you have liked Family Matters more if it didn't have Urkel?"