Late Night Roundup: Marco Rubio Goes Into Repeat Mode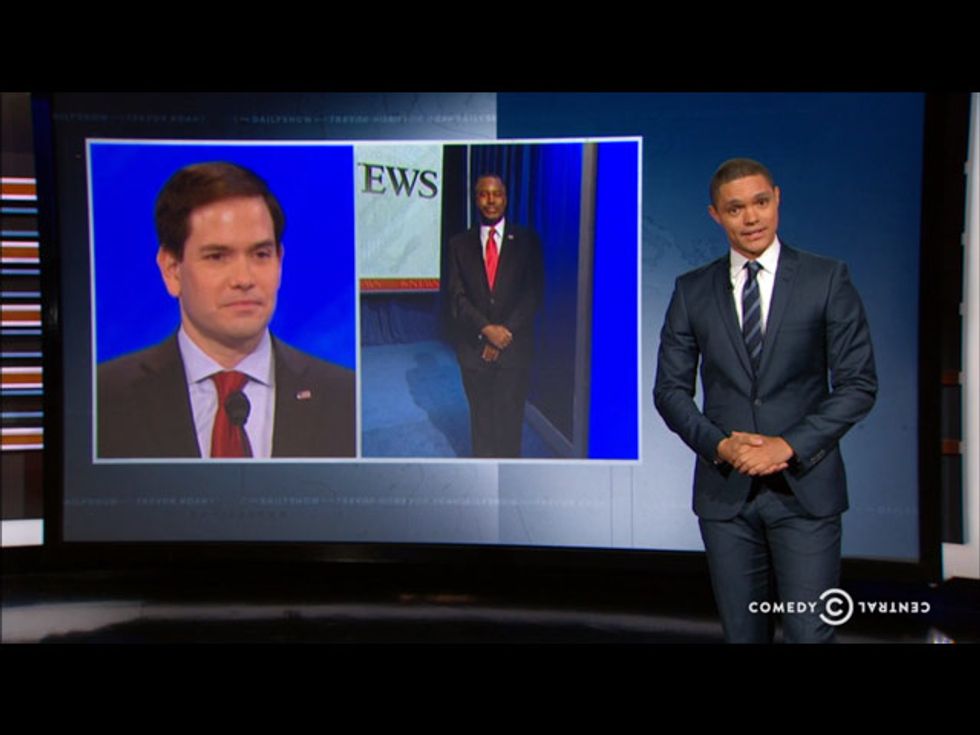 As we head into the New Hampshire primary, all eyes at the late night comedy shows were on the weekend's big Republican debate — and especially Marco Rubio's botched performance, in which he repeated the same slogans over and over.
Trevor Noah declared: "Sen. Rubio, it's time for you to take a page out of Dr. Carson's book — next time there's a debate, take a moment, and think about not coming out. But for now, go home, get some fresh clothes — because let's be honest, you just @#$% your pants."
Larry Wilmore tore apart Marco Rubio's robotic performance — and how it even extends to Rubio's campaign ads that are meant to show spontaneous-acting locals who support him, in both Iowa and New Hampshire.
Stephen Colbert delivered a special reenactment of Ben Carson's flubbed debate entrance.
Jimmy Kimmel also reviewed Carson's missed entrance, and how he had blocked everyone else — or as Jimmy called it, "the five-Carson pileup."
Seth Meyers looked over the various antics of the Republican debate — ranging from Ben Carson's botched entrance, to Donald Trump "going full wrestling heel" on the audience.
Conan O'Brien pointed out that today will not only be the New Hampshire primary — but it's also Mardi Gras: "In other words, two occasions where thousands of people scream for boobs."