Late Night Roundup: No More Whitewashing In Whitesboro!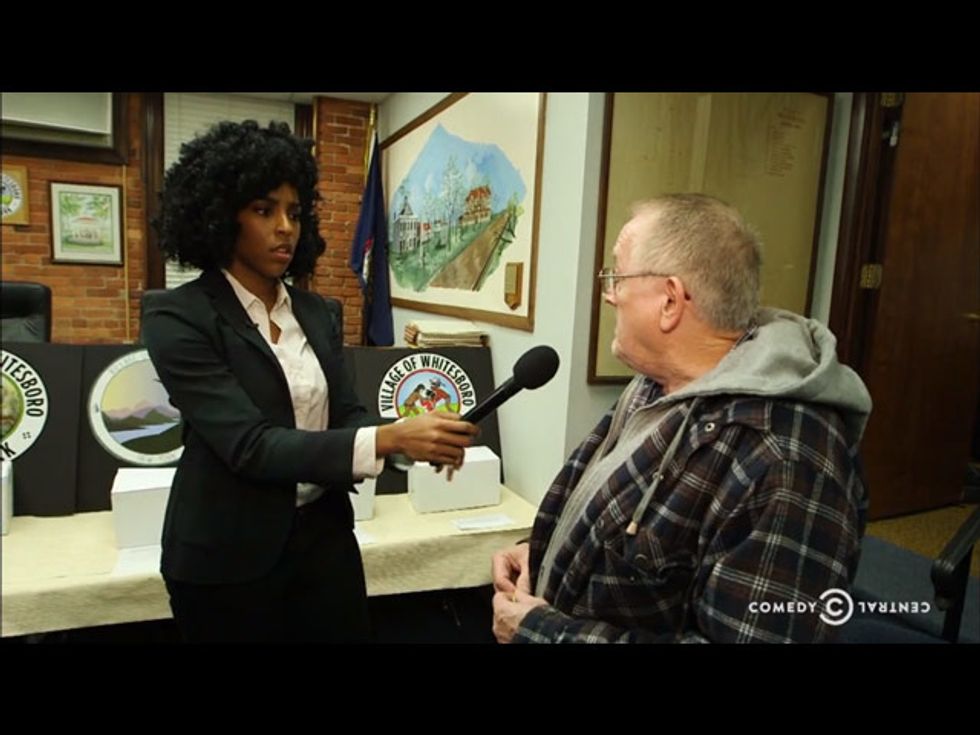 The Daily Show aired a special report, revealing the secret role that the show played in addressing the controversy over the racist-looking official seal of the Village of Whitesboro, New York, which appears to show a white man choking a Native American. And as a bonus, Jessica Williams had some special news: The town is going to change the seal!
Larry Wilmore tore Sarah Palin apart, for her declaration that her son's arrest for domestic violence was President Obama's fault for not sufficiently respecting the troops. "You can't just crawl out of your frozen eatin'-bull@#$t shack once every election cycle, just so you can become nauseatingly relevant, and spew recycled partisan crazy sauce over everybody — and then use an issue as serious as PTSD, let alone pimp out your own son and problems.""
Seth Meyers talked about the water crisis in Flint, Michigan: "The water was so bad, it caused car parts to rust — and yet they let human beings keep drinking it. When it comes to poison, everyone knows the human body is more durable than a Chevy Cruise."
Stephen Colbert looked at Trump's pandering to religious voters.
"Conan O'Brien: "After her rambling endorsement of Donald Trump, Sarah Palin failed to show up at a Trump campaign event. Palin apologized and said, 'I was fresh out of nonsense.'"