Late Night Roundup: From The Super Bowl To Snoop Dogg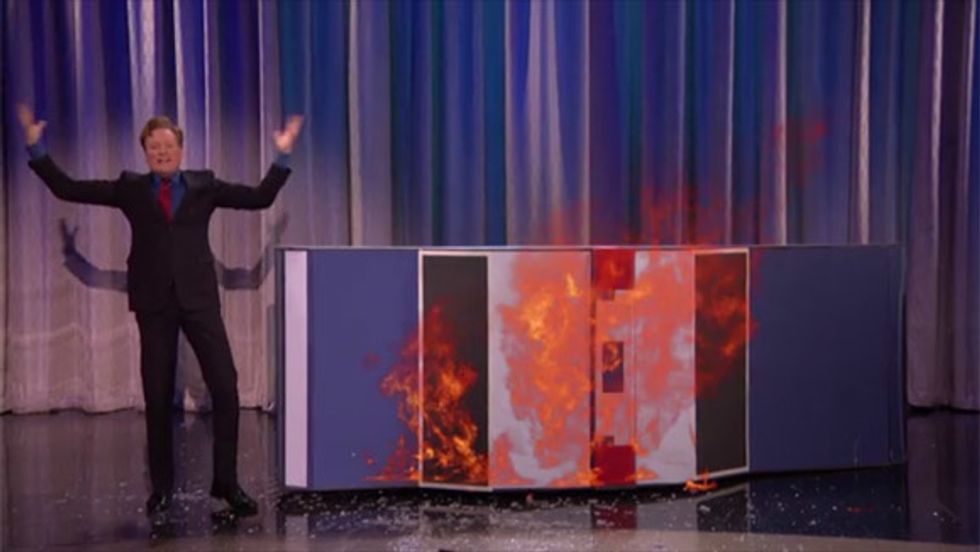 Conan O'Brien declared that his hometown of Boston let him down after the Super Bowl — when they didn't riot in victory. And so he tried to make things right, with his own simulated riot from the studio in California.
John Oliver appeared on Late Night with Seth Meyers to discuss the strange disappointments that sports fans always feel after a major loss by the team. And he also told an interesting story about the time he met the Liverpool soccer team, just a little too ahead of schedule.
The Daily Show had fun with Mike Huckabee's latest antics on the subjects of women who use curse words, gay marriage, Jewish deli owners — and bacon-wrapped shrimp.
The Nightly Show looked at the vicious cycles of obesity in America — and Larry Wilmore's own contribution to the proliferation of immature fat jokes.
The Tonight Show premiered another special video of NBC News anchor Brian Williams edited to rap music — this time transforming the mild-mannered newsman into Snoop Dogg (with the help of some extra bleeped-out words).
But speaking of Snoop Dogg, the man himself appeared on Jimmy Kimmel Live, in a fun segment delivering his own spin on nature documentaries.