Late Night Roundup: Trump's Big Win Down South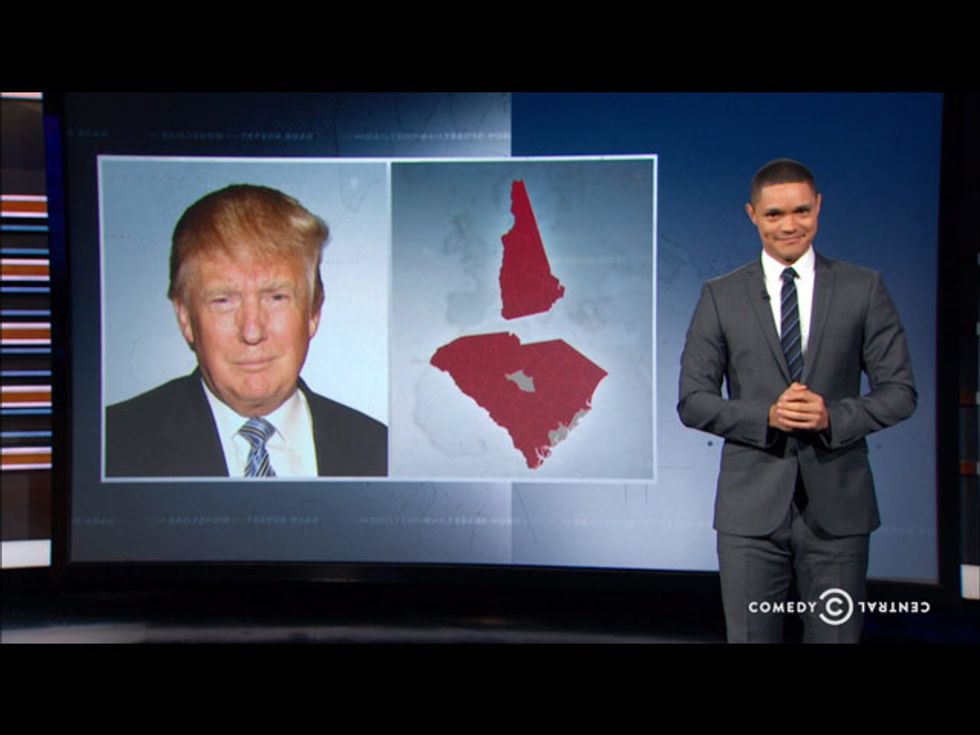 In the wake of the South Carolina primary, two topics dominated the late night shows: Donald Trump's massive victory — and the final, definitive end of "Jeb!"
Trevor Noah reviewed all of Donald Trump's antics on the way to winning South Carolina: "In one week alone, Donald Trump fought with the Pope, blamed George Bush for 9/11, and then he said he would stop terrorism by shooting Muslims with bullets dipped in pig's blood. For real, this is what he said. And then finally, finally, last Saturday, South Carolina voters were like, 'Stop! We've heard enough — you should be our president."
Larry Wilmore bluntly diagnosed the reason why Jeb Bush failed so miserably as a presidential candidate: "Jeb's blindness to his brother's failure was the central problem in his campaign. He never realized his brother's presidency was a disaster that Americans did not want to return to."
Stephen Colbert said we'd have to get used to saying the words, "President Donald Trump" — but first he had to fight back a little nausea himself: "I think I just Trumped in my mouth a little."
Conan O'Brien explained: "Analysts say that Donald Trump's GOP rivals are running out of time to defeat him — that's what they're saying. This is not according to the electoral schedule — it's according to the Book of Revelation."
Seth Meyers asked why it is that Trump keeps changing his positions on issues like war and health care, but Republican voters keep flocking to him? The answer: He keeps saying racist and hateful stuff.
James Corden mourned the loss of Jeb Bush from the presidential race. "George W. Bush was a little confused why Jeb quit because he was losing — because as far as George W. Bush is concerned, you still become president even when you don't get the most votes."
Samantha Bee looked at the idea that John Kasich is somehow the "moderate" Republican candidate.