Legal Experts: Trump Waived Privilege Claim On McGahn Testimony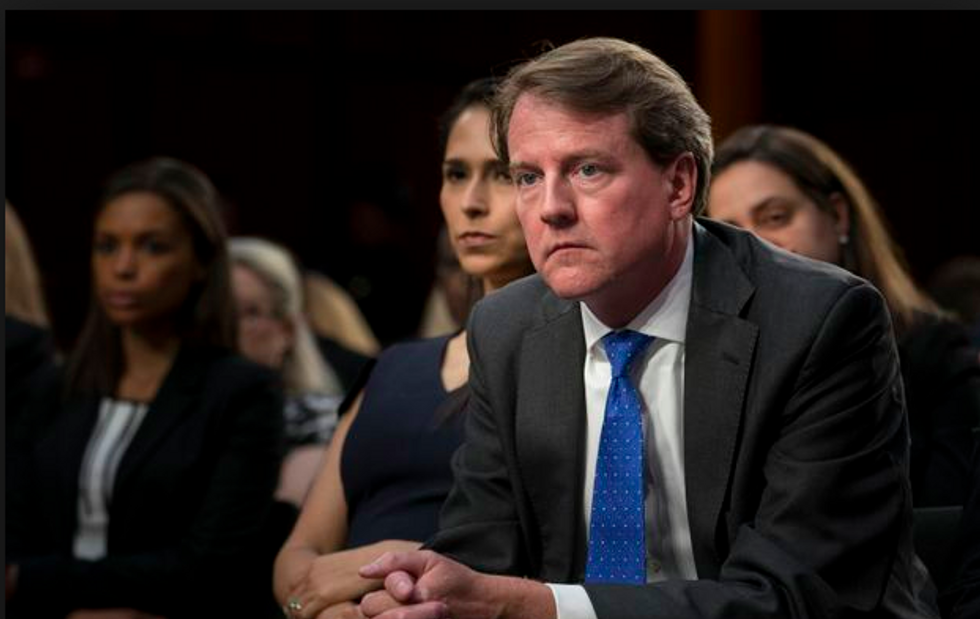 Reprinted with permission from Alternet.
Democrats want former White House counsel Don McGahn to testify in a public hearing about President Donald Trump's efforts to obstruct justice, and the administration may be completely unable to stop it.
McGahn, one of the most prominent figures in Special Counsel Robert Mueller's report, which outlines an exhaustive case that Trump obstructed justice on numerous occasions, has already been subpoenaed to testify before the House Judiciary Committee. According to a new report from the Washington Post, the White House wants to exert executive privilege to stop the testimony.
If McGahn were to recount what he told Mueller as it is reflected in the report, it would be a damning spectacle for the presidency.
And the attempts to invoke executive privilege may be doomed.
Politico's Kyle Cheney noted that, based on Trump's previous remarks about the Mueller report, Attorney General Bill Bar said the White House has already effectively waived executive privilege on McGahn's testimony.
"Going to be hard to put that genie back in the bottle," he said.
Cheney also said that House Judiciary Committee members believe think that Trump waived executive privilege by allowing McGahn and others to testify in the first place. This claim, though, is arguably less persuasive. Since Mueller was an employee of the Justice Department, which is part of the executive branch, there could be a credible argument that anything said to him still remains within the purview of the executive privilege. However, the fact that Mueller's report has since been made public, including many citations of McGahn's testimony, does suggest that the privilege opportunity has expired.
George Conway, a prominent conservative lawyer and husband to Trump aide Kellyanne Conway, argued that, indeed, Trump had already waived privilege.
"So these aides were allowed to speak to Mueller for a purpose other than providing advice to the president or carrying out sensitive foreign-relations missions—the two principal purposes of executive privilege—and then a report summarizing what they told Mueller was … released to the public. Any executive privilege has been waived," he tweeted. "Twice."
"Time to find out how much of a patriot McGahn's actually wants to be," said former DOJ spokesman Matthew Miller. "The WH initially tried to block Sally Yates from testifying too. If McGahn wants to do it, they can't stop him."
The Post reported of McGahn:
"He's not eager to testify. He's not reluctant. He got a subpoena. It compels him to testify. But there are some countervailing legal reasons that might prevent that," said one person close to McGahn, who requested anonymity to describe private discussions. "He doesn't want to be in contempt of Congress nor does he want to be in contempt of his ethical obligations and legal obligations as a former White House official."
CNN legal analyst Ross Garber suggested that the White House may be successful in using privilege to block McGahn's testimony. But that approach could raise its own perils.
"Invoking impeachment power might strengthen the House's claimed need for and entitlement to the testimony," Garber tweeted.
So if the White House is successful in advancing a dubious claim of privilege, it might actually accelerate the House's drive to begin formal impeachment proceedings.