'From Body Armor To Panic Buttons': Legislators Stock Up On Protective Gear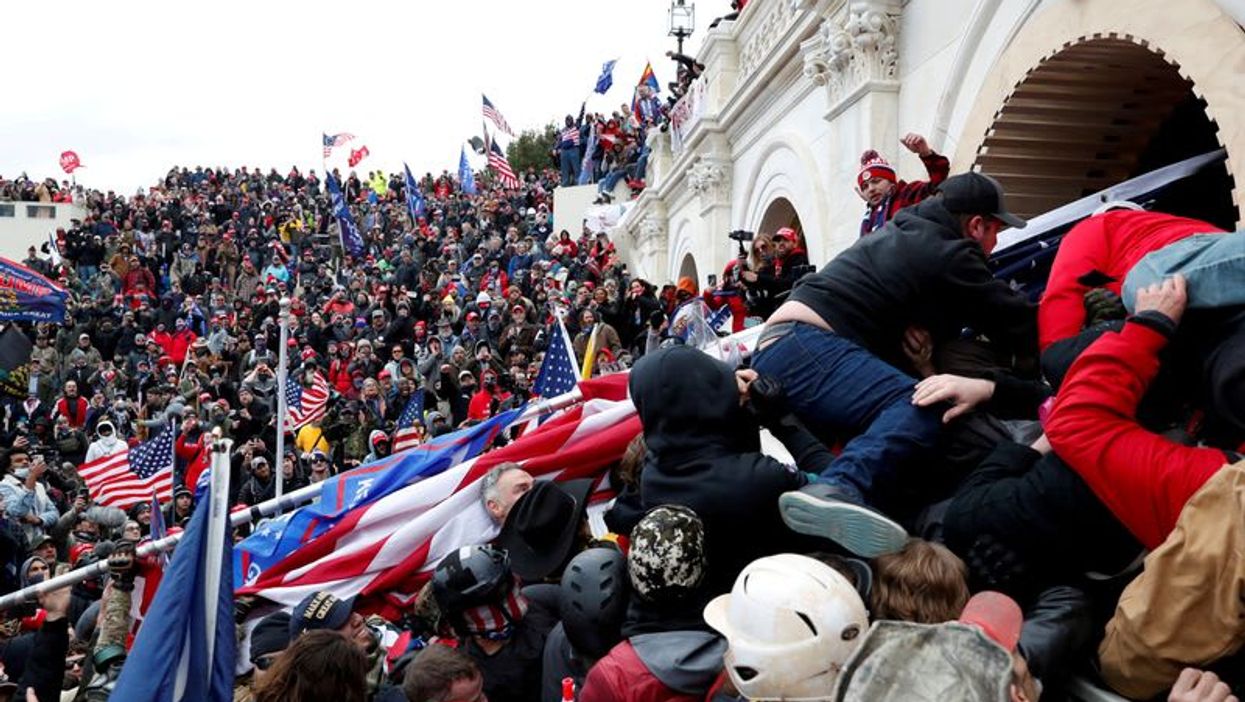 Reprinted with permission from Alternet
Shortly after the insurrection on the U.S. Capitol, a state lawmaker asked the Massachusetts Office of Campaign and Political Finance a compelling question: "Could campaign funds be used to purchase bulletproof vests, gas masks, and pepper spray?"
According to Politico, the unusual question underscores the main concerns many lawmakers have in wake of the heightened security threat the United States is currently facing. Now, many are reportedly making an effort to purchase more protective equipment.
The publication reports:
Alarmed by a growing number of threats, harassment, and scenes of violence at government buildings, lawmakers in both parties are seeking clarity from election agencies on whether they can spend campaign dollars and taxpayer money on security and personal protective equipment — everything from body armor to panic buttons at home.
Although the U.S. Capitol insurrection is now in America's past, there are still warnings of security threats for Washington, D.C., and state capitols, nationwide, as the Department of Justice and Federal Bureau of Investigation work to combat. Lawmakers have also expressed concern about their well-being in light of the intense political climate.
In Michigan, where Democratic Gov. Gretchen Whitmer found herself at the center of a kidnapping plot, lawmakers have inquired about the possibility of using campaign dollars for a number of protective items including a "home security system and ballistic vests to protect against an active shooter."
Michigan state Rep. Kevin Hertel (D) recently weighed in on the threats against lawmakers in his state. "Threats have an impact," said Hertel. "You can hear the fear in people's voices when they talk about these issues."
He added, "Protective gear became one of those necessary office expenditures," Hertel explained. "It became a cost of doing the job."
His inquiry is still pending as lawmakers in other states discuss similar grievances.
In January, the National Republican Senatorial Committee and the National Republican Congressional Committee sought advice from Federal Election Commission (FEC) on whether campaign funds could be used to employ bodyguards. More than 30 Congressional members asked, "if they could pay local law enforcement and buy security upgrades for their homes and offices out of their office allowances."
While provisions are being made for members of Congress to receive additional funding for more security, Rep. Josh Gottheimer (D-NJ) has expressed concern about another aspect that should be considered: how the security threats also impact lawmakers' families.
"Between January 6 and the massive increase in threats, you worry a lot about your family and your staff," said Gottheimer, who led the Congressional requests. "It's not just to protect you, it's to protect people near you."
As of March 20, many of the inquiries still remain unresolved as the Justice Department, FBI, FEC, and lawmakers work to reach some form of common ground on national security threats.