Ivanka Trump Throws Father And Brothers Under The Bus In Fraud Pleading
@next2godwin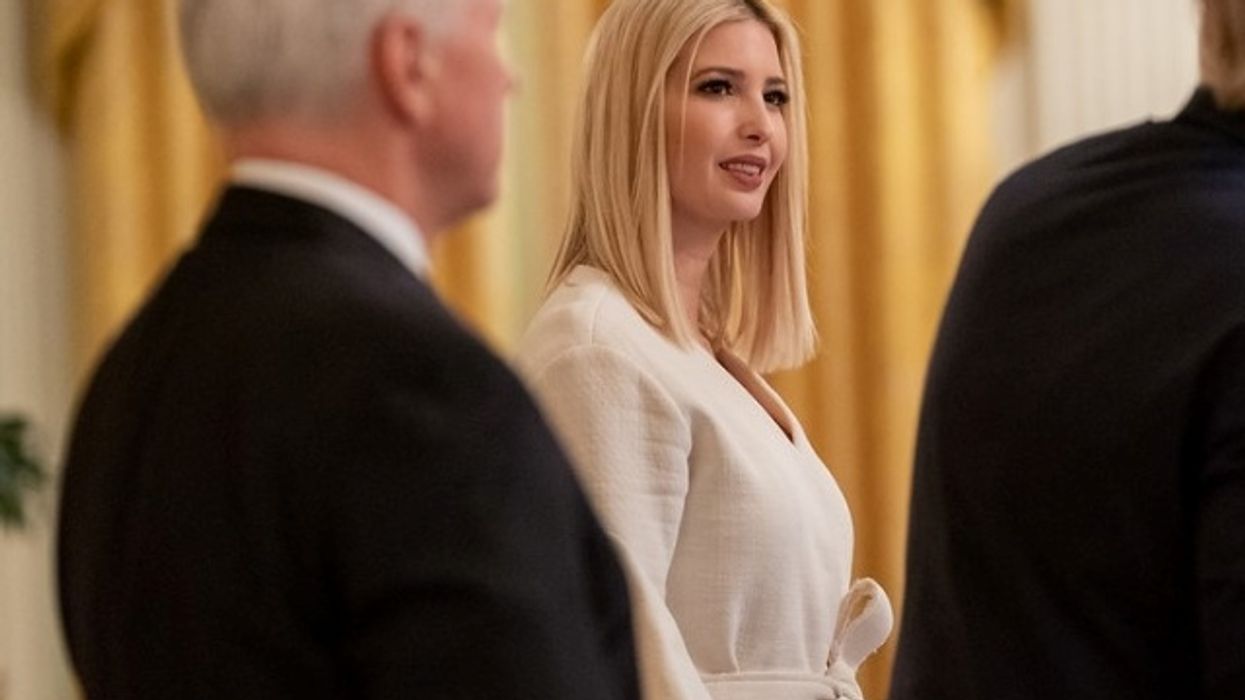 Ivanka Trump has told a judge that she had no hand in the fraudulent financial statements central to the $250 million New York civil fraud suit, passing the buck of responsibility to other defendants in the case — namely, her father and her brothers.
In a letter filed in court on Monday, Reid Figel, an attorney for Ivanka, asked Manhattan Supreme Court Judge Arthur Engoron for a trial delay to prepare her defense that nothing in her job description at her family's company pertained to the suit filed by the New York attorney general, Letitia James.
James' complaint "does not contain a single allegation that Ms. Trump directly or indirectly created, prepared, reviewed, or certified any of her father's financial statements," Figel wrote, according to the U.K's Independent. "Other individuals were responsible for those tasks."
James sued former President Donald Trump, three of his adult children — Donald Trump Jr., Eric Trump, and Ivanka — and the Trump Organization in September for years of expansive financial fraud, which Trump used to "enrich himself and cheat the system."
In her complaint, James alleged that Trump and his adult children "grossly" inflated the ex-president's net worth by billions of dollars to deceive banks and other financial lenders, using "[over] 200 false and misleading valuations of assets on his annual Statements of Financial Condition."
"The financial statements in question were issued annually; each contained a significant number of fraudulent, false, and misleading representations about a great many of the Trump Organization's assets; and most played a role in particular transactions with financial institutions," the complaint alleged. Trump has since denied all allegations of wrongdoing.
Ivanka's legal team contended that the former first daughter held a "unique" role at the family's real estate company and had not been accused of distorting her father's finances in James' complaint.
Figel implored Engoron to recognize that the case against Ivanka was "not simple" because she left the Trump Organization in 2017 to join her father's administration — a defense she'd need more time to prepare.
\u201cNEW: Ivanka Trump joined her father and brothers in asking a judge to delay the Oct. 2 trial of NY's fraud suit. Her lawyer said the case "is not simple" and that Ivanka has a "unique" defense because she left Trump Org. in 2017 and isn't accused of lying about her dad's finances\u201d

— Erik Larson (@Erik Larson) 1678199765
A former federal prosecutor, Neama Rahmani, told Newsweek that by denying culpability in the fraud alleged by James, Ivanka was "inadvertently making that argument" that "her father and/or brothers" were responsible.

"Civil and criminal defendants often make two types of arguments: I didn't know and it wasn't me. That's what Ivanka's lawyers are doing here," Rahmani told the publication.
Last week, Trump, who has since declared a 2024 White House bid, requested to delay the trial for six months to "review the 'staggering' volume of materials, including millions of pages of documents, and question dozens of witnesses," Reuters reported on Friday.
"The current schedule makes the preparation of a defense impossible," Trump lawyers Clifford Robert and Alina Habba, who, along with Trump, was fined nearly $1 million by a Florida judge for filing frivolous lawsuits.
"Fundamental notions of fair play and due process mandate that Defendants are afforded every opportunity to prepare a meaningful defense, rather than to have an impossible schedule forced upon them," the lawyers wrote in their court filing Friday.
James' office rejected the claim, stating that the previous schedule offered "no unfair prejudice" to Trump and thus his "hardship" claims are "self-inflicted," reported the Independent.
"Defendants have had ample time and opportunity to familiarize themselves with the matter. Instead, they have waited until the eve of the fact discovery deadline to only just begin their process of conducting discovery to prepare for trial, and now seek more time," James' office argued.
Court documents revealed that Engoron, who is overseeing the high-stakes case, ruled that will begin on October 2 as scheduled "come hell or high water."