Let's Look At The Crime Bill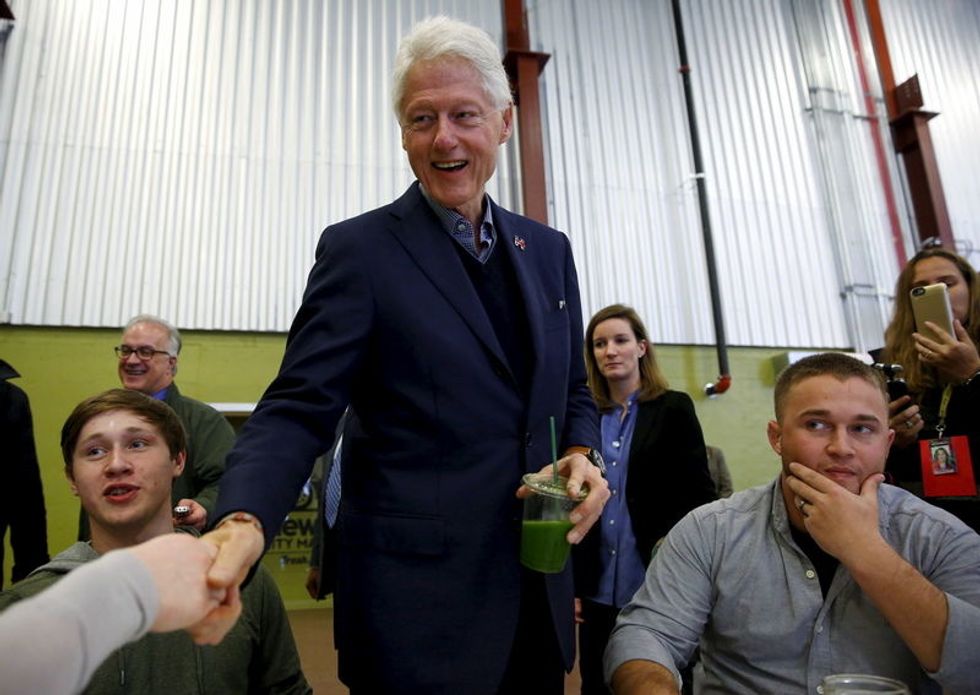 Watching Bill Clinton bickering with Black Lives Matter activists in Philadelphia recently, I had several conflicting, and not entirely praiseworthy responses. One was that the longer an American political campaign continues, the dumber and uglier it gets.
Another was, why bother? People holding up signs saying "Hillary is a Murderer" aren't there for dialogue. The charge is so absurd it's self-refuting. Certainly nobody in the audience was buying.
That woman who shouted that Bill Clinton should be charged with crimes against humanity? He probably should have let it go. Bickering over a 1994 crime bill has little political salience in 2016, particularly since Hillary's opponent, the sainted Bernie Sanders, actually voted for the damn thing. She didn't.
Instead, Clinton briefly lost his cool. The next day, he said he "almost" wanted to apologize, which strikes me as slicing the bologna awfully thin even for him.
You've probably seen the ten-second clip on TV. "I don't know how you would characterize the gang leaders who got 13-year-old kids hopped up on crack and sent them out on the street to murder other African-American children," Clinton said angrily. "Maybe you thought they were good citizens, [Hillary] didn't. You are defending the people who killed the people whose lives you say matter! Tell the truth. You are defending the people who caused young people to go out and take guns."
Many Democratic-oriented pundits found this shocking. Evidently political journalism is where Freudianism—or Maureen Dowdism anyway—has gone to die. Even as astute an observer as Slate's Michelle Goldberg went all psychoanalytical on Clinton.
"It is somehow only when he is working on his wife's behalf that he veers into sabotage," she wrote . "What is needed here is probably a shrink…Either he doesn't want her to overtake him, or he doesn't want her to repudiate him. Regardless, Hillary should shut him down. She can't divorce him, but she can fire him."
Fat chance. Anyway, who says the outburst hurt her? Sure Bill Clinton can get hot defending his wife. I suspect more voters find that admirable than not.
It's also unclear whom Clinton's tantrum offended. "If you read some intellectuals on the left, they'd suggest there should be a grudge against the Clintons," Michael Fortner, a professor of urban studies at the City University of New York told the Christian Science Monitor "but I think the primary results show there isn't a grudge at all."
Fortner, author of the book "Black Silent Majority," argues that contrary to Black Lives Matter, many in the African-American community understand that the tough-on-crime aspects of the 1994 law weren't foisted upon them by white racists. Devastated by a veritable Tsunami of violence and gang warfare, "political leaders, mayors, and pastors played an important role in pushing for these policies."
In Little Rock, where I lived, it was common to hear fusillades of gunfire in black neighborhoods at night. During Clinton's first term, the city's homicide rate was nearly triple today's—the vast majority of victims young black men. Teenagers I coached on Boys Club basketball teams needed to be careful what color clothing they wore en route to practice. People got shot to death for wearing Crips blue in Bloods neighborhoods.
Businesses closed, jobs dried up; anybody with the means to get out, got out. Including, one suspects, the parents of some Black Lives Matter activists. There's a reason two-thirds of the Congressional Black Caucus joined Bernie Sanders in supporting the 1994 legislation.
Clinton told them about all that, along with a recitation of the bill's Democratic virtues: a (since rescinded) assault-weapons ban, the Violence Against Women Act, 100,000 new cops on the beat. Then he made some probably insupportable claims about the crime bill's good effects:
"A 25-year low in crime, a 33-year low in the murder rate—and listen to this, because of that and the background-check law, a 46-year low in the deaths of people from gun violence. And who do you think those lives were, that mattered? Whose lives were saved, that mattered?"
But then it's also a stretch to say the bill's responsible for America having more citizens in prison than Russia and Iran. Eighty-seven percent are in state penitentiaries, not federal lockups. Fifty-three percent of those for violent crimes. Those numbers Clinton didn't dwell upon, although he did in a speech last year. "The bad news," he said "is we had a lot of people who were locked up, who were minor actors, for way too long."
Hillary Clinton herself has regretted resorting—one time, 20 years ago—to a comic-book term like "super-predators" to describe drug gang members.
Lost in all the hubbub was Bill Clinton taking the protesters seriously enough to engage them about what the dread "triangulation" really signifies. It's not an ideological label, but a philosophical inclination: doing what you can, when you can, while recognizing that the job is never done.
Photo: Former U.S. President Bill Clinton (C) greets customers and employees while campaigning for his wife, Democratic presidential candidate Hillary Clinton, at the NewBo Market in Cedar Rapids, Iowa in this January 7, 2016 file photo. REUTERS/Aaron P. Bernstein/Files