Let's Stop Being World's Biggest Suckers For Overpriced Drugs
@FromaHarrop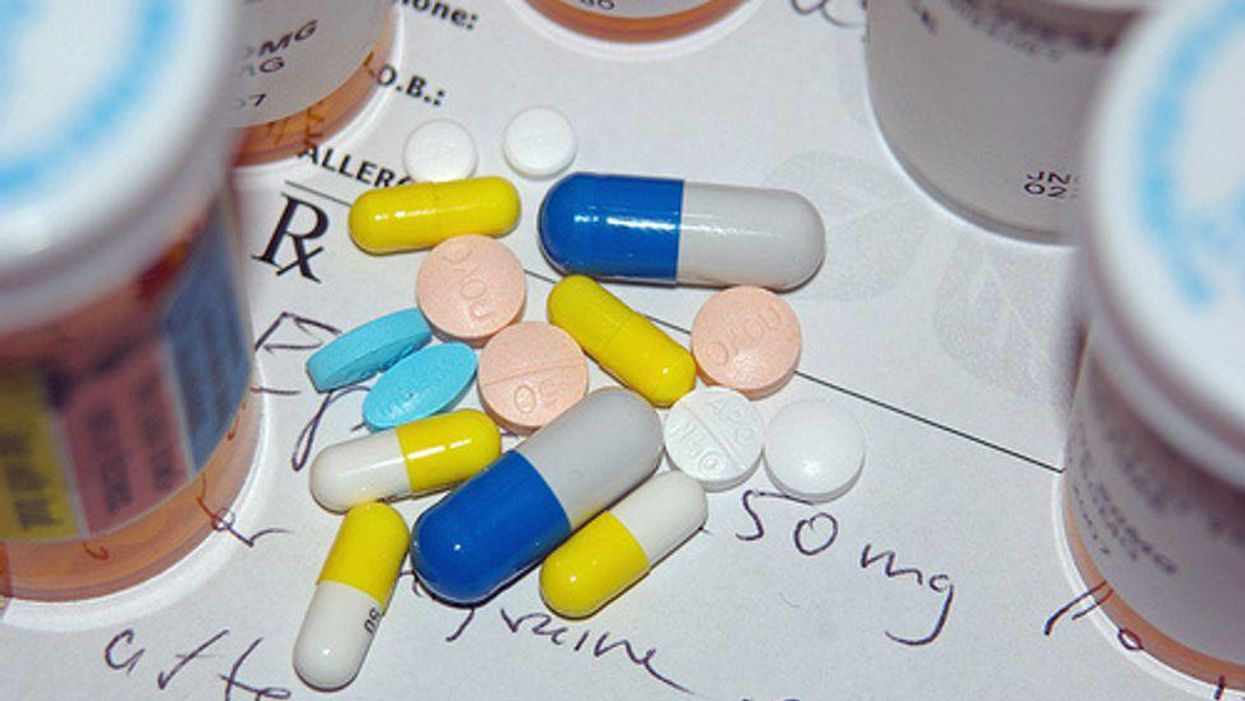 There's a drug war on TV. It has nothing to do with cocaine or heroin but does involve an addiction — the pharmaceutical industry's compulsion to charge Americans an average 3.4 times more for brand-name drugs than people in other countries pay. Step 1 in the rehab program is to let Medicare negotiate prescription drug prices.
The drug makers, represented by Pharmaceutical Research and Manufacturers of America, or PhRMA, the main industry lobbying group, are running scare ads where seniors fret that they'd be denied lifesaving drugs if Congress applies brakes on what they can charge Medicare. In opposition, the leading interest group for older Americans is sponsoring ads in support of price negotiations. The AARP insists its elderly members would still get the drugs they need, pay lower premiums and get new benefits.
The AARP is right. Most Democrats agree, and so did Donald Trump when he first ran for president.
"We are not allowed to negotiate drug prices. Can you believe it?" candidate Trump said in 2016. "We pay about $300 billion more than we are supposed to, than if we negotiated the price. So there's $300 billion on Day One we solve."
Upon getting elected, Trump made a top drug-company executive head of Health and Human Services, and the campaign promise vanished. But we can now update his figure on savings to at least $450 billion over 10 years, based on Congressional Budget Office numbers.
Most of those savings wouldn't leave the Medicare program but, as the budget plan says, go to providing dental, hearing and vision coverage. And beneficiaries would enjoy a $14 billion cut in their Part D premiums by 2029, according to the Henry J. Kaiser Family Foundation.
Then there are the taxpayers. General revenues — that is, federal income taxes — cover 71 percent of the costs of Medicare Part D, and states another 12 percent.
This proposal hardly starves the pharmaceutical companies of revenues. It would cap the prices charged Medicare at 120 percent of those paid in Australia, Canada, France, Germany, Japan and the United Kingdom. In other words, we could still be paying more than these other rich countries. The difference is that drug makers could no longer gouge Americans with impunity.
The proposed Medicare cap would have reduced U.S. spending on insulins and 50 top brand-name drugs by 52 percent during 2020 — a savings of $83.5 billion, according to a RAND Corporation report. (The Veterans Administration has long negotiated prices and pays 54 percent less for drugs than does Medicare.)
PhRMA's public relations department recently wrote that efforts to stop drug makers from charging the federal health insurance program for the elderly whatever they want "should enrage every senior who relies on Medicare for their life-saving medicines."
Actually, they're not enraged. An AARP survey finds that 87 percent of Americans 50 and older support letting Medicare negotiate drug prices. And nearly 90 percent of the general public wants it, according to a Kaiser Family Foundation poll.
One PhRMA ad falsely claims that politicians will "decide which medicines you can and can't get." The budget bill does no such thing. It would not require a prescription drug formulary. Insurers offering Medicare drug plans would still decide what drugs to cover. The negotiations would apply to only a few drugs that account for the highest spending and that lack generic competitors.
Lawmakers intent on protecting the drug-pricing racket include some Democrats. What most have in common with like-minded Republicans is open palms at the bottom of Big Pharma's money chute.
At some point, Americans will stop playing the world's suckers. Letting Medicare negotiate drug prices would be a fine place to start recovering our self-respect.
Follow Froma Harrop on Twitter @FromaHarrop. She can be reached at fharrop@gmail.com. To find out more about Froma Harrop and read features by other Creators writers and cartoonists, visit the Creators webpage at www.creators.com.