Farewell To Dave: 10 Of His Greatest TV Moments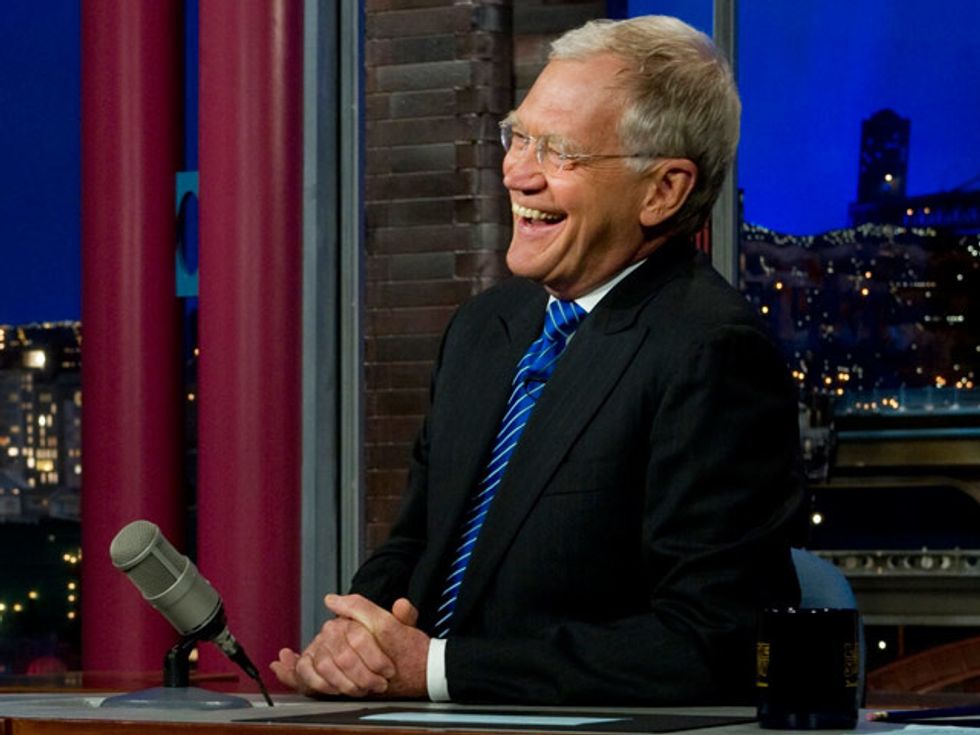 It was the end of an era Wednesday night: The last episode for David Letterman, as he heads off into retirement after more than 30 years on the air.
There was a final, all-star celebrity "Top 10" list: "Top 10 Things I've Always Wanted To Say To Dave."
A special appearance by several U.S. presidents: "Our long national nightmare is over."
A heartfelt, emotional goodbye from Dave, Paul, and the whole crew.
And a musical look back at the show over the decades, headlined by Dave's good friends, The Foo Fighters.
David Letterman did something special: He brought weirdness to mainstream TV.
With his run now truly over, after three decades and two different networks, let's take a look at just some of his greatest clips. Of course, any "Top 10" list of Letterman will be extremely incomplete. Accept this then as our humble, grateful tribute to a man who made us smile more times than we can count.
Perhaps Dave's single most powerful moment was when The Late Show returned to the air after the 9/11 attacks. Here he paid tribute to the city, to Mayor Rudy Giuliani, the police and firefighters, and average citizens in New York and all across the country — and really, to the human spirit.
Dave would get sharply political in the years to come: In 2006, he faced off with Bill O'Reilly on the subject of the Iraq War. This argument was so contentious, it's hard to believe that the two have remained friends, but Bill made many more appearances over the years — and they've had many more arguments.
In 1985, Dave delivered the very first iteration of what would become his signature feature: The Top 10 List.
The Top 10 lists became so iconic and perfected as an art form that Dave would welcome celebrity guests to deliver them — so many celebrities, in fact, that in recent weeks he presented a compilation, "Top 10 Special Top 10 Lists."
In January of 2000, Dave had emergency heart surgery — a quintuple bypass. After a string of guest hosts looked after the show for him, he made his triumphant return in February.
Dave has always been a merry prankster. Here he is on a hot summer's day, having set up an absurdly long straw and a pump — to drink out of a Jamba Juice from all the way across the street.
Next: Dave Loved To Prank Jamba Juice
And Dave's show would return to that Jamba Juice location later on — to swarm it full of people in Spider-Man costumes.
Next: A Loving Tribute to a Friend
In 2007, longtime featured player on the show Calvert DeForest, aka Larry "Bud" Melman — a man who was supposed to be even weirder than Dave — passed away at age 85. Here is Dave's touching tribute:
Next: Dave Launched Music Careers Like No Other
Dave's show was also a great venue for new music acts. Here he is in 1983, with the TV debut of an up-and-coming band out of Athens, Georgia called R.E.M. This appearance was so early in their career that lead singer Michael Stipe was still too shy to even talk on camera, leaving the task to guitarist Peter Buck and bassist Mike Mills.
Dave knew how to have a great time with established celebrities, too. Back in 1987, he reunited the legendary duo of Sonny and Cher, to sit and talk on the couch — and to once again perform their classic hit, "I Got You Babe."
—
Photo: David Letterman, June 13, 2011. (Department of Defense, photo by Mass Communication Specialist 1st Class Chad J. McNeeley.) Via Wikicommons.