There Are No Alternative Facts, It's Called Lying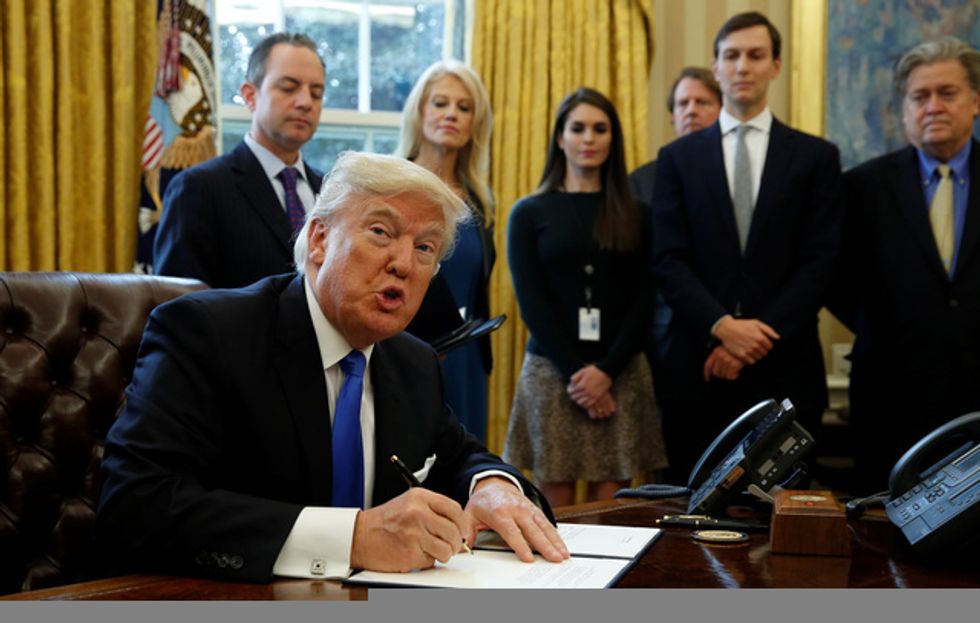 Her name was Miss Nelson.
I don't recall her first name. She didn't seem to need one.
She taught fifth grade at West Elementary School in Ashtabula, Ohio. In the fall of 1967, my mother dropped me off in her classroom like a failed adoption. My mother would deny that characterization, but we all knew that Miss Nelson had a reputation. She was tall and wide with a voice that carried and a mind inclined to use it. I'd never seen anybody like her.
You know how this story goes. She also had a heart bigger than a Dodge wagon. She hid it well in the first few weeks, but soon enough she was holding after-class sewing sessions for all of us girls. She claimed to be teaching us how to make clothes for our Barbie dolls, but it was just an excuse to gather us round and talk to us about how to be citizens of the world.
She believed diagramming sentences builds character and profanity is the sign of a diminished mind. She hated the word "liar," declaring it the worst thing you could ever say about a person. If he was a liar, there was no hope for him.
All these years later, I'm still so reluctant to use the word. Some people you never stop wanting to avoid disappointing.
I've been thinking of Miss Nelson a lot during the past few days — since Inauguration Day, to be precise. It hurts to the marrow of my bones to say this, but there's no use in pretending that we don't have a chronic liar in the White House.
On Tuesday, I made a list of newspaper headlines on Donald Trump's continued lie about nonexistent voter fraud.
The New York Times: "Trump Won't Back Down From His Voting Fraud Lie. Here Are the Facts."
The Washington Post: "Citing no new evidence, Trump continues to say there were millions of illegal votes."
Boston Globe: "White House defends illegal voting claim, without evidence."
Los Angeles Times: "Trump's unproven claims of widespread voter fraud trip up White House Press Secretary Sean Spicer."
Chicago Tribune: "White House doubles down on Trump's claim that millions voted illegally, but provides no evidence."
Wall Street Journal: "Trump's Claim of Massive Illegal Voting Gets Little Support From GOP Lawmakers."
This is our new reality.
We still have our holdouts. NPR listeners wanted to know why Mary Louise Kelly reported on Trump's many lies but wouldn't call them what they are: lies. On "Morning Edition," Kelly explained that she relies on The Oxford English Dictionary's definition of "lie."
"A false statement made with intent to deceive," Kelly said, "'intent' being the key word there. Without the ability to peer into Donald Trump's head, I can't tell you what his intent was. I can tell you what he said and how that squares — or doesn't — with facts."
At what age is adulthood assumed and a person held accountable for his words? Unless he admits he lied, we're supposed to think he's just flirting?
True, I can't peer into the dark recesses of Trump's head — thank you, Jesus — but that doesn't mean I can't discern his intentions by the content of his words.
He lies, but he may not mean it? That's like someone hitting me in the head with a baseball bat and then assuring me on the ambulance ride that he didn't mean to make me bleed. At some point, one of us has to state the obvious because the medical staff and the police are definitely going to have their assumptions.
Every time I hear another lie come out of Trump's mouth — about his inauguration crowd (smaller than Barack Obama's and the Women's March), voter fraud (it didn't exist), the media's accusing him of attacking the intelligence community (he compared them to the Nazis) — I feel as if I'm back in junior high school trying to break up with the boy my mother warned me wasn't stable.
"You told me you love me."
"I never said that."
"You did. I heard you. Everybody knows it.
"I'm sorry. I never said that."
"We should drink each other's blood."
"I'm going to call Dad now."
Enough of this cat dance around what most of America already knows.
With apologies to Miss Nelson, we in the media must call this what it is: Our president is a chronic and unapologetic liar.
And this is not normal.
Connie Schultz is a Pulitzer Prize-winning columnist and professional in residence at Kent State University's school of journalism. To find out more about Connie Schultz (con.schultz@yahoo.com) and read her past columns, please visit the Creators Syndicate webpage at www.creators.com.
IMAGE: President Donald Trump looks up while signing an executive order to advance construction of the Keystone XL pipeline at the White House in Washington. REUTERS/Kevin Lamarque