Liberals Rejoice At Prospect Of Replacing Baucus With Schweitzer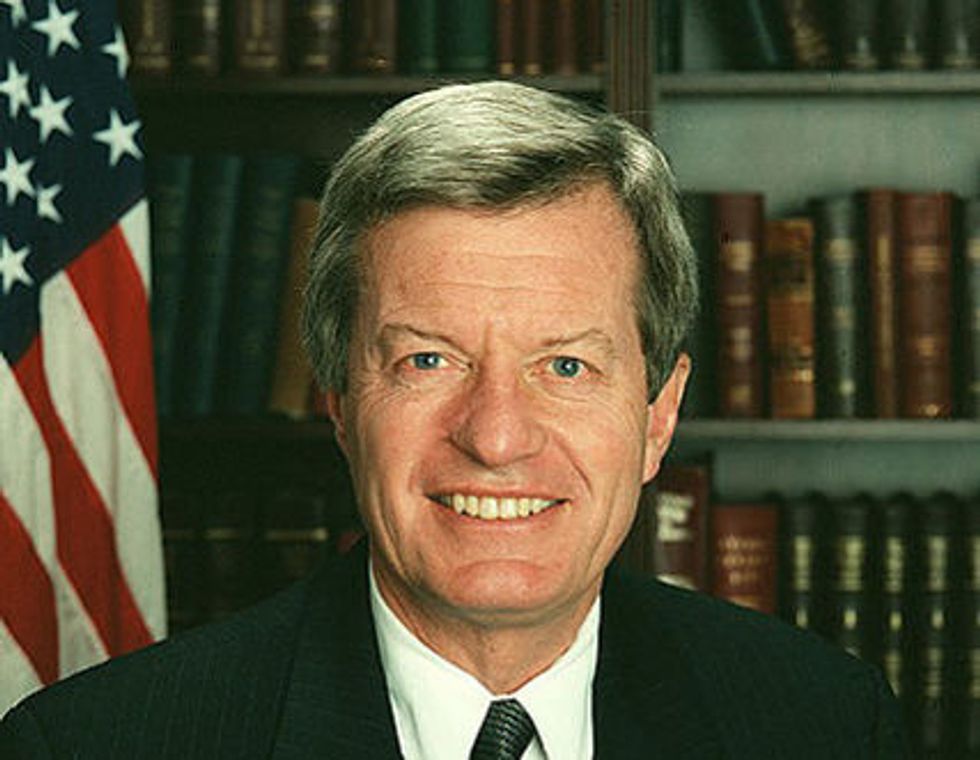 Six-term senator Max Baucus (D-MT) announced Tuesday that he will not seek re-election in 2014, delighting both Republicans who see an opportunity to gain a Senate seat, and Democrats who have tired of Baucus' conservative voting record.
Although Baucus' retirement presents a pressing concern for Democrats — they now must find a candidate to defend a seat that Baucus has held since 1978, in a state that Mitt Romney won by 13 percent in 2012 — many liberals are nonetheless celebrating the news. Baucus has become well known for bucking Democratic leadership. Recently, he has drawn attacks from the left for turning his staff into what Jonathan Chait calls "a kind of tax lobbyist grad school," voting to block the Manchin-Toomey compromise on expanded gun sale background checks, and attacking the health care reform law that he helped to write (and which many liberals believe he watered down to disproportionately favor insurance companies).
"Goodbye, Senator K Street. Max Baucus has a history of voting with corporate interests and not the interests of Montana voters — taking millions from Wall Street, insurance companies, and lobbyists," Progressive Change Campaign Committee co-founder Stephanie Taylor said in a statement released Tuesday, echiong the sentiments of many on the left. "Montana will finally have a chance to have a senator with its best interests at heart, and we hope Brian Schweitzer jumps into the race immediately."
Indeed, Schweitzer is the other reason that many Democrats aren't sad to see Baucus go. Schweitzer is much more popular across the state than Baucus, and a recent poll found that the former two-term governor of Montana would crush Baucus by 19 percent in a hypothetical primary.
Although the bombastic Schweitzer once said that he is "not senile enough to be in the Senate," on Tuesday he suggested to the Los Angeles Times that he was considering jumping into the race.
"I'll look around once I climb that mountain," Schweitzer said. "There should be a pretty good view from there. I'll look around and see what I do next."
Like Baucus, Schweitzer is an unwavering "gun rights" supporter, but his outspoken environmentalism and willingness to mix it up with Republicans — as demonstrated in this video of the then-governor vetoing GOP bills with a giant brand — have made him a progressive favorite.

According to the aforementioned Public Policy Polling poll, if Schweitzer entered the race, he'd start out with a lead over each of the five most likely GOP candidates for the seat. The poll also found that former Montana governor, Republican National Committee Chairman, and George W. Bush campaign chairman Marc Racicot would be the strongest Republican candidate if he chooses to run.