Liberals Score Big Victories In Ballot Initiatives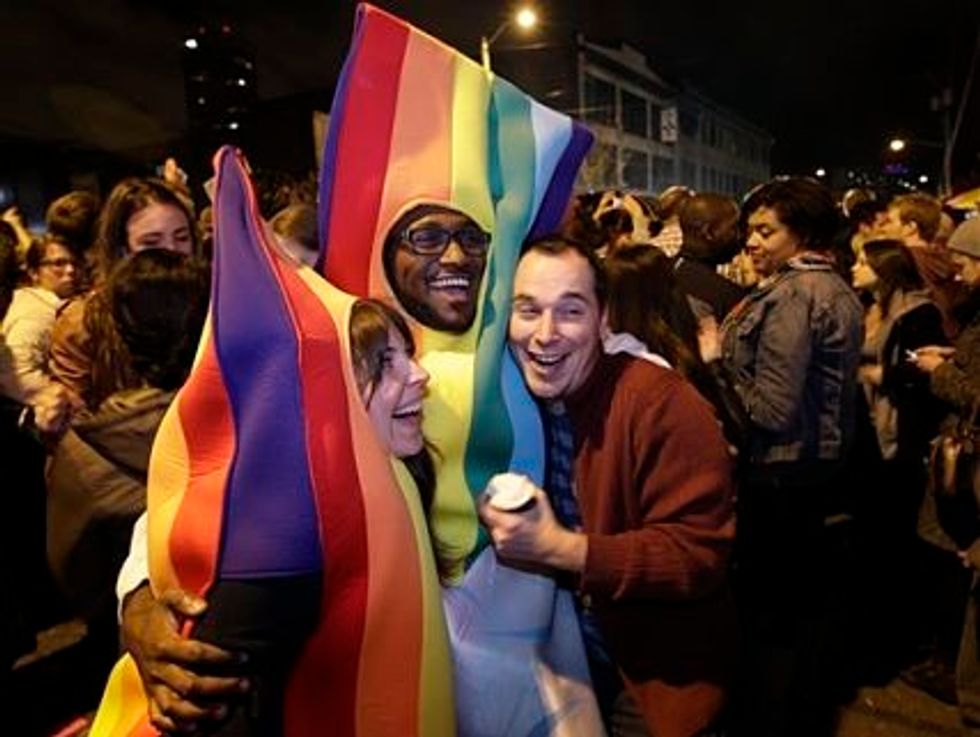 In addition to holding on to the White House and expanding the Democratic majority in the Senate, American liberals also scored huge victories on Election Day in ballot initiatives across the country.
Voters in Maine and Maryland made history by affirming marriage equality by popular vote. Although six states and the District of Columbia have legalized same-sex marriage through the legislatures or courts, Tuesday was the first time that marriage equality had ever won at the ballot box. In Maine, with 78 percent of votes counted by Wednesday morning, 53.4 percent supported the initiative legalizing same-sex marriage compared to 46.6 percent opposed. In Maryland, with nearly all of the votes counted, 52 percent supported the referendum upholding the state's law legalizing same-sex marriage, while 48 percent opposed it.
Marriage equality also scored a victory in Minnesota, where voters rejected an amendment to the state Constitution which would have defined marriage as being strictly between a man and a woman.
In another victory for progressives, voters in Montana and Colorado sharply rebuked the Supreme Court's infamous Citizens United decision. In Montana, a ballot initiative asserting that corporations are not people entitled to Constitutional rights (and directing Montana's Congressional delegation to introduce a Constitutional amendment to that effect) had 75 percent approval with about half of the vote counted, according to the Billings Gazette. Colorado voters also passed a similar measure.
Voters in Colorado and Washington voted to approve state initiatives legalizing marijuana, another issue which is supported by most progressives. The actual impact of the initiatives is unclear, however; although marijuana is now legal in these two states, it is still illegal in the United States of America.
In response to the ballot initiatives, Justice Department spokeswoman Nanda Chitre said in a statement:
The department's enforcement of the Controlled Substances Act remains unchanged. In enacting the Controlled Substances Act, Congress determined that marijuana is a Schedule I controlled substance. We are reviewing the ballot initiatives and have no additional comment at this time.
Although sources close to President Obama suggested over the summer to GQ's Marc Ambinder that the president would pivot to the drug war in his second term, marijuana's legal future is still very much up in the air.
As Colorado Governor John Hickenlooper — who opposed the legalization initiative — said after it passed, "Federal law still says marijuana is an illegal drug, so don't break out the Cheetos or Goldfish too quickly."
Photo credit: AP/Ted S. Warren