Louisiana Debate Erupts Against Vitter: 'You Are A Liar, And You Are A Cheater'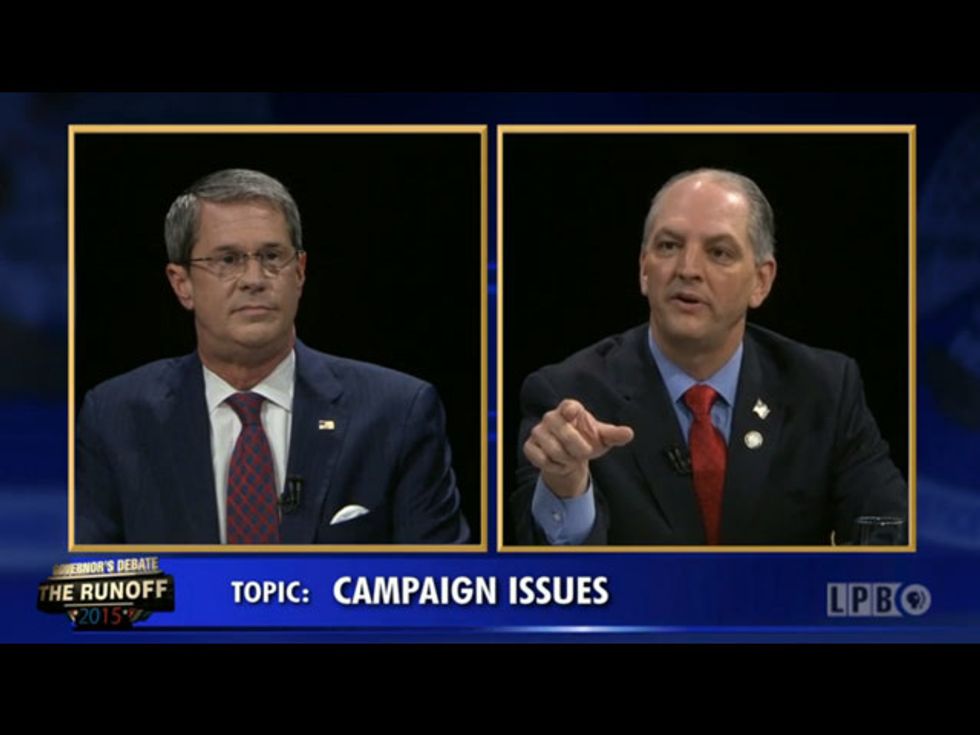 Sparks were flying at the hottest debate in the country Tuesday night — and it wasn't the Republican presidential contest.
The real action was in Louisiana, where Republican U.S. Sen. David Vitter and Democratic state House Minority Leader John Bel Edwards seriously ripped into each other. The big topic was Edwards' new TV ad, which contrasted the Democrat's service in the Army Rangers with Vitter's notorious involvement in the "D.C. Madam" prostitution scandal — declaring that Vitter "chose prostitutes over patriots" when he neglected his official duties.
"You act holier than thou, 'Oh, we don't do negative campaigning,' when in fact you have the most vicious negative ad up right now, that veterans have been offended by and asked you to take down," Vitter said. (His campaign initially responded to the ad with a statement from a veteran supporting him.) "And somehow you have nothing to do with the trial lawyer PAC that has been running negative campaigns in the millions of dollars for months. I mean, isn't that just completely disingenuous — somehow you have nothing to do with that.
Then, Vitter challenged Edwards' own patriotism and military honor: "You're not living by the honor code, John Bel — you're living by the lawyers' code, trying to parse words and create technicalities that don't exist."
During his rebuttal, Edwards responded: "With respect to the negative ad — if it's a low blow, it's only because that's where you live, senator. It's 100-percent truthful. The fact of the matter is, you didn't say it was untrue. You want me to take it down because you don't like it. I understand that you don't like it — it hits you where you live."
The key exchange beings at just after the 54:30 mark below:
Vitter said that he wasn't objecting to the ad — veterans were.
Edwards shot back: "Hundreds of veterans have contacted me, and they wanted to know that you were missing out on your public performance of your duties in Congress, in order to engage in those extra-curricular activities that you don't want to admit to… You will say anything at any time. You are unconstrained by the truth, you are unconstrained by the law."
When Vitter again accused Edwards of not living by the honor code, Edwards said: "With respect to the honor code, senator, the last part of it is, 'I will not tolerate those who do' [violate it]. You are a liar, and you are a cheater, and you are a stealer, and I don't tolerate that."