Macy's Fires Donald Trump — So He Says He Fired Them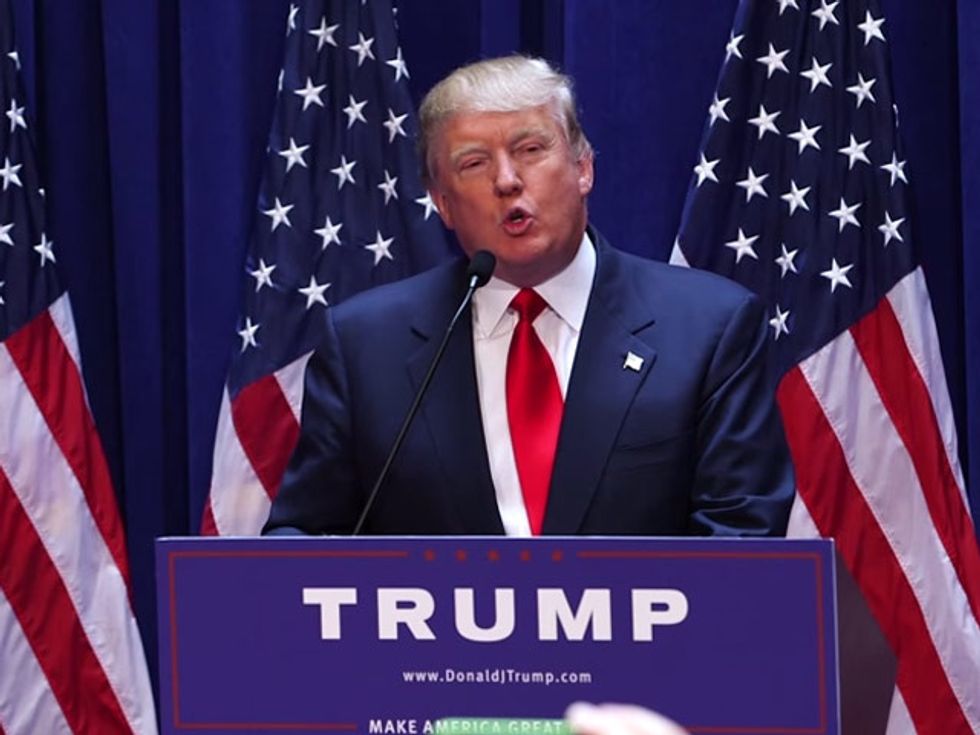 Donald Trump has lost yet another business deal in the wake of his inflammatory campaign statements about Mexican immigrants. But don't worry: Trump says that he was the one who ended this deal himself — and besides, it wasn't a huge business, anyway.
The "small business" in this case is in fact Macy's, one of the largest department store chains in the nation, which until now has carried a line of shirts and ties with the Trump brand name. The company issued this statement Wednesday morning:
Macy's is a company that stands for diversity and inclusion. We have no tolerance for discrimination in any form. We welcome all customers, and respect for the dignity of all people is a cornerstone of our culture. We are disappointed and distressed by recent remarks about immigrants from Mexico. We do not believe the disparaging characterizations portray an accurate picture of the many Mexicans, Mexican-Americans and Latinos who have made so many valuable contributions to the success of our nation. In light of statements made by Donald Trump, which are inconsistent with Macy's values, we have decided to discontinue our business relationship with Mr. Trump and will phase out the Trump menswear collection, which has been sold at Macy's since 2004.
During his campaign announcement last month, Trump said of Mexican immigrants: "They're bringing drugs. They're bringing crime. They're rapists. And some, I assume, are good people."
Of course, The Donald has also come under criticism for that clothing line, as it is manufactured in China — which doesn't exactly mesh with his stern criticism of China on matters of trade policy, and his denunciations of U.S. jobs being shipped overseas.
In response to the Macy's announcement, Trump issued a statement in which he says, among other things: He is the one who has ended the business; he didn't like manufacturing all those products in China; and Macy's — along with NBC, with whom he is feuding after they also cut off their relationship with him — are "weak."
I have decided to terminate my relationship with Macy's because of the pressure being put on them by outside sources. While selling Trump ties and shirts at Macy's is a small business in terms of dollar volume, my principles are far more important and therefore much more valuable. I have never been happy about the fact that the ties and shirts are made in China, and should I start a new product line somewhere in the future, I would insist that they are made in America. Quite frankly, I was never satisfied with manufacturing my product in China. But because of what they've done in terms of devaluing their currency, it is very hard for other companies to compete and make such apparel in the United States. These are the kinds of issues I am committed to addressing. Securing our border, nnegotiating trade deals that benefit the United States, and bringing jobs back to America is my top priority.

I have always said that if you are successful, it is very hard to run for office, especially the office of President. I have also continually stated that I am not beholden to anyone and this includes NBC and Macy's. Clearly, NBC and Macy's support illegal immigration, which is totally detrimental to the fabric of our once great country. Both Macy's and NBC totally caved at the first sight of potential difficulty with special interest groups who are nothing more than professional agitators, who are not looking out for the people they purport to represent, but only for themselves. It is people like this that are actually running our country because our leaders are weak and ineffective.

If elected, I will greatly strengthen our border, making it impenetrable, putting a stop to illegal immigration once and for all. I will bring jobs back to the United States— I will Make America Great Again!

Donald J. Trump
Photo: Businessman Donald Trump (R) announces his campaign for president, June 16, 2015, via YouTube.