Majority Leader Admits 'Coordinating' With White House On Senate Trial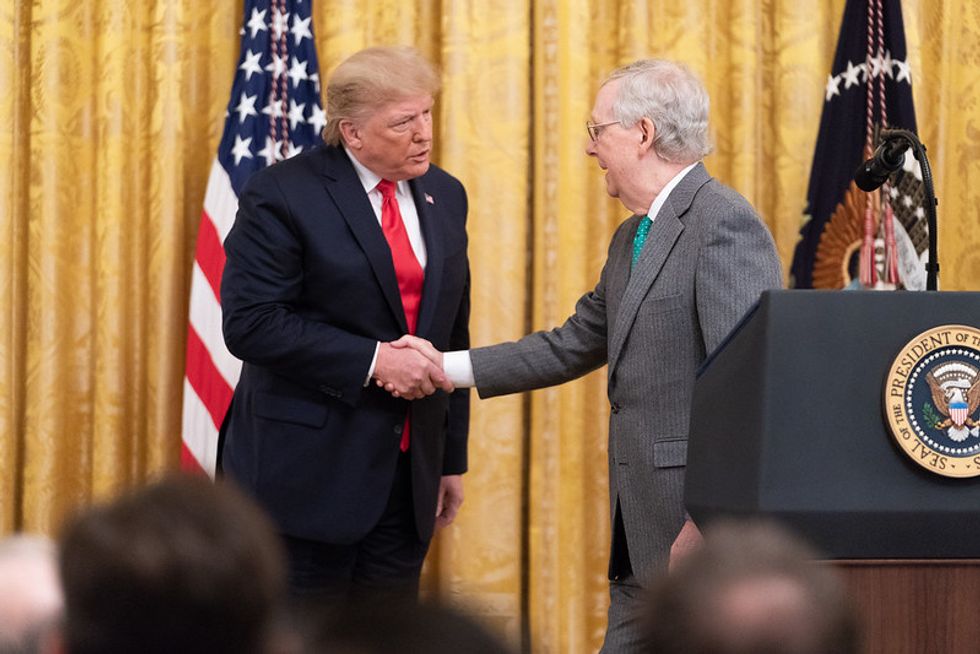 Senate Majority Leader Mitch McConnell admitted Thursday night that he was "coordinating" defense strategies with the White House ahead of Donald Trump's Senate impeachment trial.
"Everything I do during this [trial preparation], I'm coordinating with White House counsel," McConnell told Fox News host Sean Hannity.
"There will be no difference between the president's position and our position as to how to handle this, to the extent that we can," he added.
The House Judiciary Committee approved two articles of impeachment against Trump on Friday morning, one for abuse of power and one for obstructing Congress. The full House of Representatives will likely vote on the articles before Christmas.
After noting that he could not ignore impeachment, the Kentucky senator added, "We'll be working through this process, hopefully in a fairly short period of time, in total coordination with the White House counsel's office and the people who are representing the president in the well of the Senate."
McConnell's proactive coordination strategy with the White House is in direct opposition to how Senate leaders handled the last impeachment trial.
Former Sen. Tom Daschle of South Dakota was the leader of the Senate Democrats when the House voted to impeach President Bill Clinton in 1999. On Thursday, he told Axios that joining forces with the White House during such a trial was inappropriate and something he had avoided during Clinton's impeachment.
"I felt strongly that, as a 'juror,' contact or coordination with the White House was not appropriate," Daschle told Axios on Thursday. "I had no conversations with the president or his staff during the entire time of the proceedings."
McConnell will lead the process to set the rules for the Senate impeachment trial, which includes the number of witnesses each side is allowed to call in for testimony. In 1999, the rules were unanimously adopted.
Once the trial begins, McConnell will be one of the 100 jurors in the Senate trial, which will be presided over by Supreme Court Chief Justice John Roberts. A two-thirds majority, or 67 of 100 senators, would be needed to remove Trump from office. Republicans currently hold a 53-47 majority.
During the House impeachment inquiry, Republicans routinely complained about the process implemented by the House Democrats. That process included several closed-door hearings during which Democrats and Republicans were given equal time to question witnesses, as well as multiple public hearings where three of the witnesses were requested by Republicans.
The House Judiciary Committee also held several hearings in which the White House was invited to participate. Trump, through his lawyers, declined the offer, calling the process "a charade" and a "reckless abuse of power," in a letter to House Judiciary Chair Jerry Nadler.
Republicans, including the White House, have repeatedly accused the Democratic majority of running a "fundamentally unfair" impeachment process, describing it as a "partisan charade."
Published with permission of The American Independent Foundation.