Making 'Too Big To Fail' Banks Help Poor Borrowers
@DavidCayJ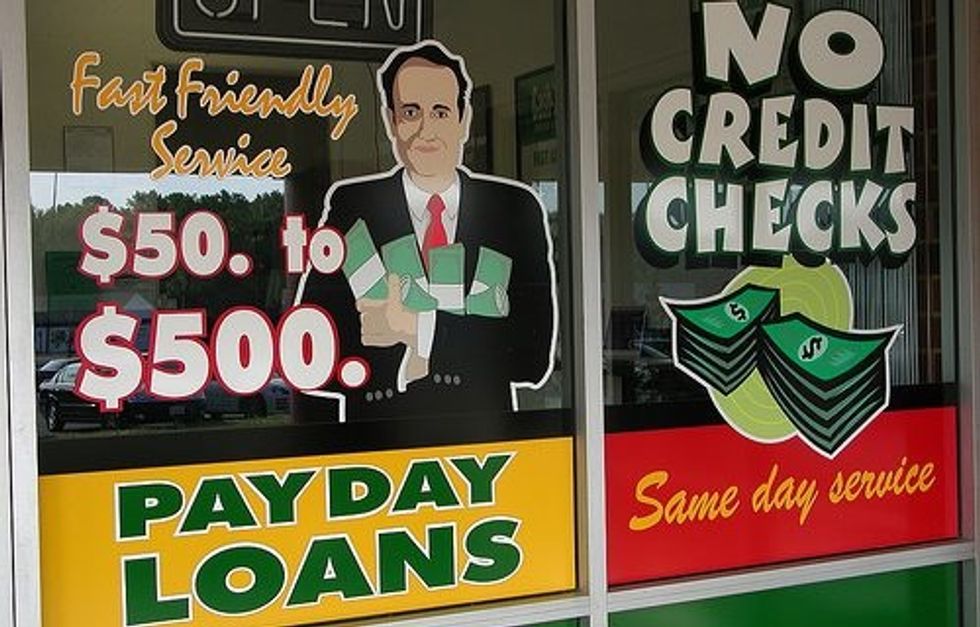 Predatory lenders are folding fast in New York State, thanks to a savvy banking regulator who takes his duty to protect the public as seriously as his duties to the financial industry — and knows how to use the law to get quick action.
Nine of 35 predatory lenders closed their operations in the Empire State after banks cut them off from using the automated bank money transfer system to collect debts from borrowers' bank accounts, the trade paper American Banker reported on Thursday.
It seems likely that more predatory outfits will fold their operations in the days ahead, not just in New York, but around the country, because the handful of "Too Big to Fail" banks operate in every state and so threatening them in New York effectively is a nationwide law enforcement strategy.
Amazingly, all it took was a single letter, showing that regulation and enforcement need not be costly to taxpayers.
For years, consumer groups like the National Consumer Law Center and the Center for Responsible Lending have fought to get official action against lenders who flout usury and other consumer protection laws.
The lenders have fought them all the way, often relying on obscure legal and regulatory rules that would require the offices of state consumer and law enforcement agencies – their budgets already stripped to the bone by anti-regulatory politicians – to commit resources they no longer have. So we got more words than real actions from many agencies that are supposed to enforce consumer protection laws.
For consumer advocates the biggest problem has been indolence by the regulators. Those who get paid to enforce the finance laws often work hard instead to curry favor with the regulated because that is the well-worn path to lucrative employment after leaving the public payroll.
The hero of the remarkably effective law enforcement strategy that caused so many payday lenders to abruptly quit in New York, with repercussions across the nation, is Benjamin Lawsky, a former federal prosecutor in Manhattan who is now superintendent of banking for the state.
Lawsky simply sent a letter August 5 explaining the law to licensed banks and to NACHA, the National Automated Clearinghouse Association. The clearinghouse is how banks move money around digitally. Predatory lenders use the system to reach into the checking accounts of customers, to withdraw money to repay loans.
Because so many millions of people have their checking accounts at the "Too Big to Fail" banks, which operate nationally, going after them in New York is effectively a strategy to make them comply with the law far beyond the borders of New York.
Charging more than 16 percent interest is a civil offense in New York State. Charging more than 25 percent is a criminal offense, Lawsky noted, except for loans made by banks, credit unions and other licensed financial institutions.
Facilitating usury by others can also be a crime.
The payday and other predatory lenders used the bank clearinghouse system to collect debts often charged rates that on an annual basis were 10 times the statutory limits or more.
As American Banker's Kevin Wack explained:
Just three days after … Lawsky called on the industry to "choke off" the online lenders' access to the ACH payments network, the industry-run electronic payments group NACHA sent a letter to banks warning them that authorizing access to customer accounts could violate NACHA rules.

In the letter, NACHA stated that under its rules, "purported authorizations to pay illegal loans that are unenforceable under applicable state law" are not valid.
Lawsky noted that loans made at interest rates exceeding the lawful limits are void.
That means borrowers can be excused from the debts — if they know their rights and how to enforce them.
The number of consumers who know this, however, is tiny. And the number of judges willing to take the time to listen to such cases, and rule in favor of those who have the usury laws on their side, is smaller still. In addition there is a cultural issue. Loan sharks who look like they work on the docks are judicially suspect — not so loan sharks in banker suits with white-shoe law firms.
Some of the lenders are non-banks owned by individuals who are members of recognized Indian tribes; vanquished nations that generally are exempt from federal and state law for their internal operations.
Western Sky Financial, which advertises widely on midday and late-night cable television, as well as Discount Advances, MyCashNow.com, PayDayMax, and Sure Advance say at their websites that they have stopped lending in New York, Wack reported.
The websites of these firms have stopped working: Tribal Credit Line, Fast Cash Personal Loans, Bayside Loans, and SCS Processing.
About 400 payday loan workers at Discount Advances, MyCashNow.com and PayDayMax were laid off this month, some with no notice or severance, according to an Aug. 17 report in the Chattanooga Times Free Press.
The Chattanooga newspaper described the former used-car dealer who owns or controls these firms, Carey V. Brown, as a "philanthropist."
It also appears that a shutdown is underway at Western Sky Financial, whose cable television ads pitching high-cost loans are ubiquitous. Martin "Butch" Webb, a member of the Cheyenne River Sioux tribe, owns Western Sky. He is laying off most of his local workers, a local television station in Sioux Falls, SD reported last week.
The Federal Trade Commission and several state attorneys general are suing Webb's payday lending operations, saying their lending terms violate the law.
Webb asserts that because his operations are based on tribal lands, he is exempt from federal and state usury and other laws. Resolving that issue could take years, which is what makes Lawsky's simple and effective approach so appealing.
Instead of going at Webb and others in forums that let them deny and delay, Lawsky went to the enablers, putting them on notice that doing business with predatory lenders puts them at risk.
Photo: Taber Andrew Bain via Flickr.com