March In New York Focuses On Climate Change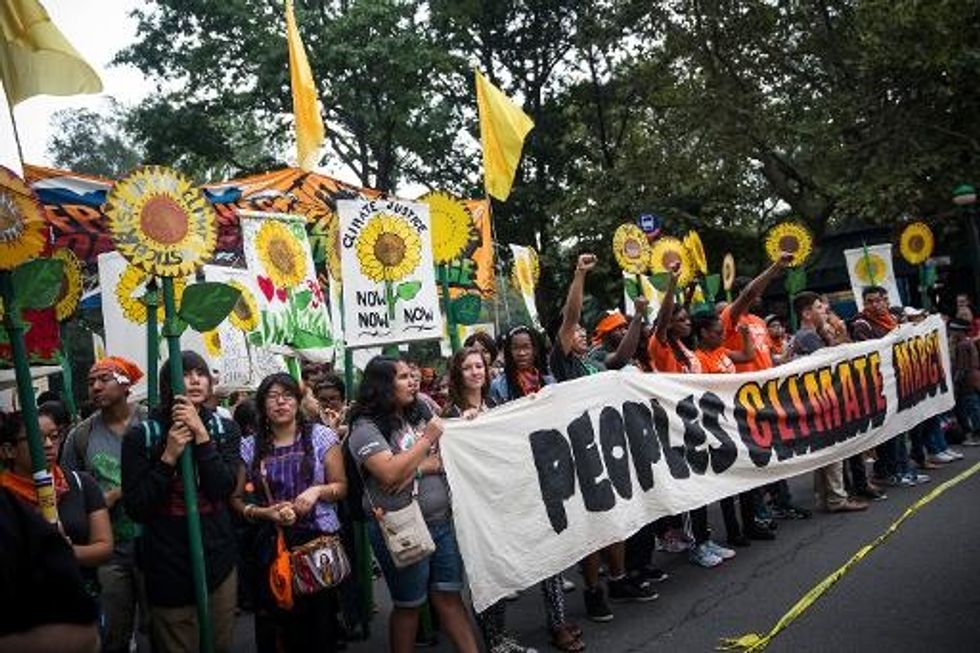 By Neela Banerjee, Los Angeles Times
NEW YORK — Thousands of peaceful demonstrators, including Native Americans in traditional clothing, politicians and top environmental activists, descended on Manhattan Sunday to draw attention to climate change.
The People's Climate March came before a United Nations Climate Summit scheduled to begin Tuesday, when 120 world leaders will meet to discuss strategies for achieving a new global climate treaty. The New York march was one of more than 2,000 such demonstrations that took place around the world Sunday, including in London, New Delhi and Melbourne, Australia, according to organizers.
The New York event included billionaire environmental activist and philanthropist Tom Steyer from California, U.S. Senators Bernie Sanders (I-VT) and Sheldon Whitehouse (D-RI), actor Leonardo DiCaprio, Robert F. Kennedy Jr. and Mary Robinson, the former president of Ireland.
Organizers had hoped to draw at least 100,000 people to the Manhattan demonstration, which Bill McKibben, chairman of the environmental group 350.org, described as "mildly chaotic but incredibly beautiful."
Speaking by phone from the march, McKibben said he hoped the demonstrators' numbers would help tilt the public debate toward action on curbing climate change.
"They have all the money, but I think we're demonstrating today we have quite a few people," McKibben said. "This is what happens when people organize. Things begin to shift."
With the sky overcast and fog enveloping the tops of skyscrapers, many participants hadn't approached the march's starting line more than two hours after the parade began.
Several groups opposing the planned Keystone XL pipeline were among those to join the march, whose participants argue the pipeline could threaten important underground water resources and help to promote development of carbon-intense oil production in the tar sands of Alberta, Canada.
Stanley Sturgill, a retired coal miner from Kentucky who now suffers from black lung, a condition brought on by prolonged exposure to coal dust, was in the crowd.
"We have dug the coal that has generated the electricity to power this country but our people are paying a price for it," he said. "We are here to tell our world leaders that we are at the front lines of this crisis."
At 1 p.m., the marchers held a moment of silence to honor people affected by climate change. After the moment was over, the crowd let out a cheer.
"We are in the race of our lives against climate change. It already affects all of us — every person, in every country," Fred Krupp, president of the nonprofit advocacy group Environmental Defense Fund, said in a statement.
"It is having an impact on our health, our safety, our economy, our food supply, and those impacts will surely grow exponentially if we do not reduce climate pollution dramatically, starting now. And yet today's march made me more optimistic than ever that we can meet this challenge."
Polls show increasing support in the United States for policies to combat climate change.
Two of every three registered voters in the U.S. think global warming is happening, and more than half of them are worried about it, according to a poll conducted by the Yale Project on Climate Change and the George Mason University Center for Climate Change Communication.
Two-thirds of Americans say they support laws that would promote the use of renewable energy to wean the country from fossil fuels, and two-thirds also support setting limits on carbon-dioxide emissions from coal-fired power plants.
AFP Photo/Andrew Burton
Want more environmental news and analysis? Sign up for our daily email newsletter!