Republicans Who Backed Rail Deregulation Blame Democrats For Disaster
@jeisrael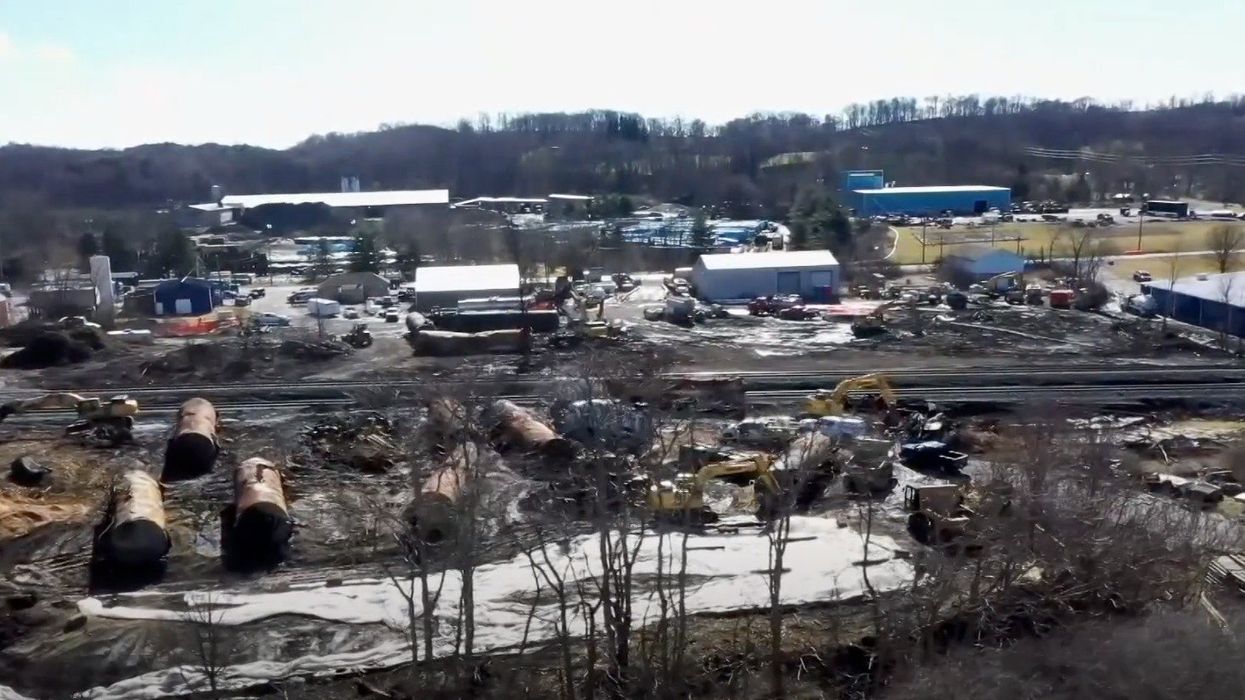 Former President Donald Trump and other Republican politicians are blaming President Joe Biden's administration for ongoing public health challenges facing East Palestine, Ohio, following the February 3 derailment of a Norfolk Southern train that was transporting toxic chemicals.

But their own party platforms have called for broad deregulation of health, climate, and safety standards across the government, and Trump and others in his party pushed to weaken railroad regulations aimed at preventing derailments and other potential accidents.
For years, Republican politicians have characterized regulations as "burdensome" and "job-killing" while proposing policies to prevent the federal government from protecting consumers, workers, and the environment.
In a section of its 2016 platform, which was left unchanged at the 2020 GOP convention, the Republican National Committee warned against "Regulation: The Quiet Tyranny."
Over-regulation is the quiet tyranny of the "Nanny State." It hamstrings American businesses and hobbles economic growth. The Great Recession may be over, but in the experience of most Americans, the economy is still sick. The federal regulatory burden has been a major contributor to that stagnation.
The ability of the American people to govern themselves has been undermined by a vast array of agencies with sweeping power to regulate every aspect of American life.
As a candidate, Trump promised to issue a new rule on the first day of his administration requiring "that for every new federal regulation, two existing regulations must be eliminated." He continued his deregulation crusade as president, repealing several environmental, health, and safety regulations issued under his predecessor, President Barack Obama.
Among them was a 2015 Obama administration requirement that electronic braking systems be installed on trains that transport flammable crude oils. The Trump administration claimed in 2018 that the cost of the brakes outweighed any potential benefit and cut the regulation.
Jennifer Homendy, chair of the National Transportation Safety Board, tweeted on Feb. 16 that this rule would likely not have prevented the East Palestine derailment because it would not have applied to the train that derailed.
Sen. Marco Rubio (R-FL) demanded on February 16 that Transportation Secretary Pete Buttigieg resign, claiming in a press release, "The circumstances leading up to the derailment point to a clear lack of oversight and demand engagement by our nation's top transportation official." He said "questions are being raised regarding the U.S. Department of Transportation's (DOT) regulatory oversight and the administration's response" to the release of vinyl chloride into the ground and air near East Palestine.
Buttigieg defended himself, telling reporters on Monday, "I can't help but notice the last time this agency heard from him on rail regulation was his signature being on a letter that was pretty obviously drafted by industry, calling on us to weaken our practices around track inspection."
Rubio was one of 23 Republican senators who signed an October 2021 letter urging the Federal Railroad Administration to allow more automated railroad track inspections in lieu of human visual inspections, as the rail freight industry has urged. The senators called the issuance of regulatory waivers to rail companies a "critical step in the utilization of new technologies."
A senior Federal Railroad Administration official told the Washington Post on Thursday: "There is a safety basis for visual inspections. We need redundancy and an added level of safety."
The Biden administration also has said that the Trump administration's focus on deregulation undermined public health and safety.
"Congressional Republicans and former Trump Administration officials owe East Palestine an apology for selling them out to rail industry lobbyists when they dismantled Obama-Biden rail safety protections as well as EPA powers to rapidly contain spills," spokesperson Andrew Bates told USA Today on Wednesday.
Reprinted with permission from American Independent.