Margie Greene's Husband Files For Divorce, Saying Marriage Is 'Broken'
@next2godwin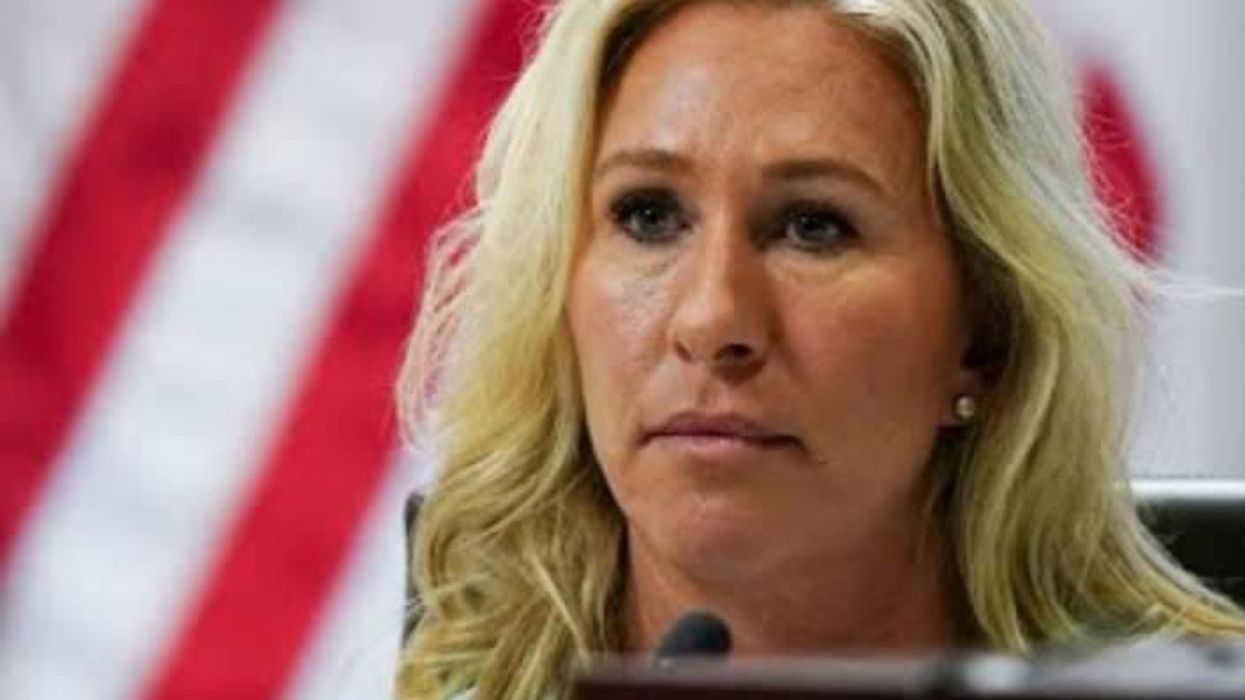 Outspoken MAGA firebrand and Christian nationalist Rep. Marjorie Taylor Greene (R-GA) — who unleashed a litany of falsehoods, including the Big Lie, at a GOP gala — is headed for splitsville after her husband of 27 years filed for divorce on Wednesday, citing an "irretrievably broken" marriage.
\u201cMarjorie Taylor Greene's husband, Perry, has filed for a divorce from the congresswoman. "The marriage between the Petitioner and the Respondent is irretrievably broken."\u201d

— Charles Bethea (@Charles Bethea) 1664411639
The divorce petition — filed in Georgia Superior Court of Floyd County and reported by multiple news outlets — stated that Rep. Greene and her husband, Perry Greene, had been "previously separated and remain in a bona fide state of separation."
Perry Greene, who initiated the split, asked for an "equitable division" of the couple's assets and debt and that forthcoming filings pertaining to the divorce be sealed as the "sensitive personal and financial information" unveiled in the case "would negatively impact the parties' privacy interests," according to The Hill.
"The Court should allow all filings to be made under seal in this case because the parties' significant privacy interest in sealing the records outweighs the public's minuscule interest in access to said records," the motion read, per Bloomberg.
The Hill noted in its report that Rep. Greene had signed a document in the court docket affirming receipt of her husband's divorce filing.
Requesting privacy while the divorce proceedings are sorted out, Rep. Greene issued a statement to news outlets extolling her estranged husband:
"Marriage is a wonderful thing, and I'm a firm believer in it. Our society is formed by a husband and wife creating a family to nurture and protect," Rep. Greene told Fox News. "Our society is formed by a husband and wife creating a family to nurture and protect. Together, Perry and I formed our family and raised three great kids. He gave me the best job title you can ever earn: Mom. I'll always be grateful for how great of a dad he is to our children," she added.
Rep. Greene's representatives released a statement on Perry Greene's behalf calling the congresswoman an "amazing mom" and his "best friend."
"Our family is our most important thing we have done. As we go on different paths we will continue to focus on our 3 incredible kids and their future endeavors and our friendship," Perry Greene said.

The Greene marriage was rocked by reports last year of an affair allegedly between Rep. Greene and a polyamorous sex guru and, later a hookup with a local gym manager, as well as others — allegations of infidelity that the congresswoman declined to comment upon.

According to theDaily Mail, Rep. Greene herself reportedly sought a divorce in July 2012, citing the familiar "irretrievably broken" marriage as grounds for the split.
Greene's rise to right-wing prominence and election to congress came after years of spreading Q-Anon conspiracy theories and baseless allegations, one of which is the heinous allegation that the Parkland high school shooting was a "false flag" event.
The Trump-endorsed Republican also expressed support in 2018 and 2019 for the execution of Democrats, liking a comment that called for "a bullet in the head" to remove House Speaker Nancy Pelosi, CNN reported in January 2021.
Rep. Greene's first term has been devoid of committee assignments, but the polarizing Republican has been in several feuds with her House colleagues and downplayed the gravity of the Capitol attack, referring to January 6, 2021, as " one day with like a three-hour riot" in an unhinged speech at the Wake County GOP's "Roaring '20s" gala last week.