Margie Greene Will 'Lean Into' GOP Civil War Over House Leadership
@next2godwin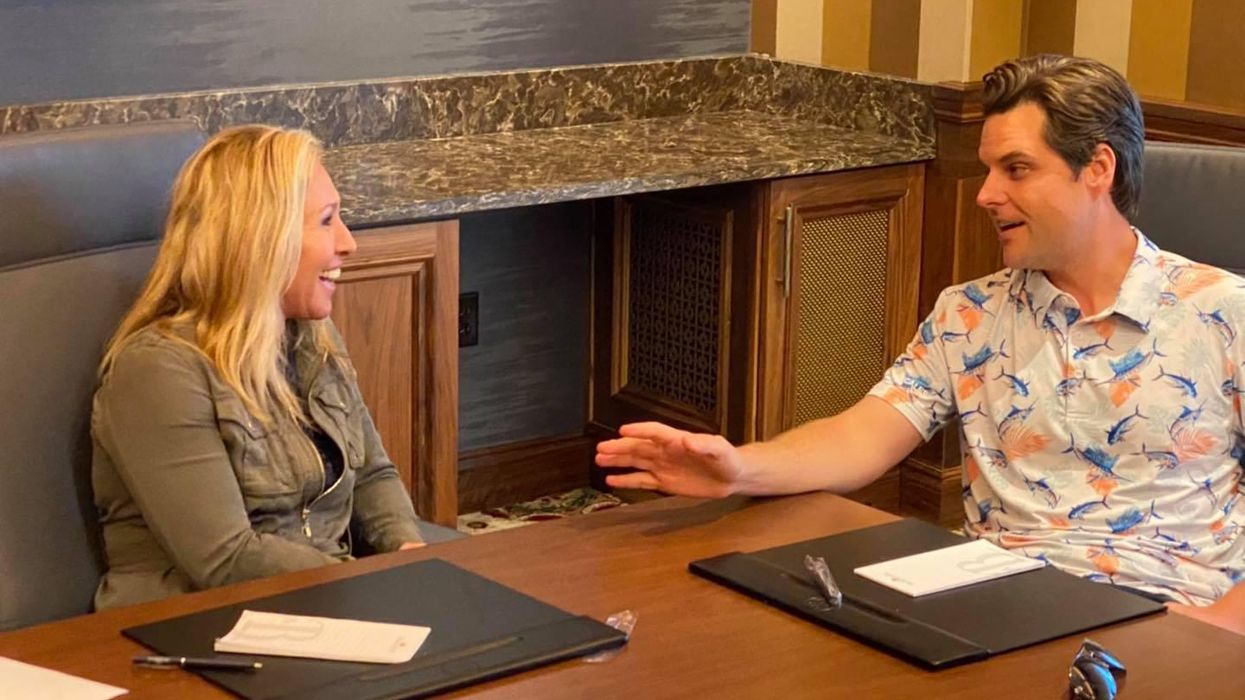 Photo from Marjorie Taylor Greene's Facebook
The knives are out on the right as Republicans squabble over hill leadership in the upcoming 118th Congress and apportion blame for the party's colossal failure in the 2022 midterms, and MAGA firebrand Rep. Marjorie Taylor Greene (R-GA) is willing to "lean into" the chaos.
Speaking to indicted ex-Trump adviser Steve Bannon, Greene expressed her zeal for wading into the "civil war": to push the GOP rightward, embracing the "America First" doctrine — including former President Trump's foreign policy that saw the United States withdraw from a contingent of international treaties and organizations.
"We're going to fight it out, and I'm telling you, I've always said I'm not afraid of a civil war within the GOP. I lean into it. You want to know why? I want to do everything I can to do my part within our conference to force the Republican Party to be the party that is America First and saves this country," Greene said.
\u201cMarge Greene today on battle for Speaker: \u201cWe\u2019re going to fight it out. I\u2019m not afraid of the civil war in the GOP. I lean into it.\u201d\u201d

— Ron Filipkowski \ud83c\uddfa\ud83c\udde6 (@Ron Filipkowski \ud83c\uddfa\ud83c\udde6) 1668440754
The Associated Press had the GOP at 217 seats on Monday night, one seat shy of a majority, while Democrats held 205 seats, with the vote count ongoing in other competitive races. NBC News projects the forthcoming Congress will feature a Republican House with a "220-215" majority, with a "+/-3 [seats]" margin of error.

"We're looking at having a very razor-thin majority [in the U.S. House], with potentially 219 [seats]. We're talking about one vote," Greene said, referring to projections of a slim Republican House majority.
The projected slim majority fell comically short of the sweeping "red tsunami" victory the Republican party promised their voters, leading to intra-party fights and widespread scorn for the GOP's leaders in congress.
Amid the chaos, House Minority Leader Kevin McCarthy kick-started his speakership bid, scrounging for support in the face of an emboldened far-right wing of the House GOP that's infuriated with the party's historic midterm underperformance.
Greene called on her Republican colleagues to support McCarthy, in contrast with members of the far-right House Freedom Caucus and far-right Trump-supporting House Republicans like Rep. Matt Gaetz (R-FL), who has repeatedly called for the postponement of congressional leadership elections slated to hold this week.
"Politics is a blood sport," Greene told Bannon. "We have to do everything we can to stop our enemy. And the enemy is the Democrat Party."
Greene's comments came amid reports that Rep. Andy Biggs (R-AZ), ex-chairman of the Freedom Caucus, is preparing to run against McCarthy for the Speaker's gavel.
"Well, I actually think that's a bad strategy," Greene said of Biggs' prospective challenge. "It's very, very risky right now to produce a leadership challenge, especially for Speaker of the House."
"We have to put someone in for Speaker that is going to be elected, and not allow the Democrats to pull away one or two [votes], because that's what they want to do," Greene continued. "Believe me, they can do it. It can be done."
According to Axios, Greene — who had once promised to do battle against McCarthy if, as the speaker, he refused to impeach President Joe Biden — has had weekly meetings with the House Minority Leader, who had promised to reinstate her committee assignments if he assumed the mantle of Speaker.
"Greene's defense of McCarthy at a time when he's so vulnerable will be richly rewarded if he becomes speaker — likely with a plum position on the powerful House Oversight Committee," Axios' Zachary Basu noted.
"I think that to be the best Speaker of the House and to please the base, [McCarthy is] going to give me a lot of power and a lot of leeway," Greene told the New York Times Magazine in a report published last month.
To become House Speaker, a candidate would need to amass 218 votes on the chamber floor, and conservatives, including Biggs and Gaetz, have warned that neither McCarthy nor his would-be challengers currently have the votes to lead.
Breaking with other Trump Republicans, Greene warned that a McCarthy speakership was better than a selection made by Democrats, whom she said could enlist moderate Republicans to vote with them to appoint outgoing Rep. Liz Cheney (R-WY), vice-chairwoman of the House Select Committee, the congressional panel investigating the January 6 insurrection.
"The danger is this, do we want to watch a challenge for Speaker of the House simply because the 'Never Kevin' movement — just like we've seen a 'Never Trump" movement — do we want to see that challenge open the door to Nancy Pelosi handing the gavel to Liz Cheney?"
While McCarthy has kept mum about the turmoil, ignoring multiple requests for comment, Politico, in a report on Monday, suggested that the minority leader had begun canvassing for support from moderate Democrats to overcome the far-right GOP blockade.