In Debate, Greene Lies About Capitol Riot And Claims She Was A 'Victim'
@next2godwin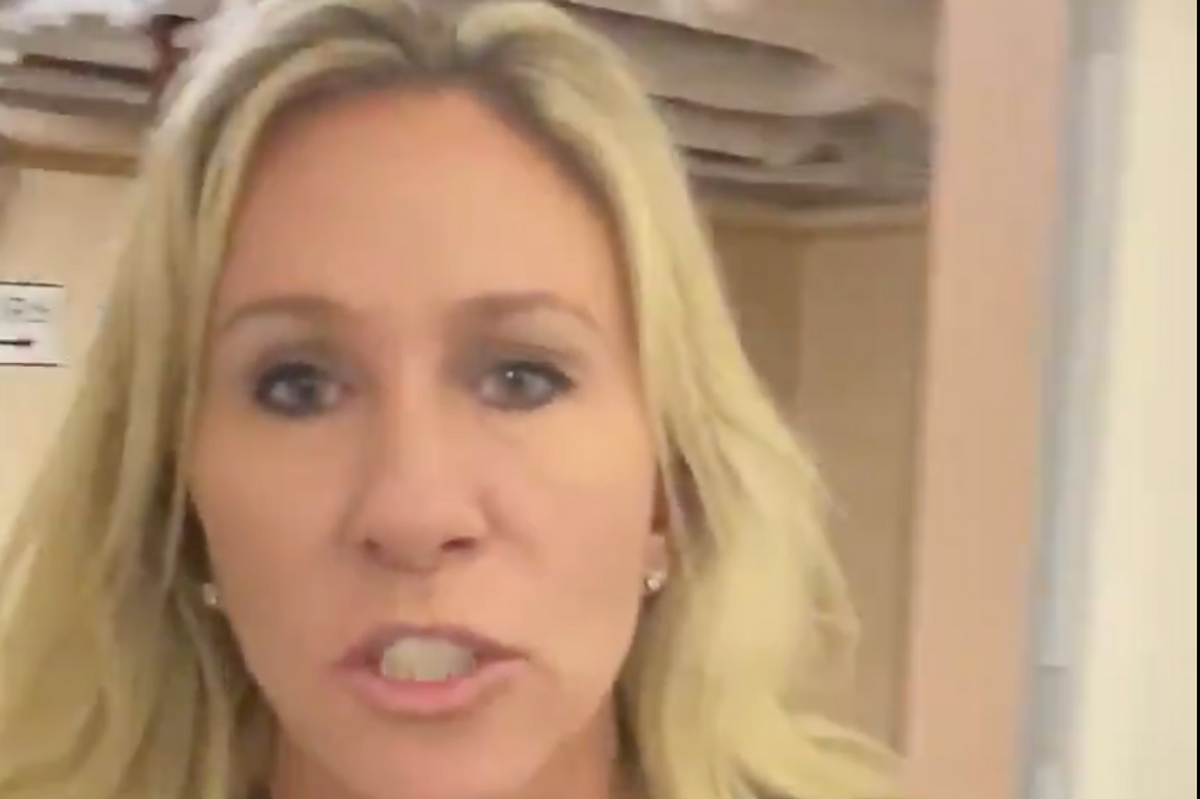 Rep. Marjorie Taylor Greene (R-GA), a propagator of extreme right-wing bombast and QAnon conspiracies, has once again denied involvement in last year's attack on the U.S. Capitol by a mob of Trump supporters, insisting that she was a "victim," despite her insistence that widespread election fraud in 2020 election had denied then-President Donald Trump a second term in office.
In a televised debate Sunday night, Greene, a first-term congresswoman running for another stint representing Georgia's congressional 14th district, flew into a rage after her Democratic challenger, Marcus Flowers, accused her of participating in the horrific events of January 6, 2021.
"You cannot accuse me of insurrection," Greene fumed. "I was a victim of the January 6 riot just as much as any other member of Congress. That was the third day I had on the job. I had nothing to do with what happened there that day, and I will not have you accuse me of that. That is wrong of you to do. You are lying about me, and you will not defame my character in that manner."
Her assertion is unhinged from reality, though, as she had repeatedly peddled the Big Lie — that Trump won, not Biden; referred to the January 6 rally as "our 1776 moment"; and challenged Michigan's electoral votes, citing a "forensic audit" of voting machines in Antrim County.
Astute netizens on Twitter were quick to eviscerate Greene for her fake claims of innocence on the podium, pointing out numerous videos of her spreading the Big Lie and vaunting the January 6 rally that would later become a failed insurrection attempt.
"Did Joe Biden win the election, Congresswoman Greene?" Flowers asked — a question Republican election deniers up and down the ballot have refused to answer — and Greene replied, "Joe Biden is the President of the United States, Marcus."

"Absolutely," Flowers responded. "But you pushed a big lie that said he did not win the election. And you drove those people over the Capitol on January 6 with your lie."
Greene tried to interrupt Flowers with baseless allegations of fraud in the previous elections, despite denying any involvement in the riot only moments before. "There was election fraud proven. There was election fraud in the [SIC] 2020 election, and my husband has the proof of it."
When Greene tried labeling Flowers a member of the "Defund the Police" party, the Democrat quickly fired back, telling the American people that Greene was, in fact, selling "Defund the FBI" merchandise on her website.
"I have said it over and over again, I am completely against what happened on January 6," Greene continued, attempting yet again to rewrite history. "But I will not stand by and watch Merrick Garland [the U.S. attorney general] turn the Department of Justice into a political weapon and the FBI sending it after parents that are addressing their school boards."
She added, "People that walked in the Capitol and have been held in jail for nearly two years while Antifa and BLM [Black Lives Matter] rioters go free and are never held accountable."
Seemingly confident that spreading divisive right-wing rhetoric would only consolidate her base in the extremist sphere of the Republican party, Greene advocated for the rioters unfazed, saying, "[The BLM protests] was an attack on innocent American people whereas January 6 was just a riot at the Capitol. If you think about what our declaration of independence says it says to overthrow tyrants."
"So there is a clear difference between January 6 and the Marxist communist revolution that Antifa, BLM, Democrat ground troops waged on the American people in 2020," Greene said.
Her insistence on blaming Democrats and Antifa for the violence wrought by a mob that she, Trump, and other prominent members of the GOP incited with lies of a stolen election has been covered by multiple publications, most recently the New York Times, which referenced Greene's interview with Katie Hopkins, a British white nationalist, the day after the Capitol riot.
"Last night and into the early-morning hours was probably one of the saddest days of my life," Greene told Hopkins, according to the Times. "It was extremely lonely in there, watching, basically, the certification of the Electoral College votes for Joe Biden and Kamala Harris, even though we know the election was stolen, and the Democrats were working so hard on it, but Republicans too, there were Republicans also."
Speaking of the riot, Greene said, I know there were bad actors involved and investigations are underway — and it's Antifa."