Gaetz's Patronage Of Medical Marijuana Industry Now Subject Of Criminal Probe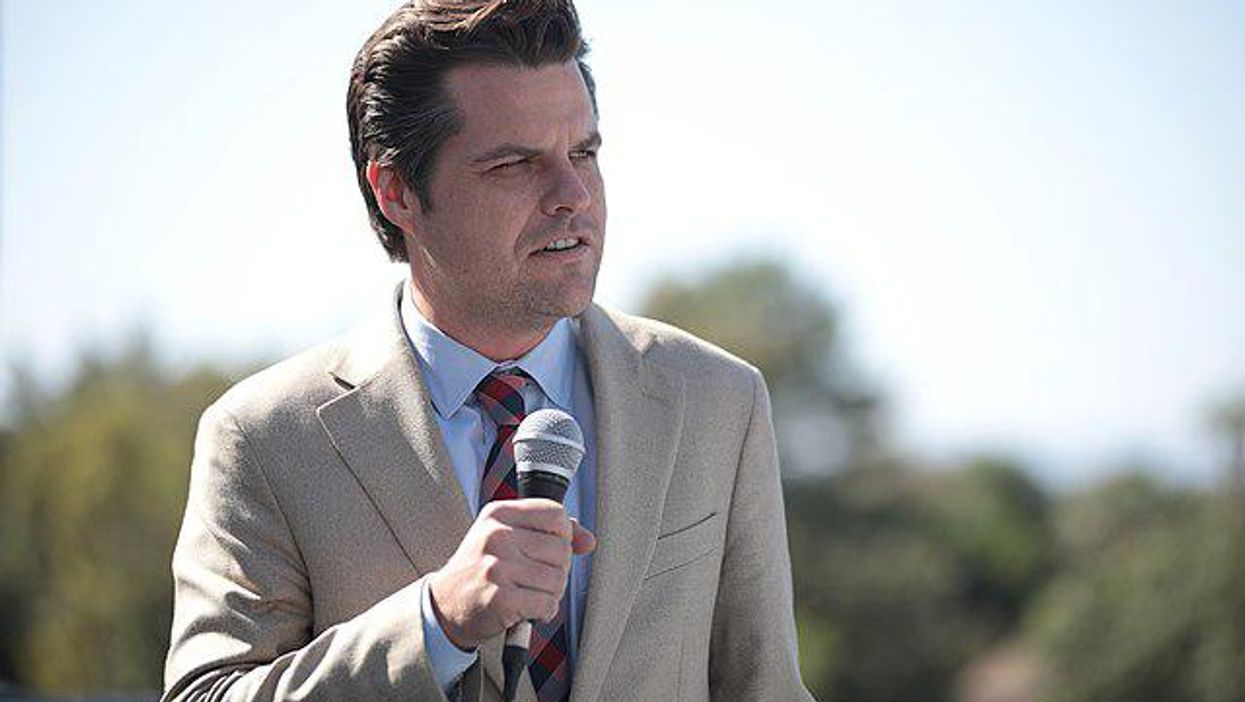 Prior to Florida's legalization of medical marijuana, Rep. Matt Gaetz (R-Fla.) was at the center of the proposed efforts to pass legislation. For years, he was also a fierce advocate for medical marijuana, but with the onslaught of investigations he is currently facing, there are also questions about his motivation for getting the legislation passed.
According to The Tampa Bay Times, just hours after the marijuana bill was passed, lawmakers incorporated an amended version of the bill that included a stipulation on who could apply and benefit from the billion-dollar income opportunity.The distinct change led to questions about conflicts of interest that may have motivated Gaetz. Several of Gaetz's close friends benefited from that stipulation.
Per the Tampa Bay Times, here is a short list of Gaetz's close associates and friends who benefited from the marijuana bill:
"— The brother of Gaetz's friend and fellow state Rep. Halsey Beshears, who co-founded one of Florida's first licensed marijuana companies and amassed a fortune currently valued at about $600 million — and became a major Republican Party donor.
— A Panhandle developer and client of Gaetz's law firm who invested in another of the state's first marijuana licensees and who, according to financial and court records, roughly tripled his money in two years.
— Ballard Partners, a prominent Tallahassee lobbying firm, which until recently employed former state Rep. Chris Dorworth, whom Gaetz once described as his legislative "mentor." The firm was given investment interests in at least three companies that eventually won marijuana licenses, and is now earning $160,000 a year in lobbying fees from a fourth.
— Another of Gaetz's friends, Orlando hand doctor Jason Pirozzolo, who helped craft that 2014 legislation and then started several marijuana businesses, including a consulting firm that worked with companies applying for marijuana licenses and a professional association that sells sponsorships to marijuana vendors."
Due to the number of people connected to Gaetz who have benefited from Florida's medical marijuana bill, investigators are working to determine if he received gifts or any form of compensation for his work to pass the marijuana legislation. Another aspect centers on the fact that all four are connected to the investigative probe into Gaetz's close friend, former Seminole County Tax Collector Joel Greenberg.
Gaetz's spokesperson Harlan Hill released a statement in response to the speculation, insisting the Republican lawmaker never received any gifts or items of value in exchange for his work to pass legislation on marijuana policy.
"While drafting Florida's initial medical marijuana law in 2014 with State Senator Rob Bradley, Gaetz had no knowledge that any of the people named in your story would seek to enter the industry," Hill said.
"Congressman Gaetz has never accepted a gift or any other thing of value in exchange for his work on marijuana policy," Hill added. "Congressman Gaetz's support for marijuana reform is rooted solely in his support for the Americans whose lives can be made better, healthier and easier through the use of marijuana. He looks forward to continuing this work in Congress."