Greene Joins Extremists Pushing 'Transsexual' Lies About Uvalde Killer
@next2godwin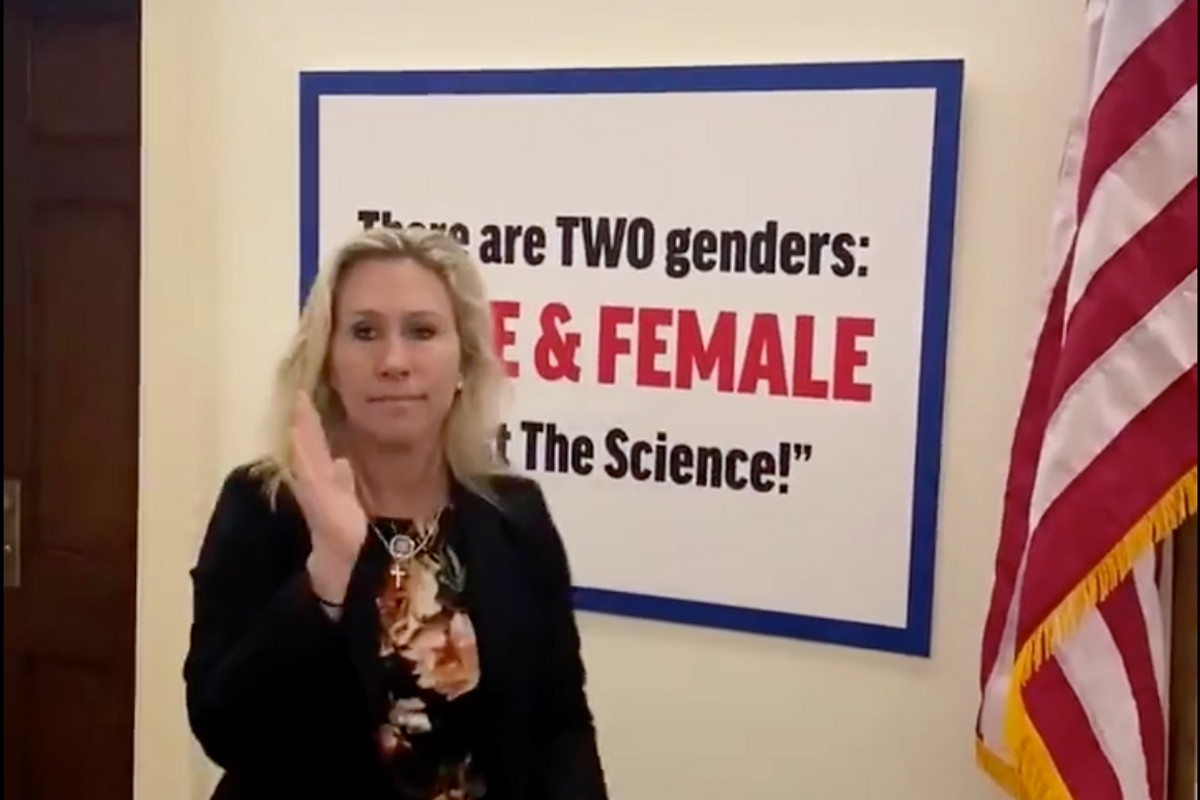 Emboldened by her successive victories in court and the GOP primary in Georgia, Rep. Marjorie Taylor Greene (R-GA) has joined the list of House Republicans deploying shockingly baseless conspiracy theory that the Uvalde gunman was transgender in a bid to deflect public attention elsewhere and stunt the growing calls for common-sense gun reforms.
On Sunday, Greene, a known far-right conspiracy theorist, started a Facebook Live — which she titled "Something doesn't add up" — before 9:30 pm and quickly began pushing an utterly unfounded rumor, without evidence, that Texas school shooter Salvador Ramos "clearly had a lot of mental issues going on, as was shown with him wearing eyeliner, cross-dressing, a lot of his language, being a loner."
Since the massacre, new details have continued to emerge about Ramos, but there's been nothing to suggest that the gunman was transgender or had been crossdressing, as Greene had claimed, without evidence. According to the Independent, the rumor appeared to have originated on 4chan, a hotbed of right-wing conspiracies, where extremist netizens falsely blamed a transgender woman for the shooting. However, the woman whom the 4chan users accused did not live in Texas and did not bear any significant resemblance to Ramos.
Greene isn't the only Republican spreading false rumors about the deceased 18-year-old suspect's identity. MAGA fanatic and anti-vaxxer Candace Owens and Republican Reps. Paul Gosar (R-AZ) and Pete Sessions (R-TX) have disseminated variants of the same rumor on social media and in interviews.
However, Greene went further down the conspiratorial rabbit hole than the others did, as is her style. She claimed — without evidence, of course — that Ramos had been in the same Discord server as Payton Gendron, the teen charged in connection with the recent massacre at a supermarket in Buffalo, a majo black neighborhood.
Eventually Greene issued a disclaimer on her live stream, stating that she had been unable to verify the information she was peddling on air.
The Georgian congresswoman didn't stop there, though. She pushed the misinformation still further, claiming that an unidentified party was "grooming" young men into mass shooters, inching towards a conspiracy that QAnon is founded on — that former President Trump, a hero, is facing down a cabal of Satan-worshipping pedophiles in government. The conspiracy theory is a staple used by conservatives to slander the LGBTQ community, as well.
Just hours after the shooting, in response to a tweet that claimed Ramos supported right-wing House members, Gosar wrote, and later deleted, a tweet claiming the shooter was a "transsexual" illegal immigrant.
"We know already fool. It's a transsexual leftist illegal alien named Salvatore Ramos. It's apparently your kind of trash," Gosar tweeted.
The Arizonian would later delete his tweet, but it's not his first social media attack on Democrats or left-leaning Americans. "The Democratic party is the party of hatred. They hate America, they hate people who love America, and they hate the religion and the descendants of the people who built America," Gosar tweeted on Monday.
Another Arizona Republican, Josh Barnette, who is challenging incumbent Rep. David Schweikert (R-AZ) for his House seat, publicly questioned whether or not Ramos was in the United States legally, but Texas Governor Greg Abbott stated that the gunman was a citizen of the United States.