Steve Bannon's 'War Room' Podcast Is Platform For QAnon Propaganda
@justinhorowitz_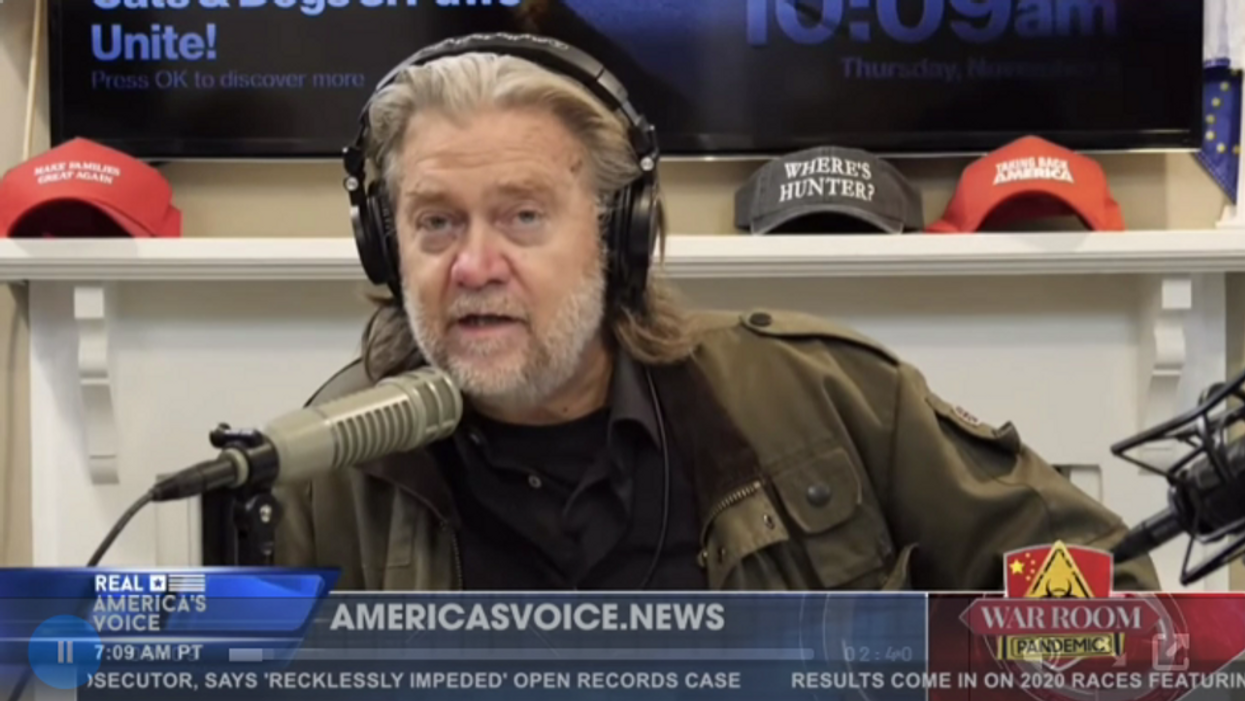 Reprinted with permission from Media Matters
Former Trump adviser Steve Bannon's podcast, War Room: Pandemic, is a deceptive showcase for the QAnon conspiracy theory.
With its conspiratorial nature, calls for revolution and violence, and overwhelming number of QAnon-connected guests and co-hosts, the podcast mirrors other QAnon programming.
Bannon's podcast is broadcast by Real America's Voice, a far-right news site that also has a history of propagating QAnon content. Streaming platforms that host the show – including Apple Podcasts, Google Podcasts, and ViacomCBS' PlutoTV – are dispensing a program closely connected to the dangerous QAnon conspiracy theory.
Apple Podcasts has delisted dangerous conspiracy theory content in the past, including Alex Jones' Infowars. According to ProPublica, Apple Podcasts has declined to comment on why the company continues to list Bannon's show while it seemingly violates its terms of service against "harmful or objectionable content."
The former Trump adviser started toying around with the conspiracy theory publicly on his show in October 2020, describing QAnon as "the elephant in the room" and claiming it "at least appears directionally to be correct."
STEVE BANNON (HOST): This is the elephant in the room. The elephant in the room is this QAnon thing that's been out there.
…
The elephant in the room is, people say they're crazy, I'm just leaving that -- put a pin in it. But when they look at the facts of this, how are they not, at least an aspect of their argument, at least appears directionally to be correct.
After QAnon adherents and other Trump supporters stormed the Capitol on January 6, Bannon attempted to distance himself from the conspiracy theory by labeling it an "FBI psyop."
Despite this attempt to distance himself, Bannon has grown increasingly supportive of the conspiracy theory, defending it from scrutiny. On the July 8 edition of his show, for example, Bannon complained that mainstream media "disparages" the conspiracy theory and uses its coverage to "smear" QAnon believers.
While "Q," the lead figure in the conspiracy theory, is not discussed on Bannon's program, the show's complete detachment from reality, its extremism, and the sheer number of QAnon connections make War Room appear essentially indistinguishable from other QAnon podcasts.
Bannon has embraced and touted his podcast guests as trustworthy sources of information on politics, without noting their connections to baseless conspiracy theories.
Here are some of the people connected to the QAnon conspiracy theory who have appeared on War Room:
Apple Podcasts, Google Podcasts, ViacomCBS' PlutoTV, and other outlets are responsible for providing a platform to Bannon and dozens of QAnon supporters and conspiracy theorists to spread their dangerous misinformation and lies about the COVID-19 pandemic, vaccines, elections, and more.