Evading Mainstream Media, Mastriano Campaigns At QAnon Meeting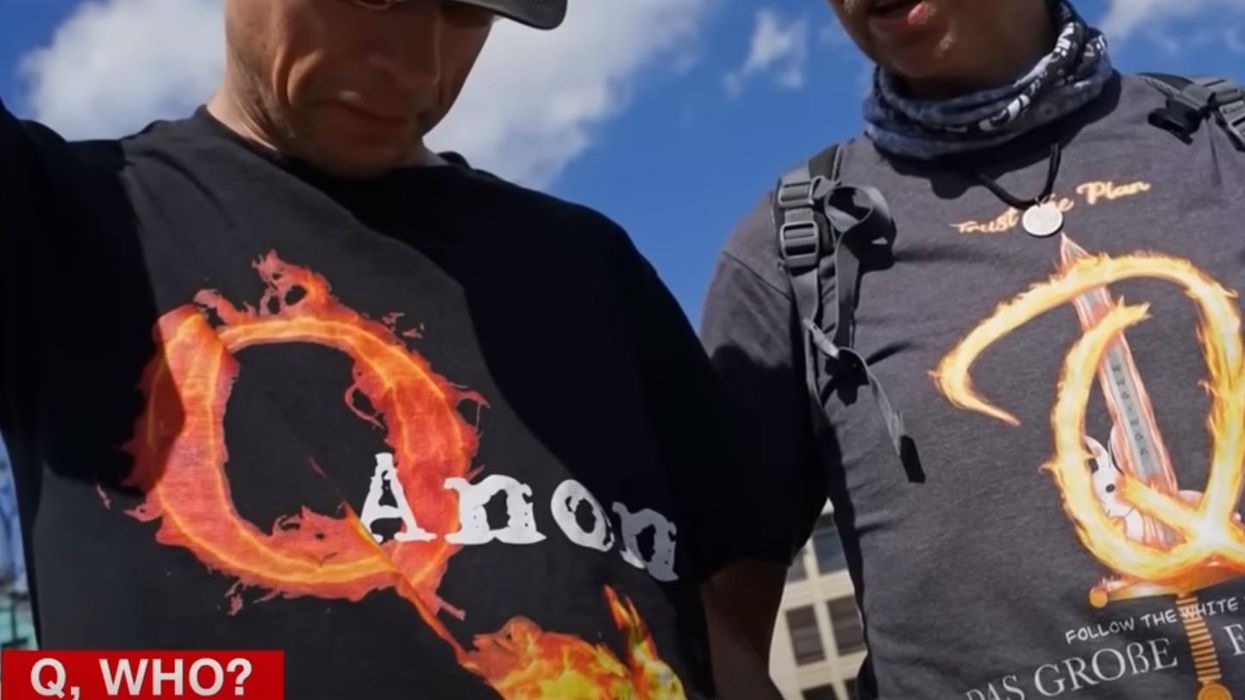 Youtube Screenshot
Republican gubernatorial candidate Doug Mastriano appeared Saturday at a QAnon-linked Christian nationalist conference in Pennsylvania, headed up by disgraced former Trump national security adviser Michael Flynn. This is just the latest example of Mastriano's effort to mobilize his base of supporters through fringe networks cultivated by the QAnon community, while he has simultaneously avoided mainstream media appearances.

ReAwakening America tour event organizer Clay Clark, himself a QAnon-linked conspiracy theorist, told The Philadelphia Inquirer that Mastriano's campaign asked for a spot in the speakers line-up, a fact that helps to cast light on Mastriano's deliberate strategy of cultivating support from the extremist fringe.
The official theme for the event, as shown on a promotional poster, is "The Great ReAwakening vs. The Great Reset."
Mastriano has also frequently promoted the QAnon conspiracy theory movement. Following the 2020 election he publicly prayed for Congress to "disregard" the votes, and he then organized buses to Washington, D.C., for the event that turned into a deadly assault on the U.S. Capitol.
Mastriano shuns mainstream media, embraces the fringe
During his campaign for governor, Mastriano has avoided contact with credible media outlets, refusing debate invitations from newspapers, shunning local press, and conducting almost no interviews with Pennsylvania media outlets. Instead, he developed relationships with the white nationalist social media site Gab and far-right figures such as conspiracy theorist Jack Posbiec. He has also campaigned with Julie Green, a self-proclaimed "prophet" who has declared that God will execute various political figures. In June, Mastriano tapped right-wing media personality Jenna Ellis — the disgraced former Trump lawyer and current Newsmax contributor — as a senior advisor for his campaign.
Just this week, Mastriano was interviewed by evangelist broadcaster and serial misinformer David Brody, during which Mastriano spread the conspiracy theory that Children's Hospital of Philadelphia is "grabbing homeless kids and kids in foster care" and "experimenting on them with gender transitioning." He also appeared Friday morning on Steve Bannon's show, speaking with guest hosts Jack Posobiec and former Trump adviser Peter Navarro while Bannon was at his sentencing hearing for contempt of Congress.
So, while Mastriano is avoiding contact with respectable media outlets, he has worked to build up his base among fringe activists — which is where Flynn's ReAwaken America tour comes in.
At the QAnon conference today headlined by Eric Trump and Michael Flynn, the speaker says the 'Angel of Death' is coming for various govt officials, and God is reinstating Trump to the presidency by the end of the year. pic.twitter.com/i7tyWOdWlB
— Ron Filipkowski 🇺🇦 (@RonFilipkowski) October 21, 2022
Other tour speakers: