Gaetz's Ex-Girlfriend Testifies Before Grand Jury In Sex Crimes Probe
@Brandi_Buchman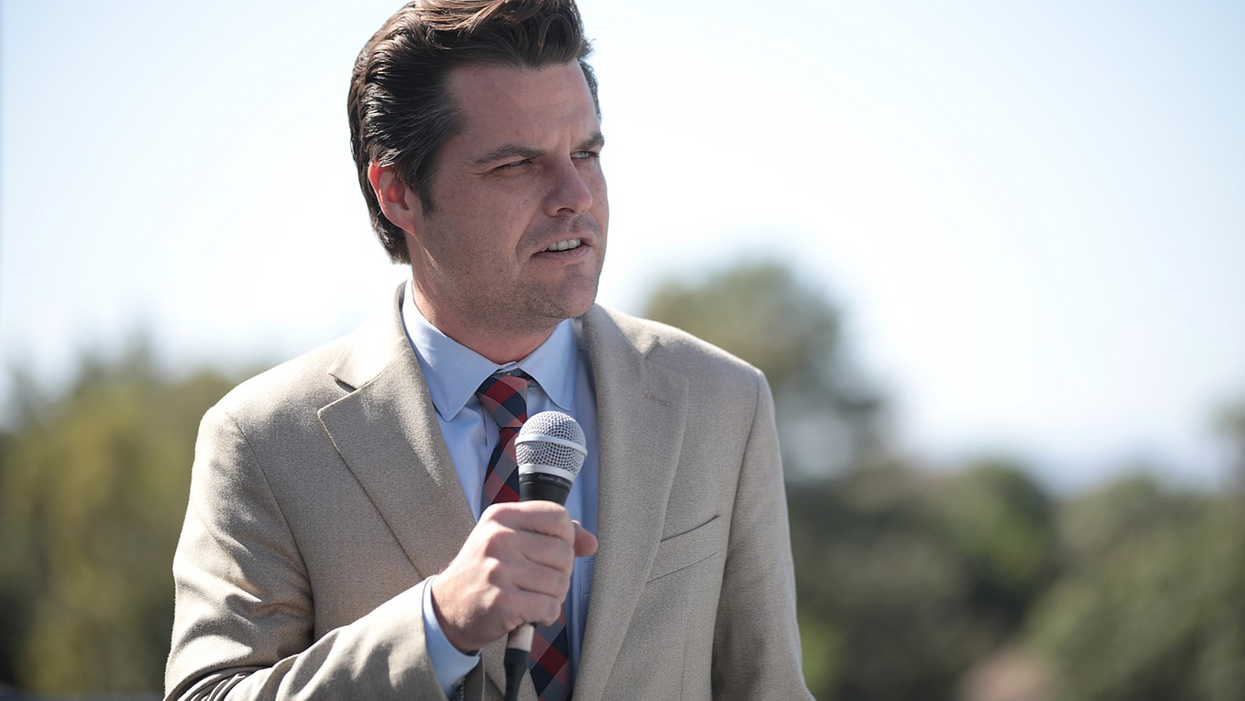 A federal grand jury heard testimony on Wednesday from the ex-girlfriend of Rep. Matt Gaetz, a Florida Republican who is currently under investigation by the Justice Department for possible sex crimes.
NBC News was first to report the development and noted that the cooperation between the woman and federal prosecutors has been ongoing for several months. To protect her privacy, her name has not been disclosed; her cooperation is part of her effort to secure immunity.
Gaetz has not been charged with any crimes and has staunchly denied the swirling allegations. But it is believed, according to a wide variety of reported sources with insider knowledge, that Gaetz is under scrutiny for a trio of crimes including obstructing justice, sex trafficking a 17-year-old girl, and violating the Mann Act—a law that bars the transport of minors over state lines.
Neither Gaetz nor the Justice Department immediately returned a request for comment Wednesday.
The probe into the Florida Republican's conduct has been ongoing for more than a year. It started when former Seminole County, Florida tax collector and friend to Gaetz, Joel Greenberg, was charged with a variety of unsavory crimes including sex trafficking a minor, identity theft, stalking, wire fraud, and conspiracy to bribe a public official. Greenberg pleaded guilty last summer and began cooperating with investigators to reduce his sentence.
Gaetz, it was revealed last April, sent Greenberg $900 over Venmo in May 2018. The very next day and over just a few minutes, Greenberg used Venmo to send the funds to three girls. The total Greenberg sent? $900.
Gaetz, in the memo portion for a cash transfer to Greenberg first wrote "test" and then "hit up ____." The blank section, according to The Daily Beast, was not blank in the Venmo transfer memo, but rather it featured the nickname of a girl who was one of the recipients of the cash. Because she was a minor at the time, the nickname was not disclosed.
Greenberg, when paying out the $900 listed it as "tuition" and "school" in the memo.
Politico was first to report that Gaetz was the subject of an obstruction inquiry last June, citing two sources who said that this part of the probe began only after a former girlfriend of the congressman patched Gaetz into a phone call she had with a witness to the alleged sex crimes. That witness has since talked to prosecutors. Their testimony could be instrumental in shaping how prosecutors will charge Gaetz, if at all.
One of the alleged sex trafficking victims has told prosecutors Gaetz had sex with her when she was a minor and paid for the exchange. There have also been questions around Gaetz's trip to the Bahamas in 2018, when he served as an adviser to Florida's now-governor Ron DeSantis.
According to a Politico report from April, a young woman central to the trafficking probe was on a 2018 flight to the Bahamas courtesy of Halsey Beshears, then a top regulator working in Florida's state government, and Jason Pirozzolo, a DeSantis gubernatorial campaign fundraiser. Bashears, Pirozzollo, and Gaetz were meeting in the Bahamas. Instead of flying with the women, Gaetz flew commercial.
While a source told Politico at the time that the women were all of age on the private flight, the report noted: "But questions surrounding the ages of some of the women surfaced immediately upon their return—three of them looked so young when they returned on Beshears' private plane that U.S. Customs briefly stopped and questioned him, according to sources familiar with the trip, including a woman on the flight."
News has been slow to trickle out about the career-jeopardizing investigation. In October, however, it was revealed that additional prosecutors—who specialize in sex trafficking—were added to the probe into the Florida congressman.
Reprinted with permission from DailyKos