Matt Lauer's Terrible Forum Earns Him Internet Ire: #LaueringTheBar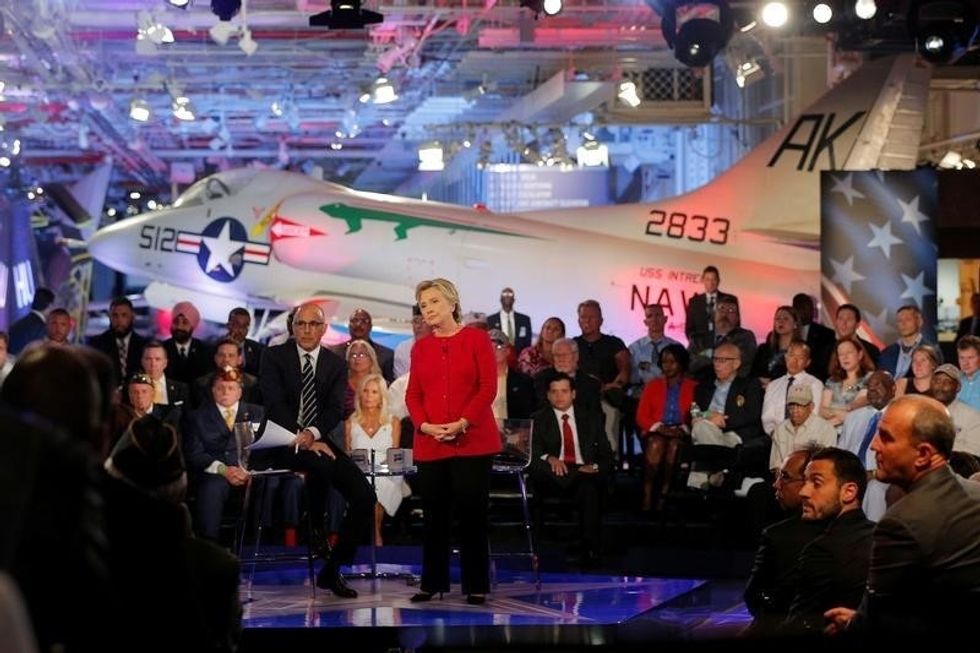 Matt Lauer is fielding a slew of criticism after his hosting of Wednesday's Commander-In-Chief Forum on NBC, during which he allowed Donald Trump to get away with blatant lies and focused much of his time interviewing Hillary Clinton on her use of a private email server.
The forum was seen as a bit of a preview by pundits for what is to come in the presidential debates, the first of which comes later this month. Lauer will not be moderating an actual debate, and was accused by journalists and media personalities of being unfair to Clinton while playing softball with Trump. Some even called the Today host's performance sexist.
Each candidate was given 30 minutes with Lauer at the Intrepid Sea, Air & Space Museum in Manhattan.
Lauer spent a significant portion of his time with Clinton on questions about her use of a private email server during her time as Secretary of State. He then appeared to rush through more important policy questions and even urged Clinton to make her reply "as briefly" as possible when she was asked about her plan to defeat ISIS by an audience member.
Trump, meanwhile, steamrolled Lauer and was permitted to get away with his oft-repeated lie that he was "totally against" the war in Iraq. Despite Clinton noting that this statement was false earlier during the event — and it is false, Trump told Howard Stern in 2002 that he supported invading Iraq and only came out against in two years later, after the invasion — Lauer simply moved along to the next question, leaving Trump totally unchallenged.
Twitter, of course, exploded with negative commentary on Lauer's performance, and shortly thereafter, the hashtag #LaueringTheBar was born. Many fellow journalists blasted Lauer for his overall poor management of the forum.
Norman Ornstein, a political commentator, tweeted, "Lauer interrupted Clinton's answers repeatedly to move on. Not once for Trump. Tough to be a woman running for President."
Isaac Wright, executive director for Correct the Record, criticized NBC for posting a fact-check of Trump's Iraq lie online, but not doing it on the air: "Too bad they didn't when HE WAS BEING INTERVIEWED," he tweeted, with a link to the article.
Several members of the Clinton camp expressed their displeasure with Lauer, as well. Press Secretary Brian Fallon criticized Lauer for letting Trump's statements go by "unchecked." Nick Merrill, another member of the Clinton press team, tweeted, "Imagine if @NBCNews had done its job."
Other Twitter users also criticized Lauer, with some even calling for his removal from Today:
@WillieGeist it's time to replace unqualified @MLauer #LaueringTheBar

— Cajun Girl (@Amaeann) September 8, 2016
#LaueringTheBar because we can't ask would-be leaders difficult questions! It'd be a terrible burden to expect journos to inform the public

— Trevor????✊ (@trevorgoyette) September 8, 2016
Photo: U.S. Democratic presidential candidate Hillary Clinton speaks at a presidential candidates "Commander-in-Chief" forum, moderated by Matt Lauer (L), aboard the decommissioned aircraft carrier "Intrepid" in New York, New York, United States September 7, 2016.  REUTERS/Brian Snyder