Melissa McCarthy Returns To SNL As 'Spicy,' Plus McKinnon As Sessions (And Baldwin Hosts!)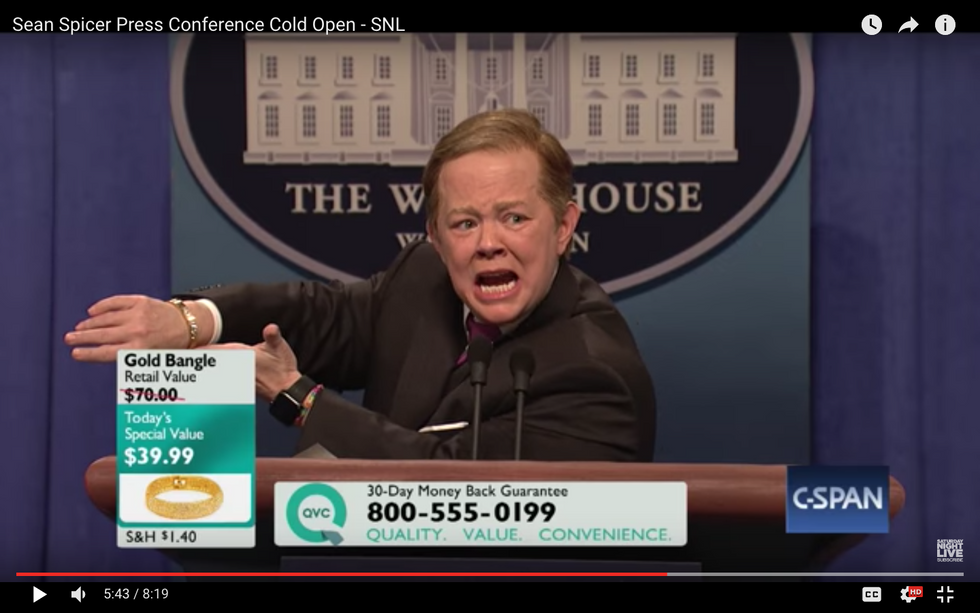 "I would just like to announce that I am calm now," proclaims Sean Spicer — a.k.a. Melissa McCarthy, reprising her genius turn as the White House press secretary. Of course, he was anything but calm, and once again the Saturday Night Live cold open lampooning the Trump administration was hysterical.
This is what Trump's presidential ambitions have brought to America: on the down side, an immeasurable national disaster; on the up side, a new golden age of television satire on SNL (and elsewhere).
The February 12 edition marked Alec Baldwin's record-breaking 17th appearance as SNL guest host. The actor showed up for the monologue as himself, although his Emmy-worthy portrayal of Trump does grace a later sketch, as the president attempts to defend his travel ban on The People's Court (with a cameo by Beck Bennett as his "character witness" Putin).
It is frankly hard to get enough of McCarthy's "Spicy," who performs a manic review of week three's unfolding troubles, from the travel ban imposed on seven Muslim majority countries to Nordstrom's rejection of the Ivanka fashion line. He illustrates the travel ban with a simple demonstration involving dolls. Barbie gets in because she's blonde, but Moana…she's headed to Gitmo. As for Nordstrom, the department store's "light terrorism" against the president's daughter provides the opportunity for Spicer to advertise her costume jewelry.
Plus Kate McKinnon as both Kellyanne Conway and Jeff Sessions…
Do we really have to persuade you to watch?