McConnell Fears Trump Tariffs Will Wreck Economy Before Midterms
@EricBoehlert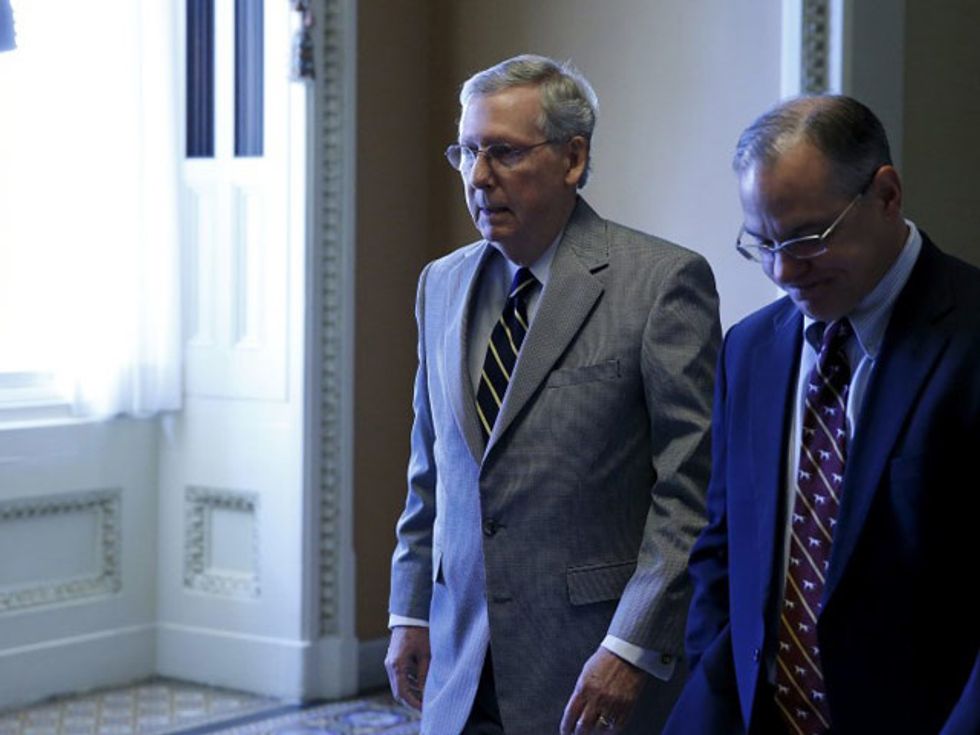 Reprinted with permission from Shareblue.com
To date, Trump can't find a single Republican Senator who will forcefully support his misguided trade war. But a cavalcade of Republicans are lining up to denounce the White House's baffling, protectionist agenda, which specifically threatens to damage red state voters and businesses.
Senate Majority Leader Mitch McConnell (R-KY) became the latest to bemoan Trump's agenda as not only fruitless but damaging to the U.S. economy.
"Just look at it from a Kentucky point of view. You've got Toyota impacted. You've got farmers impacted," McConnell told Louisville business leaders. "I don't think anything good will come out of a trade war."
According to Section 232 of a U.S. trade law, the president can impose tariffs on imported materials for national security purposes.
Consequently, McConnell said members of Congress "are left to kind of lobby not to take this approach, which I have been doing for months and expect to continue to do."
In other words, Trump couldn't care less what Republicans think.
And Senate Republicans aren't alone. Earlier this year, more than 100 Republican members of the House signed off on a letter condemning the tariffs.
The complete incoherence of the policy is highlighted by the fact that before he became Trump's chief economic adviser, Lawrence Kudlow was on TV just three months prior warning that any possible tariffs represented a potential "calamity for our economy."
In March, the administration announced import tariffs of 25 percent on steel and 10 percent on aluminum, with temporary exemptions initially extended to Canada, Mexico, and the European Union. The White House announced that those exemptions ended last week, sending shock waves through America's closest allies.
And those allies are planning on hitting back by singling out American-made products that are manufactured in regions where Republicans are elected.
"We will put tariffs on Harley-Davidson, on bourbon and on blue jeans — Levis," European Commission President Jean-Claude Juncker announced earlier this year. Harley-Davidson is based in Wisconsin, the home of Speaker of the House Paul Ryan, while red states such as McConnell's Kentucky are synonymous with American spirits.
In fact, in Kentucky the damage is already being done from last week's tariff announcement.
"Local bourbon giant Brown-Forman relies heavily on international sales, with over half its revenue generated outside of the United States," Insider Louisville reported. "The company's shares fell 2.1 percent on Thursday, and then fell another 1.6 percent on Friday, despite the Dow being up 0.8 percent that day due to a positive jobs report."
The GOP's trade civil war wages on.