Media Expert Says Reporters Have No Idea What Happens In Trump White House
@EricBoehlert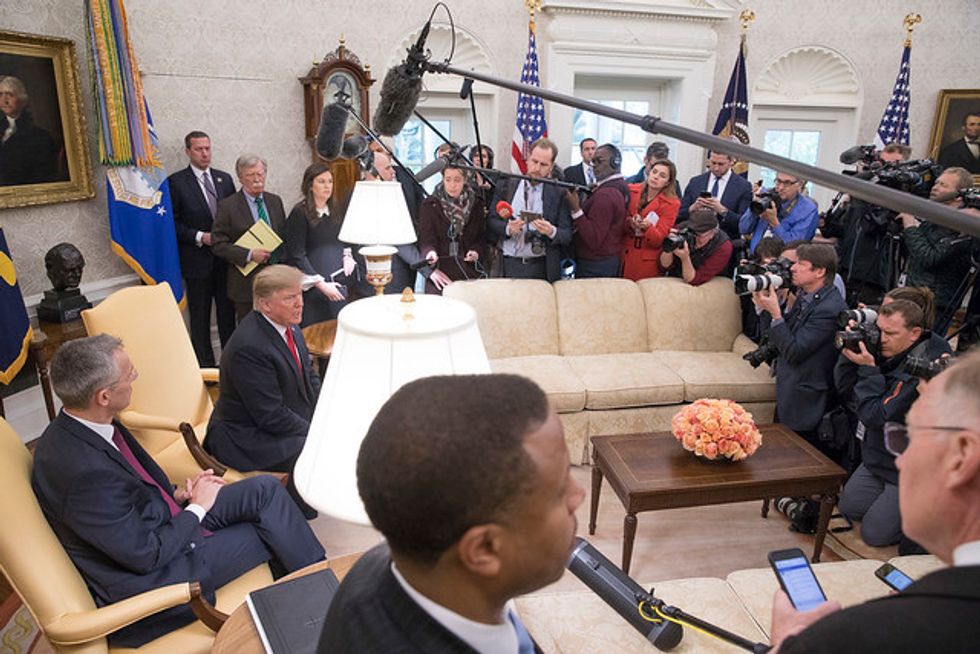 Reprinted with permission from Alternet
Donald Trump's new White House press secretary hasn't given a single press briefing since she was appointed in June, and the odds are she never will. No briefing has been held there in more than 150 days, as Trump moves to drastically cut off the fourth estate's access. It's just another example of how reporters are being denied a chance to keep watch over Trump and his team.
And one of the desired effects, as Trump moves to eliminate transparency, is that reporters increasingly seem to have very little idea of what's happening inside the White House. Permanently stuck in reactive mode as they respond to Trump's catalog of bizarre and untrue pronouncements, journalists have largely become spectators. Just as importantly, they refuse to concede that a titanic shift has occurred at the White House. Instead, they cling to the illusion that they're plugged in and have the pulse of the Oval Office.
"Reminder: There is no White House, not in the sense journalists have always used the term," New York University journalism professor Jay Rosen recently tweeted, hitting on a media critique he has amplified for more than a year. "It's just Trump—and people who work in the building. The term is still in use because what else are 'White House' reporters going to do? But there's no referent for it. The metonymy broke."
Rosen's accurate appraisal pulls back the curtain and reveals that the "White House" that reporters are so busy reporting on and referring to is, at this point, basically a media concoction. It's a prop that's being held up because "the White House" is how journalists have always referred to the sprawling West Wing enterprise that powers and supports each American president. Mercurial Trump, though, has basically dismantled that infrastructure (he doesn't like listening to people who don't agree with him), yet the press still holds on to preferred tradition. The press keeps pretending "the White House" exists, and keeps presenting a false narrative about what's happened to our executive branch.
Let's look at recent examples. Trump's Labor Secretary Alex Acosta was forced to resign over his role in offering wealthy sex offender Jeffrey Epstein a sweetheart plea deal back in July when Acosta served as U.S. attorney for southern Florida. His resignation came specifically after news accounts appeared suggesting that the press conference he staged in hopes of saving his job had gone well and that Trump was happy with the outcome.
In June, Ivanka Trump shocked observers, including reporters, when she not only accompanied her father to South Korea, but was also given an elevated role, delivering news interviews, posing for photos, and meeting North Korean leader Kim Jong Un. Reporters had no idea she'd be playing such a prominent role, and were given almost no explanation for her role as U.S. pseudo-diplomat.
To be fair, journalists aren't alone in terms of often being completely in the dark about what's happening inside the Trump White House; so, too, are senior administration deputies. We saw a clear glimpse of that last month when Department of Justice officials were caught completely unawares after Trump used his Twitter account to announce a stunning reversal in the court case over the administration's attempt to include a question about citizenship on next year's U.S. census survey. One day after the DOJ informed a federal judge that the government would not try to add to the 2020 census the citizenship question the Supreme Court had blocked, Trump tweeted out, "We are absolutely moving forward" on the citizenship question. "The tweet this morning was the first I had heard of the president's position on this issue," the DOJ lawyer handling the case told an irritated U.S. District Court judge. "As you can imagine, I am doing my absolute best to figure out what's going on."
Reporters, like administration attorneys, had no idea about Trump's pending policy reversal. And we've seen that over and over, with the news media caught flatfooted regarding major policy pronouncements in a way that would have been unheard-of in previous administrations.
Increasingly, even those connected to the Trump White House concede that the place is a shell of its former self. Asked about Trump's awful decision to retweet a murderous conspiracy theory about the Clintons, one anonymous aide told Axios, "I think we're beyond the point of trying to control these things."
Why is the White press corps so reluctant to admit what's happening? Pretending there's a well-oiled Trump White House machine, and that he's surrounded by advisers who are deeply engaged with him in policy decision-making, is another way the media helps normalize the chaos that's been unfolding at 1600 Pennsylvania Avenue for the last two years. And, let's face it, constantly reporting that Trump watches Fox News, which basically dictates most of his policy actions as president, doesn't sound like an enticing story for D.C. press insiders to tell.
Instead, there's collective tiptoeing around the obvious, which means we get lots of reports about anonymous "advisers" who are supposedly filling in the blanks of the Trump presidency. But increasingly, it all feels like a charade. And it's a charade the press is happy to perpetuate, in part because the truth makes it look bad. It doesn't want to publicly acknowledge how severely journalists have been cut out of the Trump administration loop, that so many traditional sources of information have completely dried up. Recently, I looked at several "White House Memo" installments in The New York Times, which are supposed to be snapshots from inside Trump's inner circle. But none of the articles actually included any quotes from people who work inside the White House.
Having long prided themselves on being plugged in and able to dig up all kinds of closely held information, White House journalists under Trump are now often stuck in the role of bystanders.