Meditate For Success
@FromaHarrop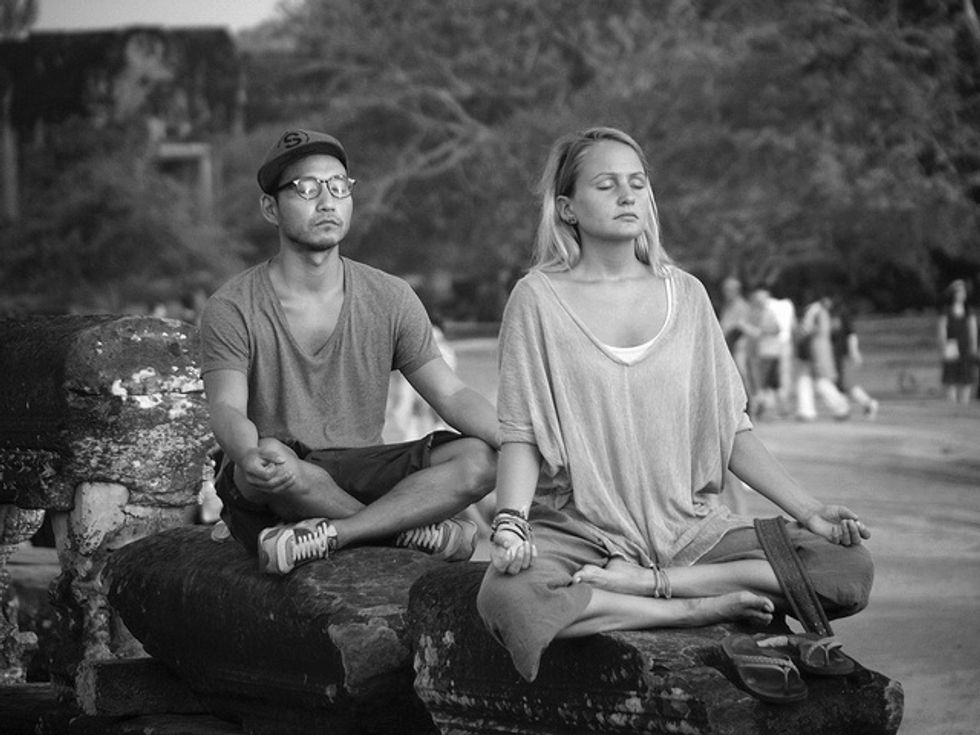 We ambitious strivers seeking guidance from fitness pros, decluttering experts, and TED talks often find the day divided in two unequal parts. Three-quarters goes to overworking. The remaining quarter is for countering the ill effects of overworking. We do the latter not necessarily to nurture our souls but to boost performance during the working hours.
You see, overworking and stress slow our productivity. Herein lies a paradox.
Relaxation, vacations, and a good night's sleep could be seen as key to personal well-being. But gremlins have taken a wrench to our puritanical brains and put dollar values on our inner peace and repose. They are now a means to goose our output.
Consider the advice to get eight hours of sleep a night. Good sleep leaves one feeling refreshed, less depressed, less stressed. But it also has a utilitarian purpose. It boosts our performance at work. Thus, we use apps to ensure we're maintaining eight-hour sleep periods incorporating five REM cycles.
The Centers for Disease Control and Prevention has the numbers: Sleep deprivation costs the U.S. economy $63 billion a year in lost productivity.
We seek techniques to do more per unit of time. For example, there are articles on how to "optimize" a three-day weekend. (To think, Americans used to have three- week vacations.)
Our employers are famously ungenerous with paid vacation. But many of us don't even use the time we're given. A study commissioned by the U.S. Travel Association estimates that in 2013, Americans left 429 million paid vacation days on the table.
Why? Some said their workload is so heavy they can't afford to get away. If they don't complete their assignments, they may not have a job upon returning.
The travel association is now selling vacation time as a tool to raise the gross domestic product. If workers used all their available time off, the study says, U.S. business revenues would rise by $160 billion, and tax collections would rise by $21 billion.
Meditation, the great teacher Jon Kabat-Zinn tells us, is "for no purpose other than to be awake to what is actually so."
But suppose it helps us better focus our attention. Wouldn't that make us more useful worker bees? Sure.
A Google executive told Bloomberg TV that "wisdom traditions like yoga and meditation help us operate better." He noted that the most important technology we have is the human body and brain. Yoga and meditation help us, he explained, "optimize this technology."
Thanks to Google's yoga program for its employees, he added, "there's been a huge impact on both people's productivity and culture."
So yoga has become a get-ahead tool. Small wonder yoga teachers see participants aggressively jostling for mat space in their classes, according to The Wall Street Journal.
There's also a smartphone app that lets students follow the instructors of their choice. That way, if a star yoga teacher is not going to lead a particular class, they don't have to waste their time on a B-lister.
What healthy habits don't do for productivity, drugs will. Many American workers are apparently taking medications for treating attention deficit hyperactivity disorder solely to improve their output at work.
Taking these stimulants can cause addiction, anxiety and hallucinations, but for intense competitors, they are jet fuel. As a woman in her late 20s told The New York Times , they are "necessary for survival of the best and the smartest and highest-achieving people."
We really can't blame health advocates for toting up the economic benefits of more relaxed living. That's often the only argument anyone notices anymore.
Meditation improves concentration. Heck, let's meditate — and medicate — to better meditate. It's the American way.
Follow Froma Harrop on Twitter @FromaHarrop. She can be reached at fharrop@gmail.com. To find out more about Froma Harrop and read features by other Creators writers and cartoonists, visit the Creators Web page at www.creators.com.
Photo: Balint Földesi via Flickr