Meet The Duggars: Reality TV Stars And Moral Hypocrites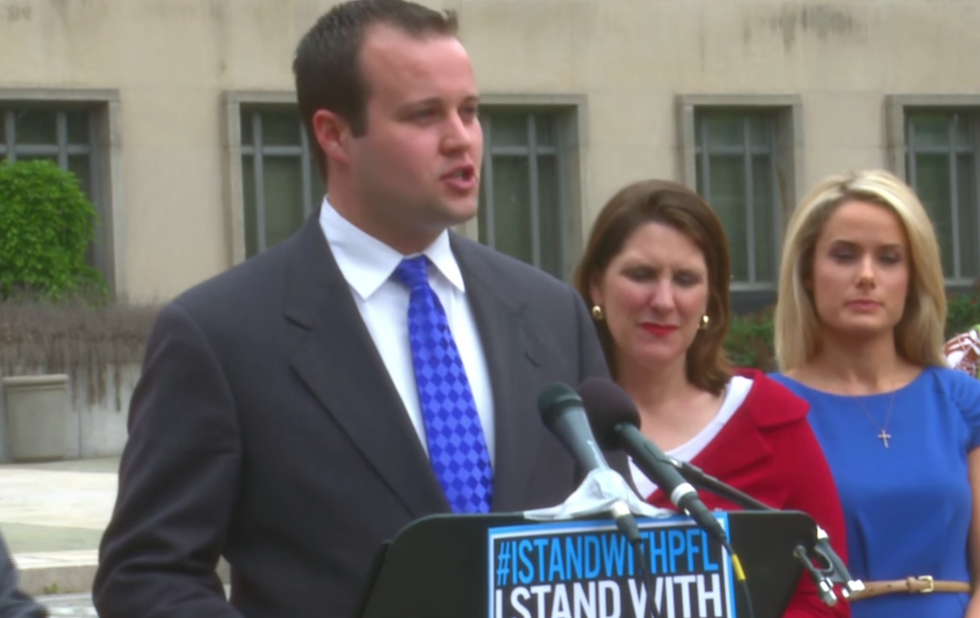 The Duggar family, of TLC's popular reality series 19 Kids and Counting, has admitted their oldest son had a undisclosed history of molesting his own sisters. Josh Duggar, now 27 years old and father to three young children, has since made statements regretting his "inexcusable" actions.
The Duggars are known for their unusually G-rated show, in which they espouse a conservative, Christian lifestyle. Birth control is discouraged (obviously), women wear modest clothing, and contact between the sexes is strictly monitored.
Despite their moralizing, Josh, the oldest in the long line of children, has been revealed to have a history of fondling multiple unnamed minors. According to InTouch magazine, which originally broke the story, a female member of the Duggar brood informed her father in early 2002 that Josh had been fondling her while she slept.
Several months later, another daughter also confessed that Josh had been sexually abusing her. Other minors complained of ongoing abuse, finally prompting Jim Bob, the Duggar family patriarch, to go to the authorities.
Unfortunately, those "authorities" were, in fact, the church elders — and in their wisdom, they chose not to involve the police. Instead, Josh Duggar was sent to a "Christian program" consisting of "hard physical work and counseling" from March to July 2003.
Michelle Duggar, the family's mother, later admitted the so-called program was actually just a temporary stay at a family friend's house. The friend, a contractor, had no counseling experience.
Finally, in 2006, Jim Bob reported the abuse to the police. No other official action was taken and the family says that the victims "forgave" Josh, who had "sought after God and turned back to God."
Since the molestation came to light, Josh Duggar has resigned his position at the Washington, DC-based Family Research Council, a conservative, religious non-governmental organization considered a hate group by the Southern Poverty Law Center.
TLC has canceled all shows featuring the Duggars that were set to air, and the program's chances of renewal remain questionable.
The family has spoken out in defense of their son, stating, "That dark and difficult time caused us to seek God like never before. Even though we would never choose to go through something so terrible, each one of our family members drew closer to God."
Josh's wife, Anna, has also spoken out in support of her husband. She was evidently informed of Josh's so-called "mistakes" two years before their engagement, and believes he is simply "someone who had gone down a wrong path and had humbled himself before God and those whom he had offended."
The man at the center of the storm has also issued a statement, released to People magazine, saying, "I sought forgiveness from those I had wronged and asked Christ to forgive me and come into my life. In my life today, I am so very thankful for God's grace, mercy and redemption."
As far as Josh Duggar is concerned, God's grace may let a confessed child molester off the hook, but it does not extend to gays and lesbians, whose sexual orientation Duggar has, not incidentally, frequently linked to pedophilia.
But if God has forgiven Josh and his family, He is not alone. Republican presidential candidate Mike Huckabee has already declared his support, so at least he's guaranteed 10 votes from the Duggar household.
Screenshot: Josh Duggar speaking at the Rally for Religious Freedom, 2014. Via Family Research Council/YouTube
.