Donald Trump Pushes Melania Back Onto Campaign Stage
@reuters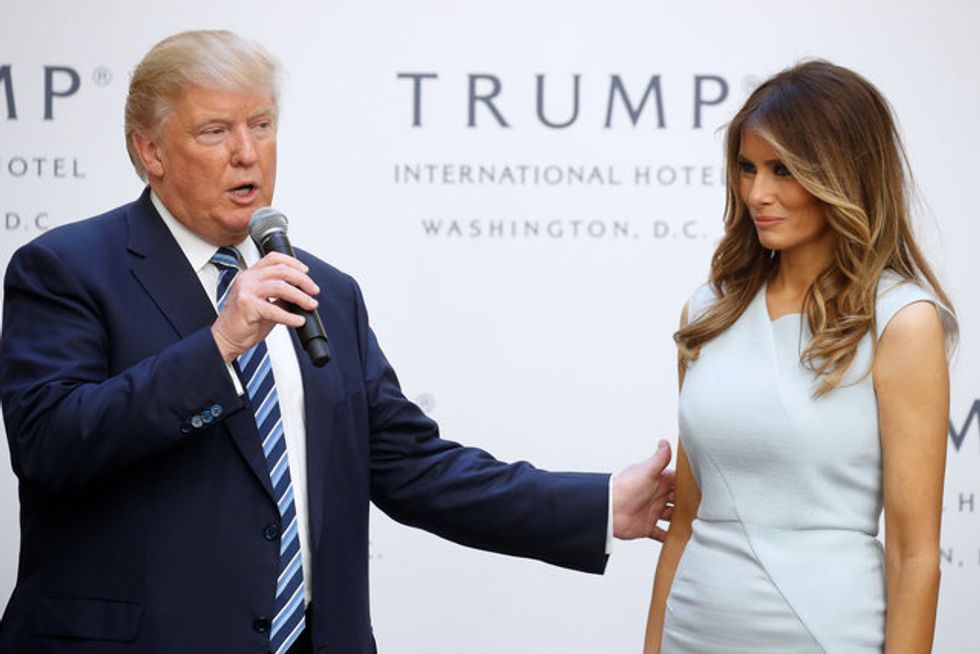 WASHINGTON (Reuters) – Melania Trump will give two or three speeches in the final days of the U.S. presidential race, Republican candidate Donald Trump said in a television interview, apparently surprising his wife.
The couple appeared in a taped ABC interview broadcast on Thursday less than two weeks before the Nov. 8 presidential election against Democrat Hillary Clinton.
Melania, who has mostly remained off the campaign trail to care for the couple's 10-year-old son, was asked if she was going to campaign for her husband in the homestretch.
"We will see," she said. "My priority is my son Barron and I support [my husband] 100 percent and I'm there for him every time he needs me."
Trump indicated that time is now. "She is actually going to make two or three speeches," he interjected, drawing an "Oh!" from his wife.
Melania has stayed largely out of the public eye since the Republican National Convention in July, when she gave a speech that borrowed portions of first lady Michelle Obama's address to the 2008 Democratic convention.
"She's amazing when she speaks," Trump said of his third wife, a former model from Slovenia. "She is an amazing public speaker. She's agreed to do two or three speeches, and I think it's going to be big speeches, important speeches."
The New York real estate mogul, who is making his first run for office, is down an average of 5.4 percentage points in national opinion polls against Clinton, a former U.S. senator and secretary of state, according to Real Clear Politics.
Trump has been struggling to attract women voters after a series of damaging revelations and allegations about his treatment of women. Several women have accused him of making unwanted sexual advances, including groping or kissing, in incidents dating back to the early 1980s, according to reports in various news outlets.
Trump has denied the allegations and maintained the women accusing him of sexual misconduct fabricated their stories to damage his campaign.
(Writing by Doina Chiacu; Editing by Bill Trott)
Photo: Republican presidential nominee Donald Trump and his wife Melania Trump attend a campaign event in Washington, DC, U.S., October 26 2016. REUTERS/Carlo Allegri