Melania Trump Calls Taped Comments By Donald Trump 'Boy Talk'
@reuters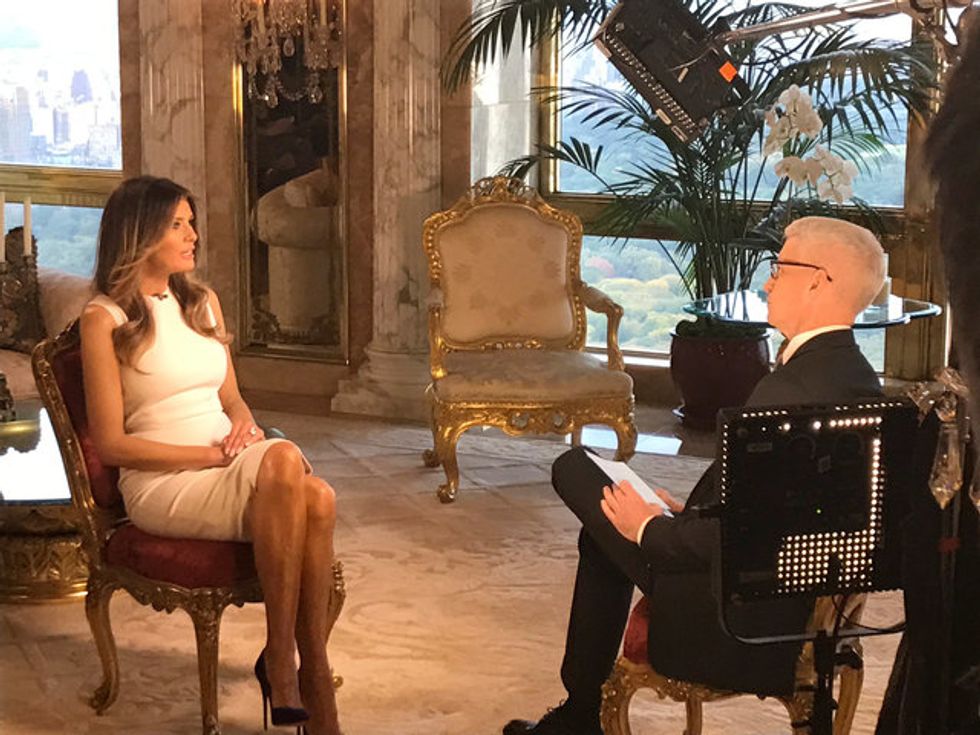 (Reuters) – Melania Trump rose to her husband's defense on Monday, describing lewd comments the Republican presidential nominee made on a leaked 2005 video in which he bragged about groping women as "boy talk."
Trump, who has kept a low profile during her husband's presidential bid, gave her first television interviews since the Oct. 7 release of the tape that has shaken Donald Trump's campaign. He trails Democrat Hillary Clinton in opinion polls ahead of the Nov. 8 election.
Melania Trump told CNN her husband was engaged in "boy talk, and he was led on – like, egged on – from the host to say dirty and bad stuff" in the conversation with "Access Hollywood" host Billy Bush.
NBC said on Monday that Bush was leaving the "Today" show, following his role in the taped conversation with Donald Trump.
Melania Trump, a Slovenian-born former model, added in a CNN interview that aired on Monday night that she was surprised because she had never heard her husband use that kind of language before.
"No. No, that's why I was surprised, because I said like I don't know that person that would talk that way, and that he would say that kind of stuff in private," Melania Trump said.
She told CNN that her husband behaved at times like an overgrown boy and that she saw his "Access Hollywood" remarks as in keeping with that behavior.
"Sometimes I say I have two boys at home. I have my young son and I have my husband. But I know how some men talk, and that's how I saw it, yes," she said.
Trump told CNN she agreed with first lady Michelle Obama that kissing or groping someone without consent constituted sexual assault, adding: "But every assault should be taken care of in a court of law. And to accuse, no matter who it is, a man or a woman, without evidence is damaging and unfair."
'MOVING ON'
In partial transcripts from a separate interview with Fox News, she said she had forgiven her husband for the comments in the tape, which was first published by the Washington Post.
"Those words, they were offensive to me and they were inappropriate. And he apologized to me. And I … accept his apology. And we are moving on."
They were her first public comments since a statement she issued after the tape's publication in which she said her husband's remarks did "not represent the man that I know."
Melania Trump told Fox News that her husband, a New York businessman and former reality television star, was committed to running for office even though it was difficult because he had been "in so many shows, so many tapes" over the years.
Asked if it was fair for the media or her husband to bring up charges of infidelity in former President Bill Clinton's past, Melania Trump told Fox News: "Well, if they bring up my past, why not?"
After Trump denied during a debate with Clinton on Oct. 9 that he had actually done the things he bragged about in the tape, a number of women accused him of groping and kissing them without permission in incidents stretching back decades. He has denied the charges.
Asked about those accusations, Melania Trump told Fox News: "All these women are coming out and they are allegations but they are not true. Why now? Why three weeks before the election?"
"I believe my husband," she told CNN. "This was all organized from the opposition. With the details that they got, did they ever check the background of these women? They don't have any facts."
(Reporting by Eric Walsh in Washington; Editing by Peter Cooney)
Photo: Melania Trump sits down with CNN television host Anderson Cooper during an exclusive interview in New York, to be aired October 17, 2016. Courtesy CNN/Handout via REUTERS