Memo To DHS: The Lone White Wolf Network Is The Biggest Terror Threat To Americans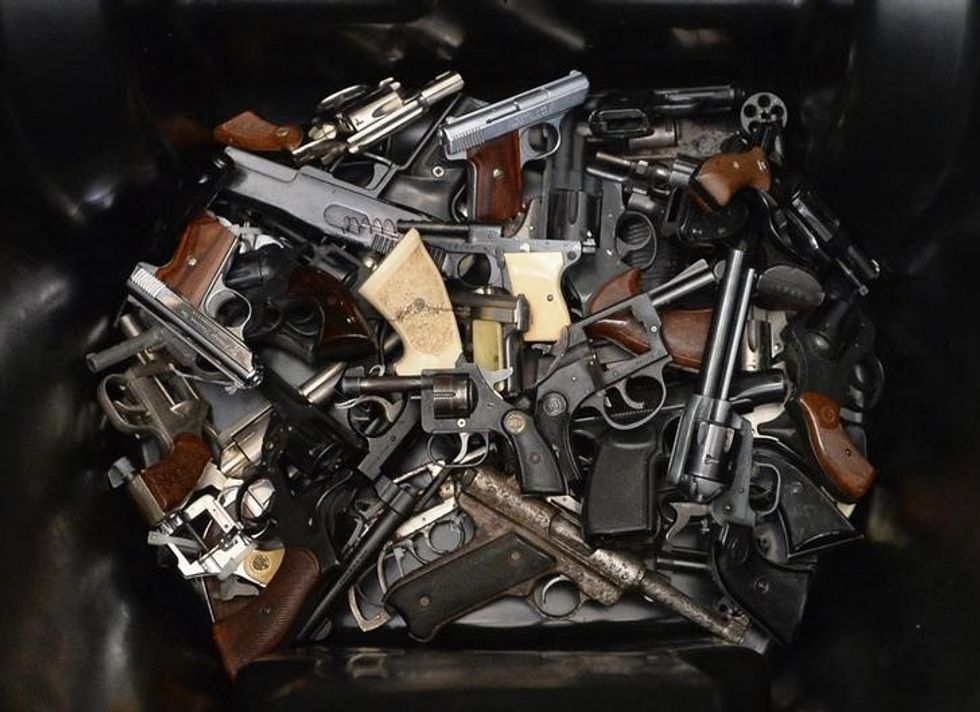 Reprinted with permission from AlterNet.
To: Kirstjen Nielsen, Secretary of Homeland Security
From: Office of Domestic Terrorism/Threat Assessment Unit
Re: Terror Attack in Parkland, Florida
The terror attack at Marjory Stoneman Douglas High School that claimed 17 lives on Valentine's Day shows all the marks of the so-called Lone White Wolf Network (LWWN). The motives of the perpetrator, now in custody, remain unknown, but news reports show he fits the profile of previous LWWN attackers, with a record of gun worship, domestic violence, depression, racial chauvinism, and aspirations for complete impunity from social control.
BACKGROUND: LWWN is an amorphous domestic terror phenomenon, not unlike Al Qaeda and the Islamic State in the Middle East. Its members are not linked by an organizational structure so much as an ideology of individual salvation through indiscriminate violence. Like ISIS militants, LWWN attackers favor brutal and public displays of violence to glorify themselves and intimidate opponents.
LETHALITY: In terms of people killed, LWWN activity was at least four times more dangerous to Americans in 2017 than Islamic terror groups. Four of the five most lethal LWWN attacks in America have taken place since President Trump took office.
MEMBERSHIP: LWWN consists almost exclusively of white males in the United States. While exact figures are elusive, they potentially number in the tens of thousands. While LWWN attacks are usually suicidal, there seems to be no shortage of new attackers.
IDEOLOGY: The ideology of Lone White Wolf attackers is radically individualistic, rooted in an ahistoric interpretation of the Second Amendment. While there is no one statement of doctrine, the data show members are unified by a worship of guns, violent behavior toward women and an abiding conviction they have the right to inflict violence and death on others if they deem it necessary.
In ideological terms, LWWN attackers are usually anti-liberal and often racist, although some have no discernible political views. There has been at least one LWWN attack (on Rep. Steve Scalise) from a political leftist, but these are rare. Unlike Middle East terrorists, LWWN attackers do not have an explicit theological orientation.
SUPPORT: The LWWN attacks must be understood as the most violent manifestation of a larger political movement, led by front groups such as the National Rifle Association and the Republican Party. The leaders of these organizations almost unanimously reject and "regret" LWWN attacks, often using the word "condolences" to signal their virtue and their intention to do nothing.
Enablers distance themselves from LWWN attacks by describing the perpetrators as "mentally ill," while otherwise condoning and protecting their ideologies of gun worship, racial and gender supremacy, and impunity based on the Second Amendment.
A recent NRA video is a vivid example of the propaganda generated by LWWN-enablers in justifying violent attacks on perceived social or political inferiors.
MOTIVATION: The data suggest that some LWWN political enablers are motivated by love of money (in the form of gun sale profits or campaign contributions).
Other LWWN enablers in Washington quietly welcome the fear and demoralization spread by Lone White Wolf attacks because they demonstrate the futility of communal solutions to public problems and undermine liberal and progressive political forces.
Seen from this perspective, protecting the violent LWW network has a political function. It serves to enhance the Republican policy agenda of cutting taxes for the rich while slashing Medicare, Medicaid and Obamacare for the middle class and poor.
Counterterrorism analysts agree: one of the biggest obstacles to curbing LWWN violence is the fact that tolerating domestic terror attacks pays long-term political dividends in Washington.
POLITICS: The LWWN apologists' strategy of using a "moment of silence" to depict attacks as the work of God remains common. This serves to deflect attention from the ideological coherence of the LWWN attacks.
Many Americans think such "condolences" are insincere, hypocritical, callous, and contemptible.
President Trump's admonition to survivors that they failed to report signs that the shooter might be a threat, indicates that LWWN enablers in Washington may start resorting to a "blame the victim" strategy to deflect attention from their culpability in the continuation of domestic terror.
OPPOSITION: The opposition to the LWWN, while numerically large in American society, has not been able to suppress, deter or even discourage LWWN attacks. In the past 20 years, the NRA and Republican Party have thwarted all attempts by survivors (Gabrielle Giffords and Sandy Hook Promise), and their political allies (President Obama and former mayor Michael Bloomberg) to curb the sale of the most dangerous weapons.
SOLUTIONS: Two of America's closest allies, the United Kingdom and Australia, were plagued with LWWN attacks in the 1990s. Both countries resemble America with majority-white populations, traditions of individual rights and widespread gun ownership. Over the course of 20 years, both countries have succeeded in eliminating Lone White Wolf terror without compromising civil liberties. Strong gun control measures, vigilant law enforcement and continuing public education have all been successful.
PROSPECTS: The LWWN and its enablers, while a minority across the country, continue to hold the strategic high ground in Washington. Attacks on schools, an especially popular LWWN target, are increasing with eight recorded in the first seven weeks of 2018. Whether inaction from the White House and Congress may serve to encourage more attacks is open to debate. It certainly does nothing to discourage them.
Given the current array of political forces in Washington, the prospects for a reduction in LWWN violence in 2018 are not good—unless the  Department of Homeland Security starts to exercise bold leadership.
RECOMMENDATIONS: The LWWN represents by far the most serious terrorism threat to American citizens in 2018, but the country is divided about the best response. A majority of Americans agree and support measures to control the most dangerous weaponry used in LWWN attacks. The president and a majority of Congress do not think that the bloody toll of LWWN attacks is reason to regulate lethal weapons sales.
Under these circumstances, we recommend that you, as Secretary of Homeland Security, advocate sweeping measures to dismantle, discourage and deter LWWN activity.
While America's circumstances are unique, we should call on British and Australian allies for advice about the most effective domestic counterterrorism measures, starting with a ban on the sale of assault weapons.
CONCLUSION: The Department of Homeland Security is failing in its mission to protect the American people. The carnage at Stoneman Douglas High School is merely the latest confirmation that the current U.S. strategy of defending the American people is not just ineffective but hazardous to our children's health.
If DHS does not act to stem the tide of domestic terrorism, it does not deserve its name and should be abolished.