Mexican Farmworkers Strike Over Low Wages, Blocking Harvest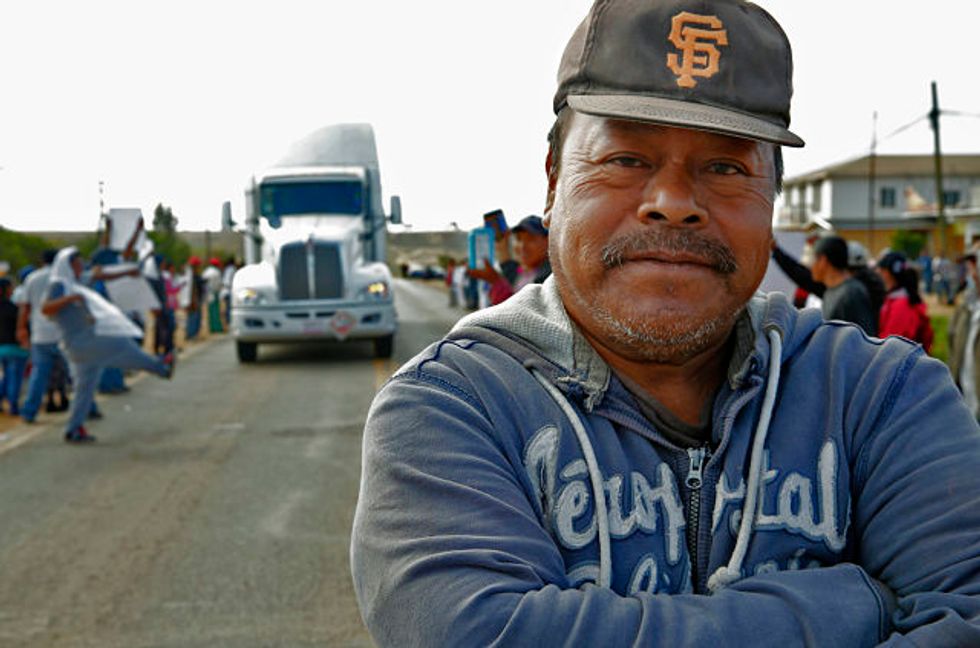 By Richard Marosi, Los Angeles Times (TNS)
SAN QUINTIN, Mexico — Veronica Zaragoza grew up in these coastal fields, picking berries and tomatoes and watching an industry being transformed.
She saw new greenhouses erected, irrigation lines spread through the fields, packing plants expanded and produce piled onto ever-larger trucks.
Everything in this fertile agricultural region 200 miles south of San Diego has changed, it seemed, except her wages. Zaragoza said she still earns 110 pesos per day, about $8 — a little more than when she started picking as a 13-year-old.
Zaragoza, now 26, joined thousands of pickers this week as they spilled onto the streets to protest low wages in a bold demonstration — the first strike by farmworkers here in decades.
Pickers not only stayed out of the fields, they stood shoulder to shoulder blocking the main highway, stalling traffic for hours and all but stopping the harvest at the height of the season.
The clash was shaping up as an early test of a newly formed alliance of produce industry groups dedicated to improving conditions for farmworkers in Mexico.
The group, the International Produce Alliance to Promote a Socially Responsible Industry, was established in February, after the Los Angeles Times documented widespread labor abuses at Mexican export farms.
Hundreds of police and army soldiers dispersed crowds with rubber bullets and tear gas in running skirmishes that have resulted in more than 200 arrests.
Zaragoza, a mother of three, was among those detained and corralled in a field surrounded by police for 17 hours before being released. By Thursday morning, she was back protesting outside a government building in San Quintin where dozens of others remained in custody.
"We haven't done anything wrong," she said. "We just want better lives."
The strike, which began Tuesday, has shut down schools and stores across the region and focused attention on alleged labor abuses at agribusinesses that export millions of tons of produce to the U.S. every year. Among those targeted are U.S.-based BerryMex, which grows strawberries and raspberries sold under the Driscoll label.
Farmworkers are seeking higher salaries, government benefits and overtime pay. They want agribusiness to stop sexual abuse of female pickers at the hands of field bosses.
Farmworker leaders and government and industry officials met Thursday at a nearby hotel but little progress was reported.
The arid land around San Quintin is one of Mexico's largest export regions, stretching along 50 miles of coastal plains and valleys and employing tens of thousands of pickers, most of them indigenous people originally from southern Mexico.
Most have been here for decades and watched as agricultural fields bloomed inside state-of-the art greenhouses. Agribusinesses and businesses have invested millions of dollars in infrastructure and irrigation projects.
Some of the region's biggest growers are politically connected, having served in the Baja California state government. They have avoided the media during the strike, but their defenders say that the wages they offer are higher than in other Mexican agricultural regions.
In a statement, BerryMex said it has been committed to "fairness, honesty and respect for all employees" since starting operations in the region in 2000.
"Our primary focus continues to be toward the well-being of our employees and we are working with local authorities to ensure the safety of our workers and the local community," the statement said.
But produce picker Bernardo Velasco, 47, said his family lives in bleak conditions. His pueblo of dirt streets south of Colonet has no running water. He said he buys five jugs every week so his family can drink and bathe.
Families also point to other reasons for their plight. The border economy has been hard hit as the peso has declined against the dollar, forcing merchants to charge families more for such things as toilet paper and eggs. Velasco said he can't feed and house his family on $50 per week.
"We've been here for years working and working for the same wage. We've had enough," Velasco said.
When Velasco and others stopped a Tijuana-bound bus during the blockade Tuesday night, they took the passengers off and escorted them to a church where they spent the night. "We told them there was no need to be scared," Velasco said. "That we only want a just salary."
But what started as a peaceful protest turned ugly as some people began taking over government buildings and a police station in a string of coastal towns from Colonet to San Quintin. At least one store was looted.
When government forces showed up in convoys, protesters threw rocks and police fired back with tear gas and rubber bullets. Zaragoza said she saw protesters thrown to the ground and pummeled by police.
Like others, she said police were arresting everyone on the streets, even peaceful protesters such as her. On Thursday afternoon, tensions remained high. Dozens of police officers kept watch on hundreds of people gathered outside a state government building where families awaited word on their arrested relatives and the status of the negotiations.
At the hotel meeting room, Alberto Munoz, an attorney representing the growers, said any changes to work conditions would require a long legal process because contracts already exist between the agribusinesses and the unions that represent laborers.
In Mexico, many farmworkers are part of large unions that represent employees from many industries. But those union leaders are often seen as tools of business interests.
Fidel Sanchez, a spokesman for the alliance of indigenous groups representing San Quintin's farmworkers, said the legal issues would be tough to overcome, at least in the short term.
He hoped to salvage an agreement that would let them bypass union bosses and let the pickers deal directly with their employers.
"We need our own union," Sanchez said. "And we need a good lawyer."
Photo: Farmworker Bernardo Velasco Vasquez, 47, stands on the Baja Trans Peninsula Highway in Colonet, Baja California, Mexico, in solidarity with fellow striking strawberry farm workers on March 19, 2015. "We've been here for years working for the same wage. We've had enough," he said. (Don Bartletti/Los Angeles Times/TNS)