#EndorseThis: Mika And Joe Claim Conway Scorned Trump Off Camera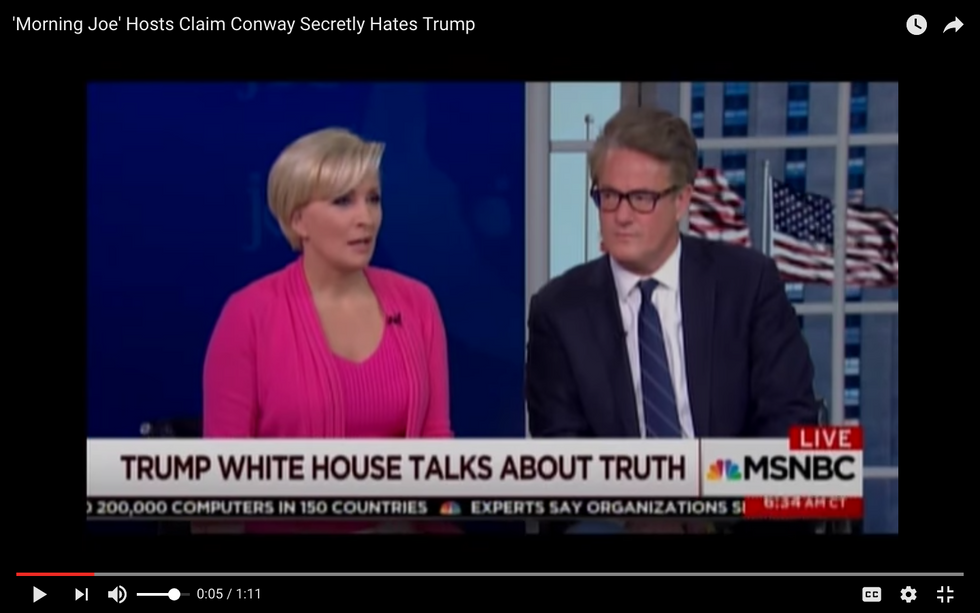 The way that Mika Brzezinski and Joe Scarborough finish each other's sentences on Morning Joe — now that they've announced their engagement — is too cute. But Kellyanne Conway probably isn't charmed, because today MSNBC's fun couple chattered on about her . And what they said wasn't flattering.
"This is a woman, by the way, who came on our show during the campaign and would shill for Trump in extensive fashion," began Mika. "And then she would get off the air, the camera would be turned off, the microphone would be taken off and she would say, 'Blecch, I need to take a shower,' because she disliked her candidate so much."
Joe chimed in, "And also said, it was very interesting, also said that, 'This is just, like, my summer in Europe.' " And then Mika again, quoting Conway: "I'm just doing this for the money."
Their blistering colloquy on Conway continued for another 30 seconds or so, short and not at all sweet, as the astonished panelists looked on. What started out as a pleasant morning for the president's counselor, with a balanced profile of her husband George still drawing attention in the Washington Post, suddenly turned puckering sour.
Which makes it a don't miss. So just click.