Is Mike Pence Running For President?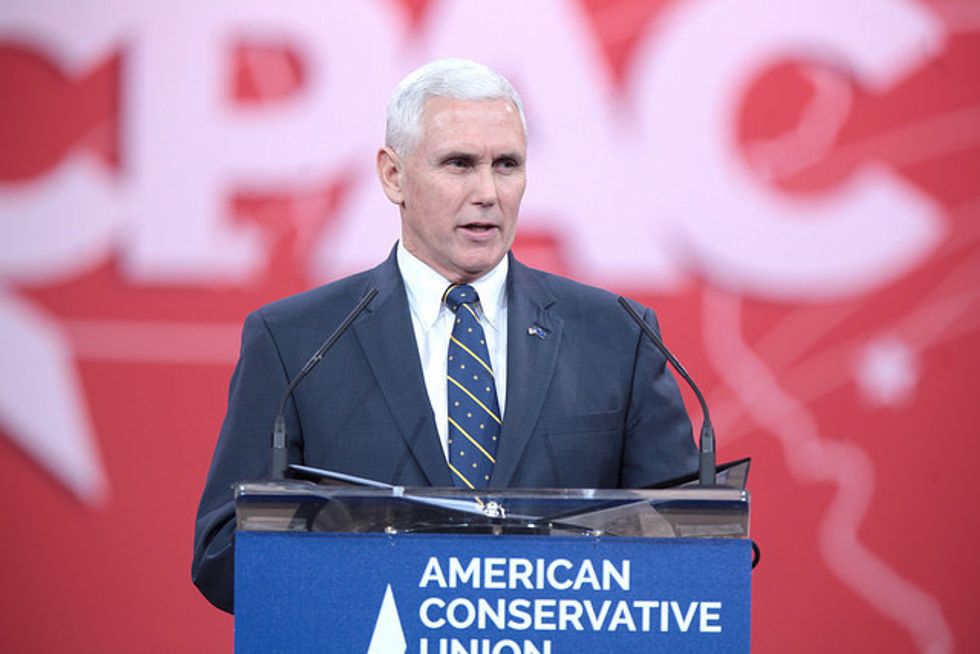 Reprinted with permission from Alternet.
As Trump's Russia scandal continues to swirl, Vice President Mike Pence appears to be looking out for one politician and one politician only: Mike Pence.
Since Inauguration Day, the VP has kept plenty busy at home and abroad, often attempting to distance himself from his embattled leader. On February 18, Pence spoke with NATO members in Munich while Trump spent another weekend at his Mar-a-Lago estate in Florida.
On April 19, the VP gave a staunch warning to North Korea at a U.S. Naval base in Yokosuka. Hours later, Trump awakened to spar with the New York Times via Twitter, over a report about the New England Patriots' White House visit the day prior.
On May 17, Pence launched his own PAC, the "Great America Committee," further fueling speculation about his political aspirations.
As NBC News noted, "This is the first time a sitting vice president has formed such a separate political arm."
That weekend, Pence returned to his home state of Indiana to give the commencement address at Notre Dame. Naturally, media lapped up the walkouts as he delivered his speech. But a far less predictable turn of events involved Pence also visiting swing states on the way home.
Pence stopped in Pennsylvania, where he received an honorary degree from Grove City College, and Ohio, where he addressed troops at Wright-Patterson Air Force Base in celebration of U.S. Armed Forces Day.
On Saturday June 3, Pence made a memorable entrance at Sen. Joni Ernst's summer "Roast and Ride" fundraiser in Boone, Iowa, when he showed up on a motorcycle. As headliner of the rally, Pence touted Trump's economic efforts, reiterated his anti-Obamacare message and encouraged the crowd to "just pray for America."
"His travels could yield a more personal payoff if President Trump fails to finish his term, or doesn't run for re-election," Michael Steel, a former senior adviser to Jeb Bush during the 2016 presidential campaign, told RollCall when asked about the VP's behavior.
As for Ohio, the May 19 trip marked Pence's third visit to the Buckeye state since March. Prior to his visit at the Air Force Base, the vice president spoke at manufacturing companies in Springdale and Reynoldsburg.
Though Trump carried Ohio by nearly a half-million votes, two of Pence's three stops were in counties the sitting president lost.
Alexandra Rosenmann is an AlterNet associate editor. Follow her @alexpreditor.
This article was made possible by the readers and supporters of AlterNet.