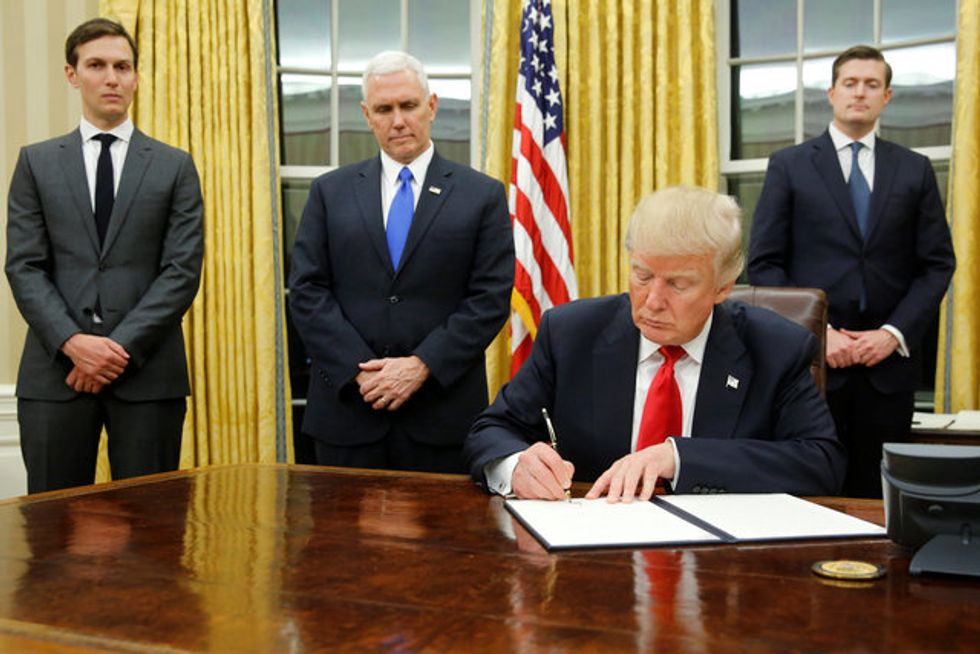 Reprinted with permission from Creators.
Donald Trump and those around him have made a long series of mistakes stemming from his campaign's contacts with Russians and subsequent inquiries into the matter, which raise the real possibility of his impeachment. But none of those compares to his biggest blunder: choosing Mike Pence as his running mate.
Pence is in a delicate position, which may be why he is seldom seen or heard from these days. On the one hand, his job as vice president obligates him to be a loyal member of the administration. On the other, he needs to maintain good relations with congressional Republicans, many of whom find Trump exasperating.
Pence has to give every sign of appearing to support Trump in advancing his agenda, lest his boss turn on him. That means cheerfully endorsing the nonsense that flows nonstop from Trump's mouth, including brazen lies.
But Pence can't go too far. He needs to avoid being completely contaminated by a president who violates every norm of ethics, behaves like a stooge of Vladimir Putin and keeps wading deeper into a scandal that may bring indictments. Pence has to look loyal without making his toadyism too slavish.
Fortunately for him, he's blessed with great adaptability in advancing his interests. A sanctimonious churchgoer who could pair up with a casino magnate, adulterer and self-declared sexual assailant without alienating followers of Jesus is not to be underestimated.
Still, Pence has a tricky path to negotiate, as vice presidents serving unpopular presidents have often learned. Hubert Humphrey, once a darling of liberals, became their nemesis for refusing to break with President Lyndon Johnson on the Vietnam War and lost the 1968 election to Richard Nixon.
Al Gore defended Bill Clinton during the Monica Lewinsky scandal but criticized his behavior once the impeachment crisis was over. His association with Clinton was both too close and not close enough, and it contributed to his narrow 2000 defeat.
Unlike everyone else in the administration, Pence does not serve at Trump's pleasure. Trump can demand that he do his bidding, but he can't fire him. Because Pence has been a GOP soldier for so long, Trump can't really damage him among the Republican rank and file. All this gives Pence a measure of freedom to protect himself from his boss.
More importantly, the vice president retains the esteem of congressional Republicans, who see him as their best friend in the administration and a reliable voice for conservative principles. Unlike Trump, he understands them, their political needs and the realities of legislating.
He also doesn't throw them under the bus. Trump infuriated House Republicans who had voted for an unpopular Obamacare replacement bill by calling it "mean," even after celebrating it with them at the White House. Pence wouldn't do that. His ability to stay on the good side of both his boss and his party reflects his political savvy and talent for self-preservation.
That's why he presents such a threat to Trump. Richard Nixon's best safeguard against impeachment was Vice President Spiro Agnew because congressional Democrats so loathed Agnew. When Agnew resigned after being charged in a bribery investigation, Nixon lost that shield.
He replaced Agnew with Rep. Gerald Ford, whom he saw as another "insurance policy" because, as Nixon biographer Jonathan Aitken wrote, "Ford was regarded by both Nixon and by many of his fellow Congressmen as decent but dumb." The more unthinkable a vice president is for the top job the more the president can get away with.
But this one is not unthinkable. Most Republicans in Congress would much rather deal with President Pence than with President Trump. He would be better at working with them and less prone to embarrassing them.
Anyone as conservative on abortion, gay rights and almost every other issue as Pence doesn't qualify as a Democratic dream. But Nancy Pelosi and Chuck Schumer would probably prefer a mentally stable right-wing puritan to an unpredictable, thin-skinned narcissist. It would be less stressful to worry that Pence will attack reproductive freedom than to worry that Trump will nuke North Korea.
Trump may soon wish he had chosen for his running mate someone like Chris Christie or Ted Cruz. If he continues to self-destruct and the investigations produce more damaging revelations, members of Congress in both parties will eventually exhaust their patience, take a long look at Pence and say, "What are we waiting for?"
Steve Chapman blogs at http://www.chicagotribune.com/news/opinion/chapman. Follow him on Twitter @SteveChapman13 or at https://www.facebook.com/stevechapman13. To find out more about Steve Chapman and read features by other Creators Syndicate writers and cartoonists, visit the Creators Syndicate website at www.creators.com.