What Mischief Will Steve Bannon Be Able To Create Back At Breitbart?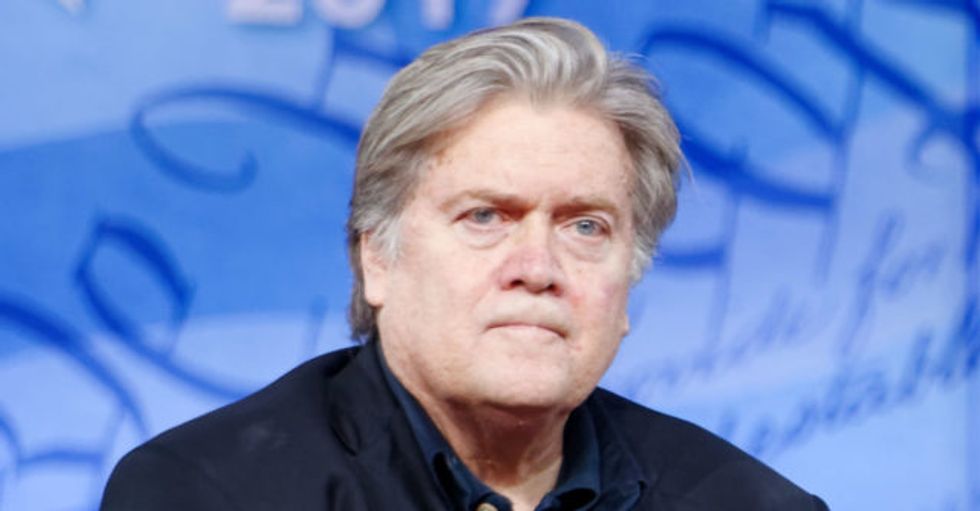 Reprinted with permission from AlterNet.
As Steve Bannon knows better than anyone, it is easier to run a right-wing website than a government.
The shambling White House adviser flamed out after eight months in the White House with an impressive string of failures: the ineptly drafted and partially blocked Muslim travel ban; the mirage of a trillion-dollar infrastructure program that never materialized; the leaked plan to raise taxes on the rich that went nowhere; the failed effort to elect Marine Le Pen in France; and the advice not to send more troops to Afghanistan, which Trump ignored.
Now back at his previous job as chief executive of Breitbart News, Bannon is looking to make his mark editorially, which is not necessarily good news for his embattled former boss. When Washington returns to work next week, Trump and the Congress have to fund the massive Hurricane Harvey recovery effort, raise the debt ceiling, and approve a federal budget in place by October 1 to avoid a government shutdown.
Bannon's return to Breitbart makes all of these tasks more difficult. What failed to work for Bannon in White House—internecine warfare, conspiracy theories and white nationalism—is the recipe for Breitbart's success. It is also a formula generating political gridlock around a weak and unpopular president at the most challenging moment of his presidency.
Not that Bannon cares. In his mind, he, and not his former boss, is the key to the Trump movement.
"The Trump presidency that we fought for, and won, is over," Bannon told the Weekly Standard, with characteristic self-regard. "We still have a huge movement, and we will make something of this Trump presidency. But that presidency is over."
With all deadlines looming, intangibles emerging and Bannon hovering at the helm of a powerful and disruptive propaganda machine, one has to wonder if his tirades to come will spook the financial markets—especially if Republican hopes for tax reform recede under Harvey's waters.
Shutdown
Bannon's return to Breitbart is especially threatening to the Wall Street bull market, which has been fueled by expectations that Trump would deliver tax cuts and regulatory relief to business, banks and investors.
Bannon's return to Breitbart complicates Trump's challenges in three ways.
Breitbart encourages Trump's impulse for chaos.
"If we have to close down our government, we're building that wall," Trump declared last week. Breitbart hailed the news.
Now even hard-right House Republicans doubt that shutting down the government while the nation's fourth largest city is underwater is a winning political strategy. But if you don't care whether government works, there's nothing wrong with a government shutdown, even in the wake of an epic natural disaster.
Civil War
Breitbart loves stoking civil war among Republicans whose help Trump will need to avoid a shutdown.
When Nancy Pelosi denounced the violent antifascist protesters of Berkeley, Breitbart used the occasion to pummel House Speaker Paul Ryan, Senator Marco Rubio and former presidential candidate Mitt Romney for failing to pledge allegiance to the anti-antifa cause.
The faltering administration needs Republican allies, especially Ryan, to get anything done. But as queasy Cabinet secretaries and once-quiescent GOP stalwarts start to distance themselves from Trump—because of neo-Nazis, North Korea or his threats to fire independent counsel Robert Mueller—Breitbart stands ready to punish them.
Breitbart has targeted the Goldman Sachs veterans around Trump who are leading the effort to avoid a government shutdown and pass tax legislation. When National Economic Council director Gary Cohn criticized Trump's response to Charlottesville, Breitbart trashed him.
"The question remains why, if Cohn is so contemptuous of President Trump, he remains in the White House," wrote correspondent Joel Pollak. "He is leading the effort to push tax reform, but the effort is of great interest to Congress as well and would likely survive without Cohn's involvement."
In the White House, Bannon's judgment about how to get things done in Congress was amateurish, even to hard-right conservatives.
"You have no choice but to vote for this bill," Bannon told a group of GOP congressmen in March as the White House pushed unsuccessfully on Obamacare repeal.
A member of the hard-right Freedom Caucus reportedly replied, "You know, the last time someone ordered me to something, I was 18 years old. And it was my daddy. And I didn't listen to him, either."
But at Breitbart, browbeating establishment Republican is a reliable way to drive traffic. Among the Republicans now in Breitbart's crosshairs: Rep. Charlie Dent, a veteran Pennsylvania Republican. Dent's offense: a stated willingness to work with Democrats to raise the debt ceiling.
Markets
Over the past 40 years, the financial markets have not been fazed by government shutdown or threats of default, according to Isaac Boltansky, a Washington economic consultant. But the last government shutdown in 2013 may have cut a quarter of a percentage point off GDP growth in the last quarter of the year.
"I think this time it will be worse because of the uncertainty from President Trump," he recently told the New York Times.  A government shutdown in September "will confirm one of the market's fears that the Republicans are not a political party but a government coalition made up of leadership loyalists, conservatives, and moderates. If you have that dynamic, how can you get anything done legislatively."
"The ripple effect from a government shutdown are likely to be significant," Times columnist Gretchen Morgenstern concluded. "Investors who had gotten used to stock prices that only go up might want to strap themselves in for a bumpy ride."
Steve Bannon is behind the wheel.