Mississippi Governor Signs Religious Freedom Bill; Civil Rights Groups Dismayed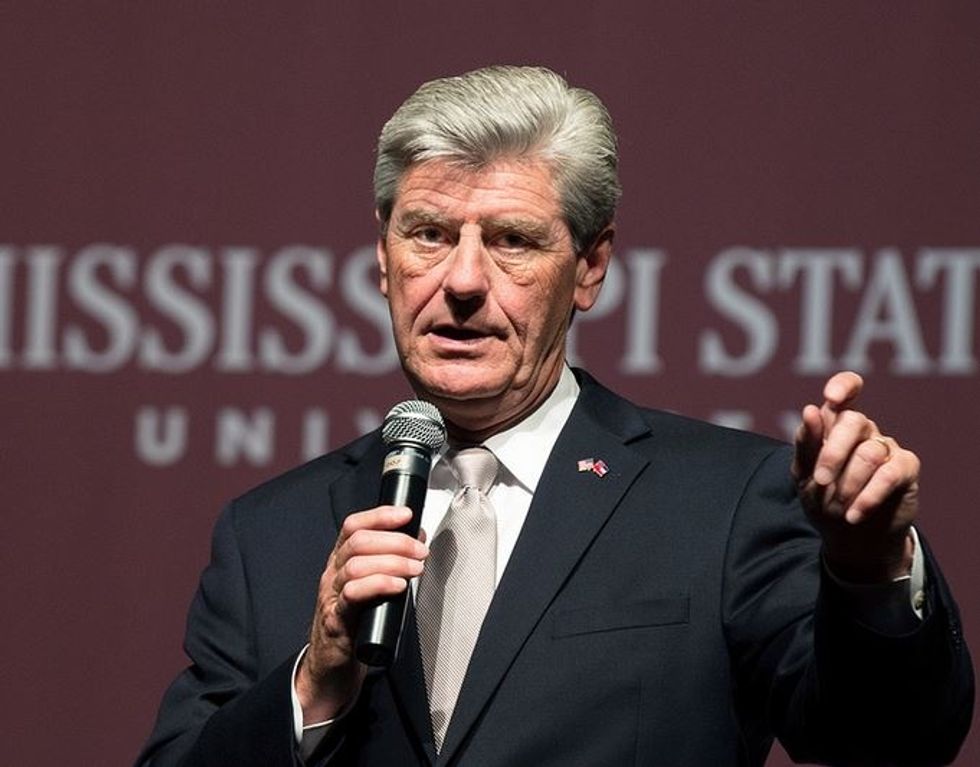 By Paresh Dave, Los Angeles Times 
Mississippi's governor signed into law Thursday a measure that allows individuals and organizations to sue the government over laws that they feel thwart their ability to practice religion.
"I am proud to sign the Mississippi Religious Freedom Restoration Act, which will protect the individual religious freedom of Mississippians of all faiths from government interference," Gov. Phil Bryant said in a statement.
Civil rights groups and advocates of the gay community had opposed the measure and believe that when it takes effect in July it could lead to increased discrimination of gays and lesbians.
"While I commend his desire to take decisive action to protect the First Amendment rights of Mississippians, this bill — a gross distortion of the American promise of religious freedom — will do far more to hurt that cause in the long run," the Rev. C. Welton Gaddy of the Washington, D.C.-based Interfaith Alliance said in a statement. "Sadly, I fear that the Mississippi Religious Freedom Restoration Act is an attempt to codify discrimination."
This year, several other states considered joining the 18 that already have religious freedom laws. Each has been criticized because it could pave the way for businesses to legally refuse to serve gays and lesbians. The law passed in Mississippi is similar to what Arizona has on its books — and had sought to expand as part of a controversial proposal that was recently vetoed by Gov. Jan Brewer.
The thrust of Senate Bill 2681 says no law should impose a "substantial burden" on someone's "exercise of religion" unless there is a "compelling interest" and a lack of less burdensome alternatives.
The bill was amended several times in recent weeks as gay rights supporters lobbied lawmakers and brought in stars, including former 'N Sync singer Lance Bass, to boost their cause. The second half of the bill adds the phrase "In God we trust" to the state seal, which features an eagle with a shield.
The ACLU and the Human Rights Campaign were among groups expressing worry about what the future might hold in Mississippi.
For example: A health care worker could use the new law to help defend his or her decision in court to deny fertility treatments to a lesbian couple because it would be in conflict with the worker's religious beliefs, Eunice Rho, advocacy and policy counsel with the ACLU, told the Los Angeles Times this week.
The civil rights group had wanted language in the bill to explicitly say that the law could not be used to undermine anti-discrimination statutes. Lawmakers vowed that would not happen and refused to put the language in the bill, Rho said.
"We remain hopeful that courts throughout the state will reject any attempts to use religion to justify discrimination," ACLU of Mississippi spokeswoman Morgan Miller said in a statement Thursday. "Nobody should be refused service because of who they are."
Lawmakers who led the charge for the law said it would help cut red-tape for religious groups. They cited the example of a law requiring churches to get sign-off from 60 percent of surrounding properties prior to construction. Opulent Life Church challenged the Holly Springs city ordinance and settled the suit in federal court.
Photo: magnoliaboysstate via Flickr