Mississippi Just Passed A Disastrous Anti-Abortion Bill In A Major Blow To Roe V. Wade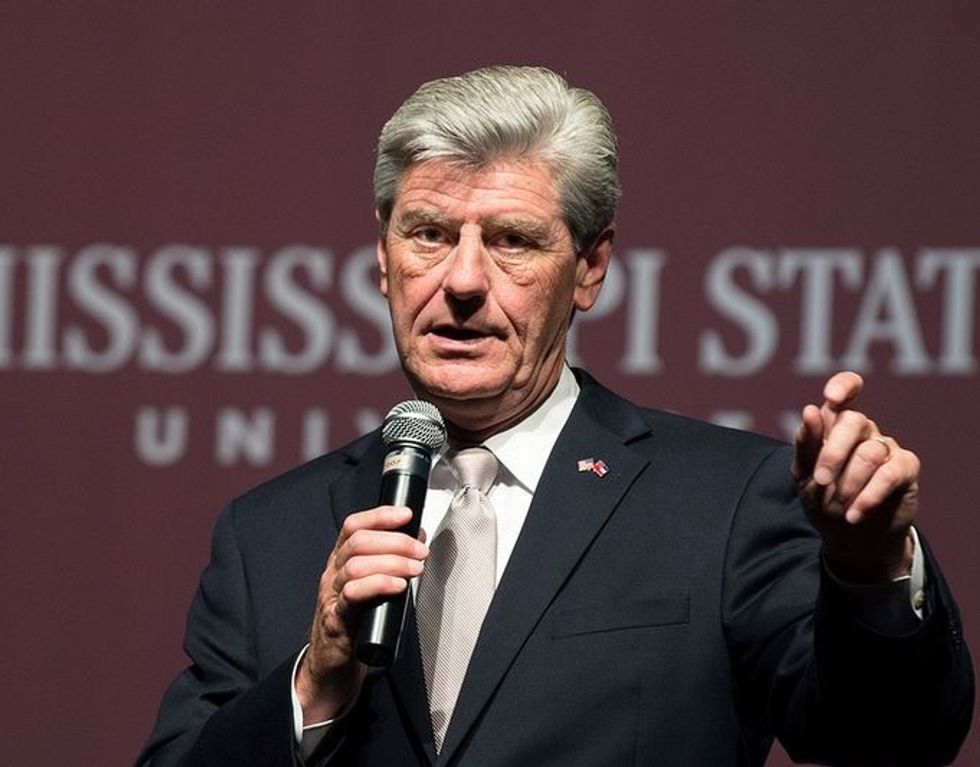 Reprinted with permission from AlterNet.
The Mississippi State Senate on Tuesday passed by a vote of 35 to 15 House Bill 1510, which would prohibit abortions after 15 weeks except for medical emergencies and "in cases of severe fetal abnormality."
"The Legislature finds that the intentional commitment of [dilation and evacuation procedures] for nontherapeutic or elective reasons is a barbaric practice, dangerous for the maternal patient, and demeaning to the medical profession," the bill states.
The Gestational Age Act, as it's called, was first proposed by Rep. Becky Currie in January, and the State House passed it by a vote of 80 to 31 in early February. It will now return to the House for a procedural vote on minor amendments made by the Senate to penalties for offending physicians.
In the likelihood that the bill makes its way to his desk, Mississippi Gov. Phil Bryant says he will sign it into law. He expressed his unequivocal support on Twitter on Tuesday:
As I have repeatedly said, I want Mississippi to be the safest place in America for an unborn child. House Bill 1510 will help us achieve that goal. https://t.co/ffqRfhwx51

— Phil Bryant (@PhilBryantMS) March 6, 2018
Mississippi's current abortion laws allow for an abortion to be performed "at 18 or more weeks postfertilization (20 weeks after the woman's last menstrual period) only if the woman's life is endangered, her physical health is severely compromised or there is a lethal fetal anomaly," according to the Guttmacher Institute, a nonprofit that advocates for women's reproductive health rights.
The current law, the Institute argues, "is based on the assertion, which is not consistent with scientific evidence and has been rejected by the medical community, that a fetus can feel pain at that point in pregnancy."
Mississippi is not the only state in recent weeks to take drastic measures to restrict Roe v. Wade freedoms. Last month, the South Carolina State Senate's judiciary committee approved a so-called "Personhood Act" proposing a sweeping ban on abortions with no exceptions for medical emergencies or cases of incest and rape.
In his State of the State address, South Carolina Gov. Henry McMaster said, "This right to life is the most precious of rights—and the most fragile." A spokesperson confirmed to The Post and Courier in January that McMaster intends to sign the bill should it reach his desk.
Brendan Gauthier is a freelance writer and nonfiction MFA candidate at Columbia University.