'We Could Screw This Up': McConnell Fears GOP Defeats In 2024
@next2godwin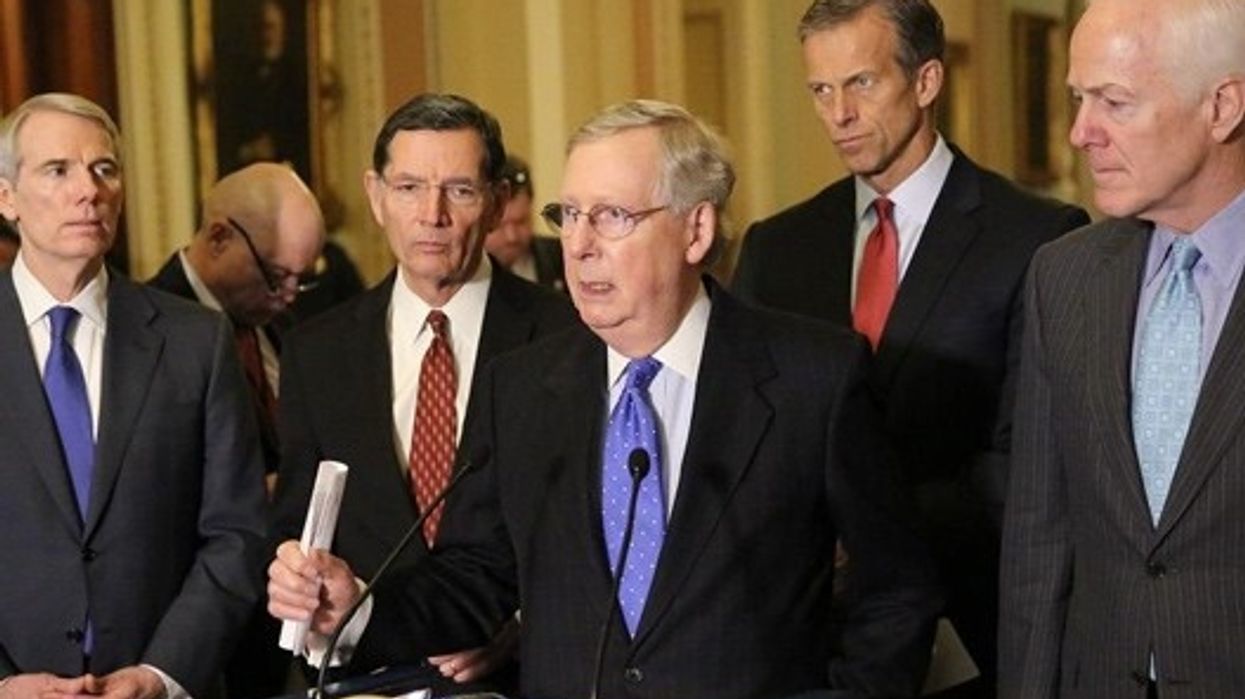 Senate Minority Leader Mitch McConnell (R-KY) has expressed uncertainty that the GOP will regain control of the Senate in 2024, warning on Monday that the party could still "screw this up" despite a favorable map and needing to gain only two seats.
"No, no – I'm not," McConnell responded with a chuckle when CNN's Manu Raju asked over the phone whether the Republican leader is confident his party can take back the upper chamber after four years in the minority.
He added: "I just spent 10 minutes explaining to you how we could screw this up, and we're working very hard to not let that happen. Let's put it that way."
The remarks closely echoed the concerns McConnell expressed before the 2022 midterms, when Democrats defied historical precedent to flip a Senate seat and increase their slim majority, despite issues like inflation and Biden's low approval numbers putting them on the back foot.
In that cycle, the then-National Republican Senatorial Committee (NRSC) chairman, Senator Rick Scott (R-FL), with whom McConnell clashed on policy and strategy, allowed voters to freely choose their preferred candidates in the primary, with the understanding that the national party would then support them in the general election.
The hands-off strategy backfired when far-right Trump-backed candidates Blake Masters, Don Bolduc, and Herschel Walker succumbed to defeat in Arizona, New Hampshire, and Georgia, respectively — races that pundits had believed Republicans would win.
"We do have the possibility of screwing this up, and that gets back to candidate recruitment," McConnell said. "I think that we lost Georgia, Arizona, and New Hampshire [in 2022] because we didn't have competitive candidates."
This time, however, McConnell said he was working with the present NRSC chair, Senator Steve Daines (R-MT), to influence which candidates compete in the upcoming Republican primaries, even if it meant going against the far-right flank of the GOP.
"We don't have an ideological litmus test," McConnell told Raju. "We want to win in November.
"We'll be involved in any primary where that seems to be necessary to get a high-quality candidate, and we'll be involved in every general election where we have a legitimate shot of winning – regardless of the philosophy of the nominee," McConnell added.
McConnell also said that Republicans have prioritized winning in four key states, the first three of which Trump won by more than 50 percent in 2020: Montana, West Virginia, Ohio, and Pennsylvania.
West Virginia Republican governor Jim Justice, one of the red state's most popular Republicans, announced his 2024 Senate bid in late April, setting up a potential challenge for incumbent Senator Joe Manchin (D-WV)'s seat.
Democratic Senator Sherrod Brown (D-OH) has announced a reelection bid, as has Senator John Tester (D-MT), setting up a likely clash with Freedom Caucus House Republican Rep. Matt Rosendale (R-MT), who is reportedly mulling a Senate run.
Senator Bob Casey (D-PA) is also running for reelection in 2024, and Democrats hope that failed far-right gubernatorial candidate Doug Mastriano will run against him, a potential match-up alarming Republicans, especially former President Donald Trump, who backed him in 2022, according to Politico.
When Raju asked whether McConnell is worried about a potential Mastriano Senate bid, the Republican leader talked up hedge fund executive David McCormick, the Republican who lost to Trump-backed TV doctor Mehmet Oz but is reportedly eyeing a Senate bid.
"I think everybody is entitled to run," McConnell said. "I'm confident the vast majority of people who met Dave McCormick are going to be fine with him."
The Kentuckian didn't express as much optimism for the upcoming races in Wisconsin, Michigan, Arizona, and Nevada races — battleground states Trump lost in 2020. McConnell said the GOP would need to field quality candidates to compete there.
"I didn't mention Wisconsin; I think clearly you'd have to have an outstanding candidate. And I think there are some other places where with the right candidate, we might be able to compete – in Nevada, Arizona," he said.
McConnell also poured cold water on earlier concerns that estranged Arizona Senator Kyrsten Sinema, who abandoned the Democratic party to become an Independent in December, would run in 2024 as a Republican, saying, "We would love to have had her, but we didn't land her."
The 81-year-old lawmaker also refused to comment on his political future, dodging Raju's question about whether or not he planned to run again when his term is up in 2026.
"I thought this was not an interview about my future," McConnell said. "I thought it was an interview about the 2024 Senate elections."