Mitch McConnell: Poll Truther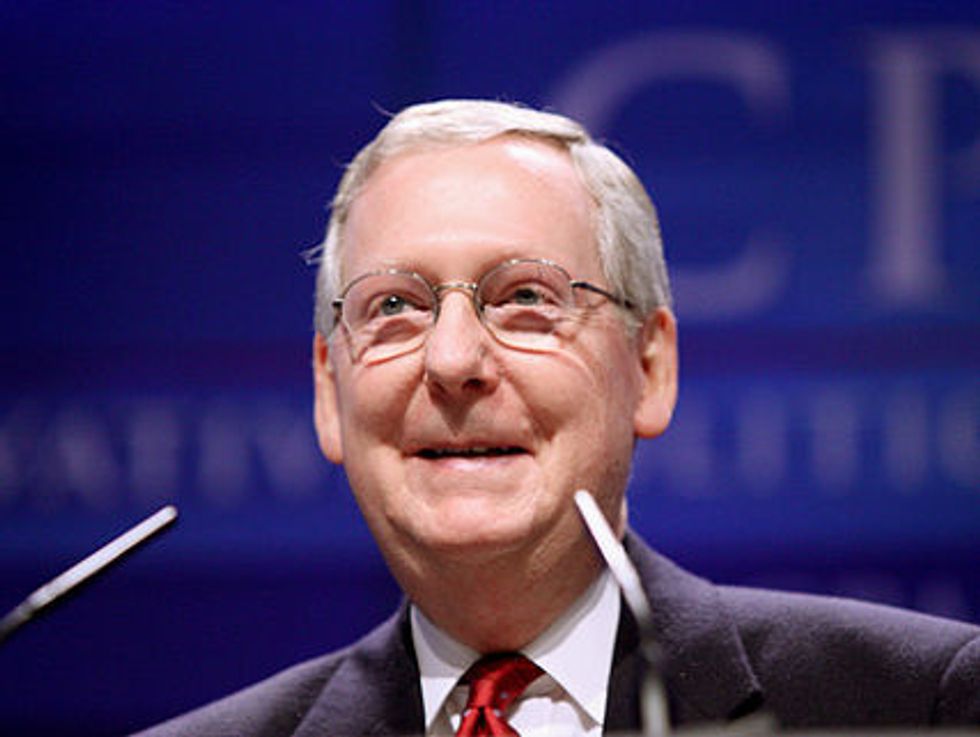 In a rather inauspicious start to his 2014 re-election campaign, Senate Minority Leader Mitch McConnell's campaign manager is claiming that President Barack Obama himself manufactured a recent poll to make McConnell appear unpopular.
A recent Public Policy Polling survey found that McConnell is the least popular senator in America, with an underwater rating of 37 percent approval to 55 percent disapproval in Kentucky. Those numbers didn't sit well with McConnell's campaign manager, Jesse Benton, who sent an email to McConnell supporters that was promptly republished by the Louisville Eccentric Observer.
"Barack Obama and his allies told us what they were going to do. They think if they can manufacture a difficult re-election for Senator McConnell back home in Kentucky then they can push our Leader around in Washington," Benton wrote.
"The partisan PPP polling company, which has been used as a tool for Obama Democrats to manufacture circumstances that don't exist all across the country, descended upon Kentucky to proclaim that Senator McConnell has a 37 percent approval rating," he continued. "The poll is laughable. But, the liberal press is gobbling it right up."
Benton later added, "On the first day of Republican Campaign Manager School, they teach us to ignore PPP polls. You see, PPP is a partisan Democrat polling firm, and they make their living giving the Democrat Party numbers they want to see."
Benton's paranoid theory joins Senator McConnell's tactics in the ongoing "fiscal cliff" negotiations as solid evidence that the Minority Leader didn't learn much of a lesson from the 2012 election. After all, as Public Policy Polling president Tom Jensen pointed out to the Louisville Eccentric Observer, "I think one of the biggest lessons of the 2012 campaign was that when Republicans are attacking polls it's a sure sign that they're losing."
"GOP campaigns all over the country made these kinds of claims about us this year," Jensen added, "and we ended up calling every state in the presidential race and Senate race we polled correctly." Indeed, PPP was among the most accurate polling firms in the nation in terms of its 2012 predictions.
Of course, Jesse Benton is no stranger to wacky conspiracies. Benton served as a top aide to noted tinfoil hat wearer Ron Paul before being brought in to run McConnell's re-election bid. If McConnell hired Benton to endear himself to the Tea Party and stave off a primary challenge, as many have speculated, then an absurd conspiracy theory about President Obama manipulating Kentucky Senate polls two years before the election is a solid way for Benton to start courting the right wing.
Photo by Gage Skidmore via Flickr.com