Pushing Big Lie, Brooks Says Trump Urged His Violent Jan. 6 Speech
@DevilsTower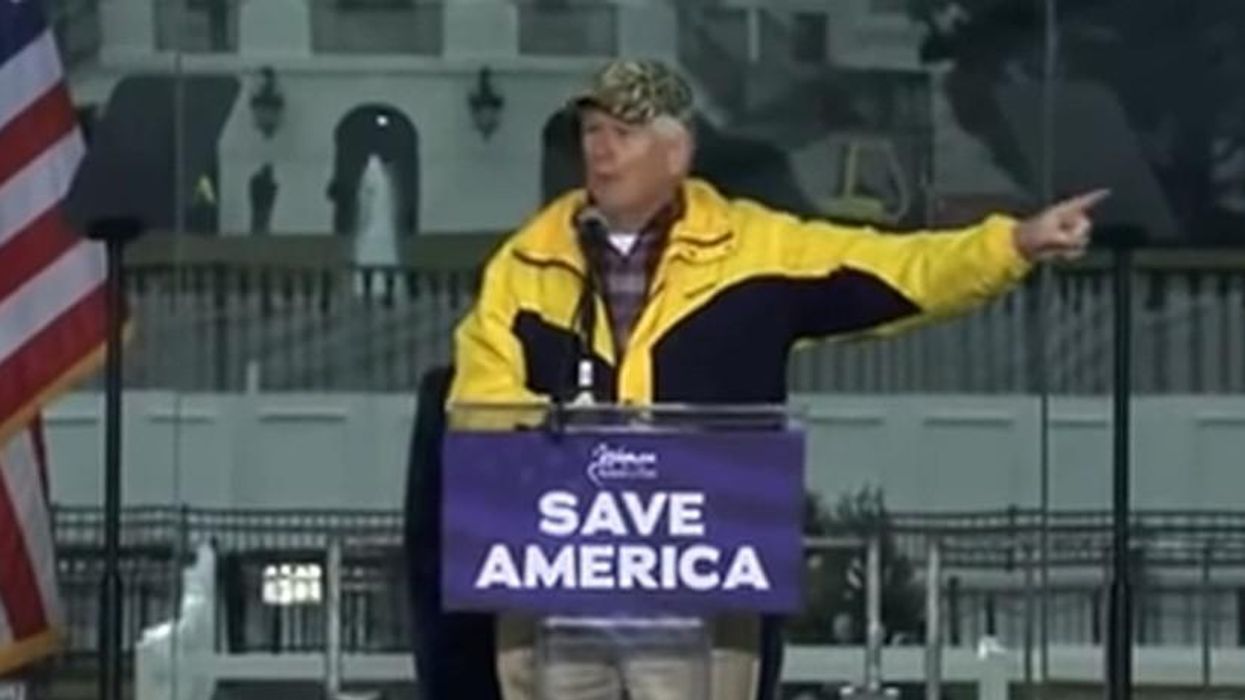 Screenshot from Youtube
Reprinted with permission from Daily Kos

Some time between 7:30 and 8:30 PM on January 5, a person wearing a gray hoodie and pricey Nike Air Max sneakers placed a pipe bomb on the bench outside the headquarters of the Democratic National Committee. They placed another behind the HQ of the Republican National Committee. The discovery of those pipe bombs took place between noon and 1 PM the next day, making them a great distraction for police who were at that moment struggling to respond to Trump supporters smashing through security lines around the Capitol.
Though the primary purpose of those bombs might have been to draw police away from the Capitol, the devices themselves were quite real. Each was made from an 8-inch length of galvanized steel pipe, each contained a generous amount of black powder, and each included a kitchen timer that was designed to explode the device at … actually, that information has not been made public. Six months later, that pipe bomber has not been arrested. If there is an official suspect, that news has not been made public.
The pipe bomber isn't the only person still laughing up their gray cotton sleeve six months after thousands of Trump supporters swarmed the Capitol chanting "Hang Mike Pence," erected a gallows on the Capitol lawn, and went inside to break into congressional offices and hunt members of the House and Senate. Though the very first cases are now coming to trial, many of those involved in Jan. 6 events have not been charged. That includes those most responsible: the politicians who took to the "Stop the Steal" stage and encouraged the attack.
If you've not watched The New York Times' "Day of Rage" video, you should spend 40 minutes doing so now. For all the well-deserved criticism the paper receives, this is a fantastic example of the kind of journalism of which they are still capable. The work the Times has done in putting this together is extremely valuable, and the charges that it makes are well-aimed.
How Trump Supporters Took the U.S. Capitol | Visual Investigationswww.youtube.com
Six months in, America has seen plenty of stories of insurrectionists pulled into police stations through their own blind hubris. Those staging the attack included a West Virginian legislator who helpfully filmed himself invading the Capitol (including giving his name on camera for anyone who needed confirmation) and a Proud Boys supporter whosigned his name on screen.
But, as the Associated Press reports, in spite of hundreds of arrests, a large number of those involved have still not been brought in. The Justice Department is still hunting "scores" of insurrectionists, including many who, like the pipe bomber, were involved in some of the most serious incidents of violence and threat. Some of these people were previously not on police radar as they were not involved in violent extremism before becoming entangled with Trump. Others simply haven't yet been identified, losing themselves in a similar set of thousands dressed in pseudo-military tactical gear and Trump paraphernalia.
But some of those people were right in front of everyone, and their names are well-known. That includes Rep. Mo Brooks, who took the stage that morning to prod the crowd with direct calls for violence. A judge gave Brooks a break today in the lawsuit filed by Rep. Eric Swalwell, ruling that he had not been unresponsive despite avoiding process servers for weeks.
Brooks' Jan. 6 speech included telling the crowd they should "stop at the Capitol" to prevent the a vote that would "turn America into a godless, amoral, dictatorial, oppressed and socialist nation on the decline, or they will join us and they will fight and vote against voter fraud and election theft and vote for keeping America great."
Brooks then followed up for anyone who might not be clear on what he was saying: "Today is the day American patriots start taking down names and kicking ass," said Brooks. "Our ancestors sacrificed their blood, their sweat, their tears, their fortunes and sometimes their lives to give us, their descendants, an America that is the greatest nation in world history. So I have a question for you. Are you willing to do the same?" Brooks then repeatedly shouted at the crowd, "Will you fight for America?" before saying, "We, American patriots are going to come right at them!"
Brooks has been insisting that he did nothing wrong, and that this actions that day "represented his district." However, in a new filing connected to his civil suit, Brooks pushed all the blame onto someone else: Donald Trump.
According to the filing from Brooks' attorneys: "Brooks only gave the Ellipse Speech because the White House asked him to, in his capacity as a United States Congressman. But for the White House request, Brooks would not have appeared at the Ellipse Rally." The filing also claims that Brooks coordinated his statements with the White House.
But if this sounds like either Brooks or his attorneys are about to be reasonable … nope. This is the prelude to claims that calls for violence against Congress were completely justified. "The evidence is overwhelming that the Nov. 3, 2020, elections were the subject of voter fraud and election theft on a scale never seen before in America," reads the filing, "and that, if only lawful votes cast by eligible American citizens were counted, Donald Trump should be serving his second term as President of the United States."
Brooks didn't just push the Big Lie from the Stop the Steal stage, he's still pushing it in court. He's not blaming Trump for the insurgency, he's blaming America.