Follow The Money To Uncover Trump's Deep Ties To Russia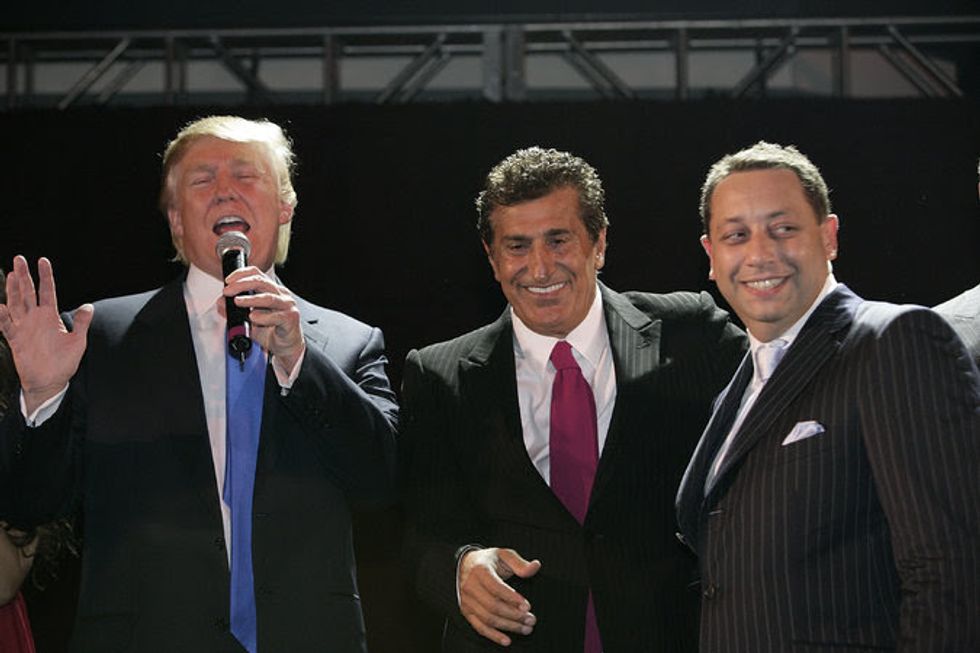 If you think about it, no wonder Donald Trump prefers the imaginative stylings of Fox News to the Presidential Daily Briefing. He's pretty much the network's target demographic: a daffy old-timer with time on his hands.
Intelligence reports tend to be complex, hedged with uncertainties. That's boring to an elderly adolescent. Rather like the big-screen evangelical churches that furnish much of the rest of its audience, Fox News delivers provocative melodrama that keeps viewers wide-awake.
Hence Sweden, one of the safest, most prosperous democracies on earth, becomes a hotbed of terrorist violence. Never mind that Sweden's terrific crime novelists –Henning Mankell, Stieg Larsson, Maj Sjowall, and Per Wahloo—probably kill off more imaginary victims than the country has actual homicides.
Sweden has taken in many Syrian refugees; therefore, it must be hell on earth. Anybody who says different is spreading "fake news"—a term that has basically come to signify "I'm talking out my…"
Well, making things up.
However, just because somebody's reality-challenged doesn't mean they're stupid. Even downright delusional people can be extremely cunning in service of their crackpot notions.
Consider what one is tempted to call President Trump's downright "Clintonian" non-denial denial during his recent press conference: "I own nothing in Russia, I have no loans in Russia, I don't have any deals in Russia."
"Russia," he insisted "is fake news put out by the media."
Ah, but what about deals "with" or loans "from" Russia? Different question. Trump and his family have been up to their eyeballs in Russian cash for decades.
The president denying this well-documented fact is the rough equivalent of Bill Clinton denying he'd ever met Monica Lewinsky.
Indeed, father and sons used to brag about Russian money. In 2008, Donald Trump Jr. told a real estate conference that "Russians make up a pretty disproportionate cross-section of a lot of our assets…We see a lot of money pouring in from Russia."
After staging the 2013 Miss Universe pageant in Moscow, Trump boasted that most of Russia's financial elite attended a swank party he threw. "Almost all of the oligarchs were in the room," Trump toldReal Estate Weekly. It's important to understand that politically independent Russian oligarchs do not exist. One way or another, Putin owns them all.
During a Republican debate, Trump even claimed a personal relationship with Vladimir Putin. "I got to know him very well because we were both on 60 Minutes. We were stablemates," he said.
Except oops, Putin's segment was taped in Moscow.
Now Trump says the two have never met, probably true.
"Still, there has been the nagging sense for some time that there's something off about the way Trump speaks about Putin," the invaluable blogger Digby explained. She continued:
"It's obsequious and submissive, which is very uncharacteristic of his normal style and one cannot help but wonder why that is. Trump is not servile toward anyone in this world — except Vladimir Putin. It would be one thing if we could chalk it up as another one of Trump's weird psychological tics and hope that he isn't so subject to flattery that he decides to help the Russian leader carve up Europe just to keep his approval. But it seems there's more to it than that."
It certainly does. Trump was similarly cagey about his campaign's reported contacts with Russian intelligence. Another series of non-denial denials: Not that he personally knows. He, Trump, had no Russian contacts. He's seen people on TV—people he scarcely knows, maybe he was in the same room with them once—denying any such liaisons.
It's all fake news to him.
So now comes yet another guy Trump hardly knows—a Russian émigré who channeled millions from Moscow investors to various (eventually bankrupt) Trump projects in New York, Fort Lauderdale, and Toronto.
Felix Sater's name has surfaced in connection with a private "peace initiative" to settle the Ukranian-Russian dispute on terms highly favorable to Russia. According to highly-detailed accounts in the New York Times and Washington Post, the scheme was brokered by Trump's attorney Michael D. Cohen, a pro-Putin Ukranian legislator, and Sater—supposedly through the good offices of recently-fired national security advisor Michael Flynn.
The scheme's absurd on its face. But what's truly amazing is Sater's participation, a twice-convicted felon: once for stabbing a guy in a bar fight, and later for a multi-million dollar securities fraud tied to the Genovese and Colombo crime families.
While awaiting sentencing, Sater lived two lives: one as a principal in Bayrock, an investment firm located in Trump Tower which funneled millions in Russian capital into several of Trump's characteristically grandiose projects, a second as a CIA informant on international arms smuggling. The dude belongs in a Jason Bourne movie.
In a 2013 deposition, Trump said he wasn't sure he'd actually recognize Felix Sater either. Chances are the rest of us will before this astonishing saga ends.
IMAGE: Mr. Trump with Tevfik Arif, center, and Felix H. Sater at the official unveiling of Trump SoHo in September 2007, when it was still under construction. Mark Von Holden/WireImage.