Gunman Kills Nine At Oregon College, Dies In Shootout With Police
@reuters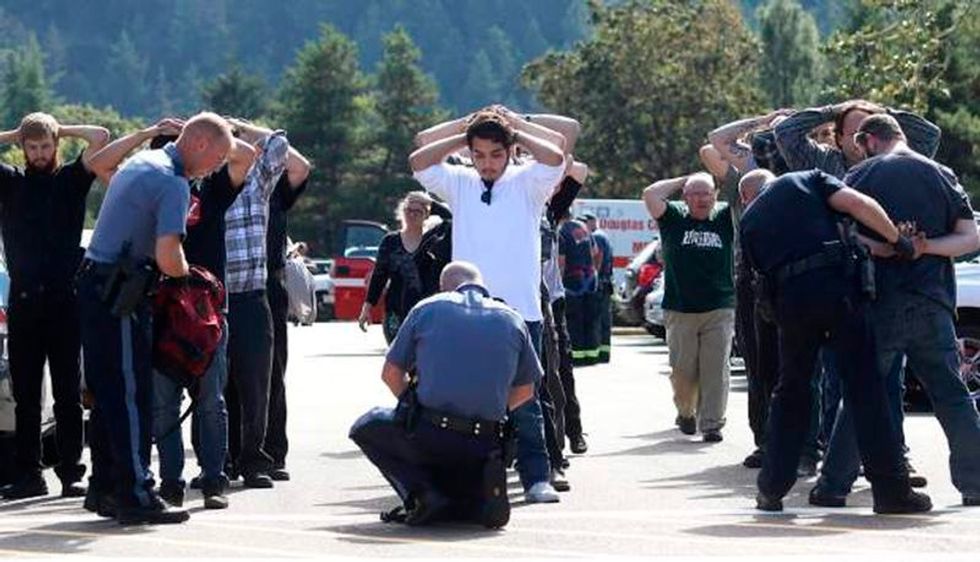 By Courtney Sherwood and Eric M. Johnson
ROSEBURG, Ore. (Reuters) – A gunman stalked onto a college campus in southwestern Oregon on Thursday and opened fire, killing nine people and wounding seven before police shot him to death, authorities said, in yet another burst of U.S. gun violence that ranked as the deadliest this year.
The suspect, who witnesses say fired dozens of shots into a classroom full of screaming students, was slain in an exchange of gunfire with two police officers in Snyder Hall at Umpqua Community College in Roseburg following the morning rampage.
He was not publicly identified by local authorities – the county sheriff vowed never to utter his name. But CBS, CNN, NBC and the New York Times named him as 26-year-old Chris Harper-Mercer, citing anonymous law enforcement sources.
"He appears to be an angry young man who was very filled with hate," the Times quoted one law enforcement official as saying.
CNN reported that three handguns and a "long gun" belonging to him were recovered from the scene. According to published eyewitness accounts, the gunman at one point ordered cowering students to stand up and state their religion before spraying the classroom with bullets.
"The law enforcement investigation into the shooter and his motivations is continuing," Douglas County Sheriff John Hanlin told reporters at an afternoon news conference.
He also said three of the wounded victims were hospitalized in critical condition.
The massacre in Roseburg, a former timber town on the western edge of the Cascades some 260 miles (418 km) south of Portland, was the latest in a flurry of deadly mass shootings at American college and public school campuses, movie theaters, military bases and churches in recent years.
The 10 people killed surpassed the death tolls from two previous mass shootings – a gun battle between rival motorcycle gangs in Waco, Texas, in May, and the rampage of a gunman at a black church in Charleston, South Carolina, each of which claimed nine lives – to mark the deadliest incident of gun violence in the United States this year.
Not counting Thursday's carnage, a total of 293 mass shootings have been reported since January 2015, according to the Mass Shooting Tracker website, a crowd-sourced database kept by anti-gun activists that defines a mass shooting as any event in which four or more people are shot.
The killings have fueled demands for more gun control in the United States, where ownership of firearms is protected by the Second Amendment of the U.S. Constitution, and better care for the mentally ill.
President Barack Obama, speaking just hours after the rampage, said the mass killing should move Americans to demand greater gun controls from elected officials.
"Somehow this has become routine," a visibly angry Obama said. "The reporting is routine. My response here, at this podium, ends up being routine. …We've become numb to this."
GUNSHOTS AND SCREAMS
Kortney Moore, 18, told the local News Review newspaper that she was in her writing class in Snyder Hall when a gunshot came through the window and struck her teacher in the head.
Inside the classroom, Moore said, the gunman told people to get on the ground, then asked them to stand up and state their religion before he started shooting.
Freshman Kenny Ungerman told NBC that said he saw the shooter, dressed in jeans and a T-shirt, carrying a handgun as he went into the building, followed by gunshots and screams. Student Cassandra Welding told CNN that she heard 35 to 40 shots.
Student Brady Winder, in a posting on Facebook, said he was in a classroom next door to the room where the shooting began and ran, along with his classmates, when they heard the gunfire.
"I ran to the edge of the campus, down a hill and waited. From talking with a student in the classroom where it happen, almost every person in the room was shot by a man with four guns," Winder, 23, wrote.
PeaceHealth Sacred Heart Medical Center emergency room doctor Hans Notenboom told reporters three women about 18 to 34 years of age were flown to the hospital in Riverbend by helicopter, and two were moved directly into operating room.
Survivors were transported to a local fairgrounds, and some family members were left waiting for hours to see if their loved ones would be among them.
"We have grief counselors waiting for those parents who have no children getting off that bus," said the college's president, Rita Calvin.
Following the bloodshed state and federal authorities swarmed Roseburg, including agents from the Federal Bureau of Investigation and the U.S. Bureau of Alcohol, Tobacco, Firearms and Explosives.
Police descended on an apartment possibly linked to the suspect about 2 miles (3 km) from campus, where police tape prevented access. It was not immediately clear who lived in the residence.
The college, which began its fall term this week and serves more than 13,000 students – 3,000 of them full time – said it would be closed until Monday. Hundreds of people attended a candlelight vigil at nightfall.
In 2012, seven students at the small Christian college Oikos University in Oakland, California, were shot dead by a former student, marking the deadliest outburst of violence at a U.S. college since April 2007, when a student at Virginia Tech University killed 32 people and wounded 25 others before taking his own life.
(Reporting by Courtney Sherwood, Eric M. Johnson and Jane Ross in Roseburg; Additional reporting by Shelby Sebens in Portland, Sharon Bernstein in Sacramento, Suzannah Gonzales in Chicago, Katie Reilly in New York and Daina Beth Solomon, Alex Dobuzinskis, Piya Sinha-Roy, Steve Gorman and Dan Whitcomb in Los Angeles; Writing by Dan Whitcomb and Steve Gorman; Editing by Lisa Shumaker)
Police officers inspect bags as students and staff are evacuated from campus following a shooting incident at Umpqua Community College in Roseburg, Oregon. REUTERS/Michael Sullivan/The News-Review
This post has been updated.